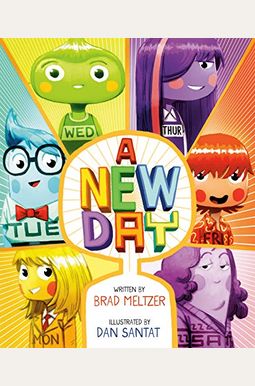 
 
Book Overview
This big-hearted story of kindness--reminiscent of The Day the Crayons Quit--is written by the bestselling author of Ordinary People Change the World and illustrated by the Caldecott Medal-winning creator of Beekle.
Sunday quit, just like that. She said she was tired of being a day. And so the other days of the week had no choice but to advertise: WANTED: A NEW DAY. Must be relaxing, tranquil, and replenishing. Serious inquires only. Soon lots of hopefuls arrived with their suggestions, such as Funday, Bunday, Acrobaturday, SuperheroDay, and even MonstersWhoResembleJellyfishDay Things quickly got out of hand . . . until one more candidate showed up: a little girl with a thank-you gift for Sunday. The girl suggested simply a nice day--a day to be kind. And her gratitude made a calendar's worth of difference to Sunday, who decided she didn't need to quit after all. When we appreciate each other a little bit more, all the days of the week can be brand-new days where everything is possible.
Frequently Asked Questions About A New Day
Book Reviews
(10)
Did you read A New Day? Please provide your feedback and rating to help other readers.
Hilarious

Derived From Web

, Nov 7, 2021

My child enjoyed this interesting concept, colorful characters, she has been learning days of the week, so relevant! I also loved it - some funny little references in there for adults!
5&8 year old LOVE it

Derived From Web

, May 10, 2021

It is as good as the rest of Brad Meltzer's children's books. The kids have already read it a few times and really seen to enjoy the story.
The kiddos laughed out loud when I read this to them.

Derived From Web

, Apr 27, 2021

When children learn while having fun, it sticks!
very popular with my 6 year old grandson!

Derived From Web

, Apr 15, 2021

As soon as I picked the book out, he said that he had already heard it at school, enjoyed it again and recited the days of the week with ease in no small part I could imagine as a result of this book! However, I am not sure why the cats did not have a voice...
So Cute !

Derived From Web

, Apr 12, 2021

I bought this for my friend, who is a primary teacher. She gets no money from the school district for books to lend to her students, so I will donate this book for her classroom.
Great for parents

Derived From Web

, Apr 11, 2021

I thought this book was absolutely adorable and so clever, but my 4 year old did not seem to agree ( maybe an older kid would appreciate it more! ''
Book dust jacket ripped and folded

Derived From Web

, Apr 2, 2021

Review is for the quality of the book arrived, not the words or pictures in the book. While the quality of written content isn 't jeopardized in the book, it is upsetting to pay nearly $20 for a book for it to arrive this way. It was obviously an error in the packing for my box set. Also very irritated.
DAYS OF THE WEEK!

Derived From Web

, Mar 24, 2021

Buy it now! It is a cute book and is worth adding to your library. Especially for students who learn about the days of the week.
Great Message and interesting illustrations!

Derived From Web

, Mar 12, 2021

He loves the illustrations and select this book to be read over and over again.
Such a clever, fun, and adorable book!

Derived From Web

, Mar 3, 2021

My children are now older teens, but when Brad Meltzer said he was writing this book, I knew it would be good. I bought it early and am not disappointed! It is everything I wish it would be, and more. A very sweet, relevant story about a way that is accessible to small children and delightful for all ages. I would recommend this completely as a gift for anyone with babies, children or grandchildren... as a donation to any church, school or community library... and even as a gift to a co-worker whose work ethic is above and beyond. Brad is very proud, well done. All your practice with the non-fiction children's books and your fantastic fiction writing skills joined together to make a truly wonderful story with a truly entertaining message. The next time I'm worn out and just want to reread the world, I'll skip this and remember that kindness and gratitude make everything better. I know that expressing gratitude is just as rejuvenating as receiving it!