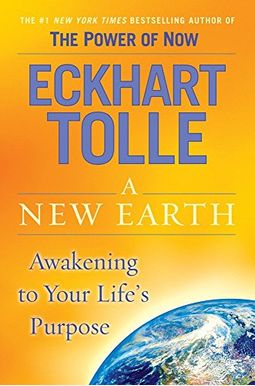  
A New Earth: Awakening to Your Life's Purpose
Frequently Asked Questions About A New Earth: Awakening to Your Life's Purpose
Book Reviews
(7)
Did you read A New Earth: Awakening to Your Life's Purpose? Please provide your feedback and rating to help other readers.
A powerful guide to breaking down walls of inner resistance.

Derived From Web

, Feb 8, 2022

The first few pages of the book were quite boring for me. The author began talking about the ego. The book talked about my ego in a way that I had never imagined, confronting and exposing it. The book was thrown across the room into the wall. I was aware that this was what I needed. I have never read a book that described the human ego in such a way. Some of the most valuable work on understanding human relationship behavior that I have ever read is the work on the pain body. I recommend this book to anyone who is willing to take another step in becoming honest with themselves.
I just do not agree with him

Derived From Web

, Oct 11, 2018

The book claims to be teaching truth. I know it isn't all true. The author has concluded that our thoughts and emotions are not our own. The part of us that doesn't feel is the soul. I agree that many self centered thoughts are from the ego self, but emotion is something even the angels in heaven feel. I had a NDE a long time ago. My son in law was in a coma for three and a half months after he was shot in the back eight times. Emotions do not die in the body. I know that other NDE' rs have said that we are still us even after we cross over. The author says that it all comes to him through his intuition. I think he came up with it because of his comfort zone. It is not necessarily true for everyone.
Truly revolutionary book

Derived From Web

, Aug 21, 2018

I hated this book the whole time I read it. It was poorly written and preachy. 6 months later, I am still thinking about it. You are either ready for the book or not. It will open your eyes in a way that is impossible to reverse. Try to read it with an open mind and a willingness to deeply examine your own mind in ways that may be uncomfortable to you. It's going to be worth it.
Life-changing book!

Derived From Web

, Jun 24, 2018

The impact this book has had on me is unbelievable. I feel like a new person with the information in this book. I am rereading to make sure I understand everything this gem has to offer and I feel like I would be rereading for years to come. I enjoy reading the notes and highlights that I have made and it makes me happy. This is a process and at times the information would be so profound that you need a moment or the rest of the day to focus and really let whatever information that sticks out to you sink in and process! The way you look at life will be changed by this book. It's guaranteed! It is!
recommend for people who obsess

Derived From Web

, Mar 8, 2018

The life is changing. Author's research and use of teachers are appreciated. An author has an interesting interpretation of some scripture, but stays true to most of it. Common sense ways to eliminate stress in your life are provided. It was very relaxing to listen to. Before we go to bed, we set the timer and listen to excerpts. It's comforting, enlightening and helps us sleep. It helps with stress if you listen to it. It's recommended for people who are quick to anger, or who can't let things go.
OK read but "The Power of Now" is better

Derived From Web

, Feb 10, 2018

I read this after The Power of Now and was a bit disappointed. Most of what you' ll find in the Power of Now is the same as in this book. The way of question and answer is socratic that it sets an all- knowing form. He seems to be more of a guide or a teacher in The Power of Now, but after reading this book he seems to be arrogant. The Power of Now can help you decide.
This Book Changed My Life

Derived From Web

, Nov 15, 2017

The book is changing my life and I'm only 13 of the way through it. I was amazed by Mr. Tolle's descriptions of life. There is an idea that we are not any of the things we are meant to be. He says that we are the part of ourselves that is thinking. Anything else is ego. The mind is insane and if we want to find peace, we must realize who we really are and stop pretending. Ego is an illusion. My life is already better because of that. It takes time to read a book because you have to think about what you' ve read. I imagine reading this book over and over. Enjoy the time.