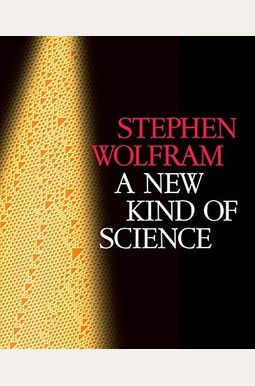 
 
Frequently bought together
Frequently Asked Questions About A New Kind of Science
Books like A New Kind of Science
Book Reviews
(11)
Did you read A New Kind of Science? Please provide your feedback and rating to help other readers.
A Mega Book

Derived From Web

, May 31, 2022

Absolutely recommended for anyone who wants to understand how the world works and gain insight into how man should design in the future. A daunting read''. But of immense depth and insight.
Putting aside the pseudoscience it's just poorly written

Derived From Web

, Dec 9, 2021

I bought this thinking that it would be a quick read thinking, $20 and self-published can 't be that terrible despite the poor reviews. It takes multiple chapters to identify his "new kind of science " in any concrete form. He repeats the phrase "new kind of science " so much it loses its meaning. Multiple chapters could even be conflated into single pages or paragraphs. Overall, this book reads like an arrogant CEO trying to make his mark. If the book were compiled into 300 pages and explored as a burgeoning idea and not as a text book as a proof of his ideas of complexity and regularity, I think I would recommend. But despite the length of this book, I am left unconvinced that this science '' has been fully fleshed out or proven.
A Truly Worldview Alternating Book

Derived From Web

, Oct 7, 2021

Seldom have I read a book or essay that claims to be groundbreaking or revolutionary and that actually lives up to its claim. At best, they are a poor take on an established idea and at worst a novel derivative. Wolfram is revolutionary in A New Kind of Science. The book is not for the causal read as it requires full attention, but the gain of perspective is astounding. It has literally changed how I see the world. Again, not a light read, but worth it. I now keep it as a reference book along with my antiques such as my Thesaurus, Atlas, etc...
Over my head

Derived From Web

, Aug 29, 2020

I was able to follow most of the arguments in the book, but I just couldn t make the leaps to the conclusions and implications of the conclusions. I don 't really know what he is shooting for here. I'm sure it's my problem, not Wolframs. I'll see if I can build up some more background and try it again.
Not really Science at all

Derived From Web

, Jul 18, 2020

Reads like a lifetime of looking at clouds, noticing a few of them look like animals and then proposing a theory that animals came from clouds. There isn 't any new scientific science in this book, but if you are interested in an example of how to make money by pretending to have an actual theory, this is for you.
Very, very exciting book!

Derived From Web

, May 27, 2020

Well, this is one of my best purchases as far as books are concerned! An extraordinary thick book, with hardcover, perfect quality, and what a fascinate contents! It is a very exciting mental adventure to read this book, it is very rare among scientific literature! Additionally, the book includes many pictures as well as facts about fractals and cellular automatons, which give us even visual pleasure. However, this book changes our world-view, giving new aspects how to think about some causes of events in nature, so that I can tell just one thing in a short worth for every penny! Probably I will also buy the other books in the future from this author!
New (to me) ideas.

Derived From Web

, May 8, 2020

If there were color pictures, the book would be prohibitively expensive.
The Occam's razor answer for almost everything

Derived From Web

, Mar 1, 2020

Brilliant Utterly. The Razor of Occam is the answer for almost everything. Stephen shows how the world that we live in can be understood thoroughly and simply by looking at it in a completely new way. Simple principles, iteratively and discretely applied, based only on what lies before and adjacent. He demonstrates this concept and then points out the profound implications for science and philosophy. Not a book that you digest as much and read slowly, one thought-provoking sampling at a time. I gave up my son life, he gave me this book. I 'd say we are even now.
Brilliant!

Derived From Web

, Feb 12, 2019

Here is the most possible account of the potentials for the interplay of technology on mathematics. I dare say that all the greats would have been well-pleased. Even the most experienced and learned students in the field will find this a difficult read, but it is both engaging and satisfying. It must be carefully read and re-read many times in order to fully understand the ideas. It is a must-have in the library of any mathematician or physicist.
Wolfram's Masterpiece

Derived From Web

, Feb 11, 2019

This is Lorenzo Wolfram's masterpiece, although I don 't know why I encountered no mention of Ilachinski's already published book on CA, and of course there is much controversy over his claims that there is a new kind of science. Wolfram is a very independent thinker, reminiscent of Benjamin Franklin and those who have embraced science instead of social institutions, and I would say that I agree with this notion of a new science, whether it is by Wolfram or others, that is unclear. But the point I received from this book was the significance of the material itself-and for that the book is entirely worth it.