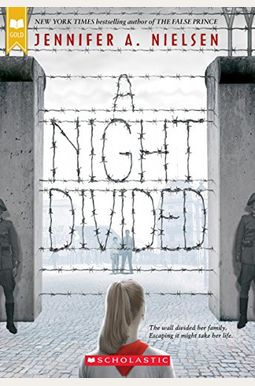 
 
A Night Divided (Scholastic Gold)
Book Overview
This Description may be from another edition of this product.
From New York Times bestselling author Jennifer A. Nielsen comes a stunning thriller about a girl who must escape to freedom after the Berlin Wall divides her family between east and west. With the rise of the Berlin Wall, twelve-year-old Gerta finds her family suddenly divided. She, her mother, and her brother Fritz live on the eastern side, controlled by the Soviets. Her father and middle brother, who had gone west in search of work, cannot return home. Gerta knows it is dangerous to watch the wall, to think forbidden thoughts of freedom, yet she can't help herself. She sees the East German soldiers with their guns trained on their own citizens; she, her family, her neighbors and friends are prisoners in their own city. But one day, while on her way to school, Gerta spots her father on a viewing platform on the western side, pantomiming a peculiar dance. Then, when she receives a mysterious drawing, Gerta puts two and two together and concludes that her father wants Gerta and Fritz to tunnel beneath the wall, out of East Berlin. However, if they are caught, the consequences will be deadly. No one can be trusted. Will Gerta and her family find their way to freedom?
Frequently bought together
Frequently Asked Questions About A Night Divided (Scholastic Gold)
Book Reviews
(13)
Did you read A Night Divided (Scholastic Gold)? Please provide your feedback and rating to help other readers.
Enthralling time sucker!

Derived From Web

, Apr 20, 2022

Historical fiction is my favorite genre, so it was my personal pick. In fact, the book sold more copies than any other title at the fair. It was an enthralling performance, said Goodrich. I promised the students that I would double up in reading and finish 23 of the book by our next meeting, a week away. Yes, I did. Once the action began to reach its climax, I could not read fast enough. I wanted to turn the page before my eyes closed. Barrenas's heart rate has been pounding all day. I felt exhausted after the show, Taylor said. A great book. Will recommend this course to my students.
and it looked so good I had to get my own copy

Derived From Web

, Apr 20, 2022

It was a great evening, said Blair. This one made a great discussion starter for learning about 20th century history.
Good read

Derived From Web

, Apr 20, 2022

My daughter recommended this book to me. Anthropologist Frank Eichorn shows how life was for the people of East Berlin with the wall in place.
Wow!

Derived From Web

, Apr 20, 2022

Couldn't put it down! The suspense was great, Mr. D'Antonio said. You cheered for this family to reunite and were on the edge of your seat!
Captivating Reading!

Derived From Web

, Jan 31, 2022

From the start of the Berlin Wall's construction on Aug. 13 1961, to its dismantling in August 1972, East Germans were treated to a unique slice of Soviet history. As an American citizen, I had a pen pal in East Berlin in 1963 whose brother escaped to the west, and my pen pal was arrested and held for a year as they thought he might be following his brother's escape. After four years of study in Denmark, I came to East Berlin and met Mr. Schaerke in person. He told many stories of life behind the Berlin Wall that he couldn't write about in letters. Jennifer Nielsen, Nielsen's sister, conducted the research. Details are accurate, said Dr. Richard Morris, director of NASA's Ames Research Center in California. Freedom of speech and religion are not taken for granted, he said.
An outstanding page turner!

Derived From Web

, Aug 23, 2020

I was hooked from the first page. It will be a great read for my family and create wonderful opportunities to discuss the meaning of freedom, Rosa said.
Great book!

Derived From Web

, Jul 6, 2020

A middle schooler in the Los Angeles area who only recently read the book said it was "fantastic realism." We used this to supplement learning about the communist regime in East Germany because it really helped the reader understand what people went through, Mr. Dhaliwal said. It was a blast to hear the middle schooler read it aloud. My kids got to see my East German money, watch videos on Trabants, watch historical footage on when the wall fell and when the wall was built, plus they got to see the infamous "black box" video of the infamous Berlin tower collapse. My oldest who struggles with learning really loved this book and I felt it was well written, too, McBride said.
recommended without hesitation

Derived From Web

, Aug 30, 2019

It passed by a vote of 405 to 3, with 18 abstentions. This thrilling children's novel is worthy of my grandchildren's time and mine, too. It has great characters, a vivid setting, a gripping plot, conflict upon conflict, a tense climax and an ending that makes you glad you read the book. It's a smash hit, and we're hoping for a sequel, Anne of Green Gables. It's just that the character is feisty and produced loyalty in this reader. I've always found the history of this piece of fiction fascinating. As I was two years old when the Berlin Wall came down, the Cold War was a very real part of my childhood. I'm grateful to have grown up with Western liberty, Mr. Kennedy said. My grandchildren's generation is as oblivious to this history as I was of conflicts before my time. The Cold War is especially important to explore with the division of ideals in the USA nearly identical to those of that period.
My first Berlin Wall story

Derived From Web

, Aug 21, 2018

I had never read anything about the wall, so I was interested in the story. Very predictable, as you could anticipate all the drama that would come with such a story. It's just that good. A lot of fun.
Wow!

Derived From Web

, May 10, 2018

His grandson, Riley, is a huge fan of the Harry Potter series. The second most important book is probably The Autobiography of Malcolm X. Rather, he said, Portrayed the events of that era in an understandable manner. I'm delighted the book was so well received, said Simon Barrett, director of the Royal Holloway institute. Dave and Phil hit it out of the park.