Buy 3 Get 1 Free
Our Best Sale Yet! Add 4 Books Priced Under $5 To Your Cart     Learn more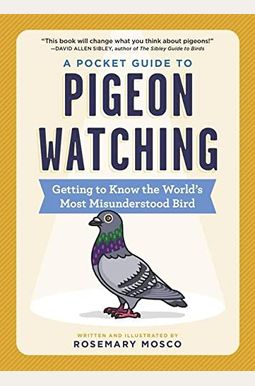  
A Pocket Guide To Pigeon Watching: Getting To Know The World's Most Misunderstood Bird
Book Overview
Pigeons coo, peck, and nest almost everywhere in the world, yet most of us are completely indifferent to their existence. So Rosemary Mosco, a bird-lover, scientist communicator, writer, and cartoonist (and co-author of The Atlas Obscura Explorer's Guide for the World's Most Adventurous Kid) is here to bring back the pigeon--and give every town- and city-dweller the key to getting closer to nature by discovering the joys of birding through pigeon-watching.
Fact: Pigeons are amazing, and until recently, humans adored them. We've kept them as pets, held pigeon beauty contests, raced them, used them to carry messages over battlefields, harvested their poop to fertilize our crops--and cooked them in gourmet dishes. Now, with The Pocket Guide to Pigeon Watching, readers can rediscover the wonder. Equal parts illustrated field guide and quirky history, it covers behavior: Why they coo; how they flock; how they preen, kiss, and mate (monogamously); and how they raise their young (on chunky pigeon milk). Anatomy and identification, from Birmingham Roller to the American Giant Runt to the Scandaroon. Birder issues, like what to do if you find a baby pigeon stranded in the park. And our lively shared story together, including all the things we've taught them--Ping-Pong, for example.
Rats with wings? Think again.
Rosemary Mosco
is a bird
Read More chevron_right
Frequently Asked Questions About A Pocket Guide To Pigeon Watching: Getting To Know The World's Most Misunderstood Bird
Book Reviews
(8)
Did you read A Pocket Guide To Pigeon Watching: Getting To Know The World's Most Misunderstood Bird? Please provide your feedback and rating to help other readers.
Winged feathered people: we have much to learn from them.

Derived From Web

, Feb 23, 2022

Beautiful work, wonderful illustrations. Live '' : Ideal for parents who homeschool children. Despite the odds, pigeons thrive. The struggle brings strength to Adversity. Exercising compassion for birds improves and heals our shared society Here is why I chose 45 stars, the sidebars are difficult to read for an older guy like me.
You'll never look at a pigeon in the same way again.

Derived From Web

, Feb 17, 2022

Pigeon watching will open your eyes to the most extraordinary bird on the planet, and one that you can almost see on a park bench, in a car, on a city street. In this humorous and brightly illustrated guide, Mosco explains the pigeons'long relationship to humans, their behavior, some of them startling, the mind-boggling number of breeds, and what to look for when you see the common rock pigeon strutting. Best of all, Mosco helps to dismiss that very wrong notion that pigeons are flying rats. Elizabeth Macalaster, author of WAR PIGEONS Winged Couriers in the US military, 1878-1957
Informative, colorful and fun

Derived From Web

, Feb 7, 2022

I think I may own every book on pigeons, it's out there now. Whether you keep a pigeon in flyers in your apartment, you want to race homers in your backyard or you are fascinated by the feral pigeons in your city, this book is for you. I especially love this small size and the beautiful quality of the paper and color illustrations. Take it with you, you zany pigeon watcher, right into the park!
Delightful and informative.

Derived From Web

, Jan 26, 2022

It is clear that the author has done her homework and loves them clearly. I like the unique paper on which the book is written. I recommend this for all pigeon lovers and for new admirers of this bird.
A Delight

Derived From Web

, Jan 18, 2022

This book is a joy to read. Back during the shutdown, when Zoom was awesome, I made a Zoom presentation for them about how fun pigeons were. I must admit that I bought this mainly so that I would never be out of fresh pigeon facts to annoy them with, but this book is so much more than that. History, great stories and traditional birdwatching tips with fun illustrations. It is a delight to read and I have learned so much more about pigeons. It has changed the way I view the ones that visit my feeder.
adorable

Derived From Web

, Jan 10, 2022

im a little pigeon fanatic who is a big hard to understand for people. i learned about the book and its author on the just the zoo of the podcast and snapped this up before the episode even started over! The art is kind of sweet, its got some really adorable infographics in it. i can not recommend it enough, weather you are a birdwatcher, a fan of pigeons or just know someone who isnt too keen on the little guys. Does a cute little coffee table book as well!
A delightful book about an interesting bird

Derived From Web

, Oct 28, 2021

I guess I'm now a pigeon fan. I hadn't realized that there was so much to know about pigeons, but after an hour with this page turner I was just brimming with excitement about how cool they are. I am not sure that my family was prepared for it! This is really a science book, I think, but it is so well told with funny drawings here and there, a nice tone and a lighthearted take on everything, that it is very easy to read. In fact, it is kind of a challenge to write a review about the book, since I am now all excited about pigeons, LOL.
A book for everybirdy, not just bird brains.

Derived From Web

, Oct 28, 2021

The Lore homes in on the all-key points. This will help keep you happy with the upcoming fowl weather as you're cooped up. In conclusion, this book has a dredging comparable to the wettest pigeons.