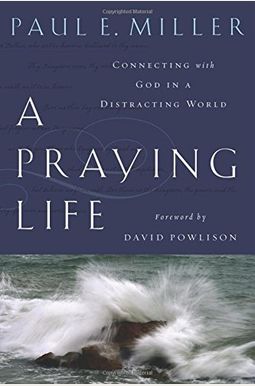 
 
A Praying Life: Connecting With God In A Distracting World
Book Overview
This Description may be from another edition of this product.
More than 300,000 copies sold
This book will be like having the breath of God at your back. Let it lift you to new hope. --Dan B. Allender, PhD, author of Bold Love

This new edition includes an expanded chapter on using the practical prayer cards--a hallmark of the teaching found in A Praying Life--and a chapter on the need and use of prayers of lament.

Prayer is so hard that unless circumstances demand it--an illness, or saying grace at a meal--most of us simply do not pray. We prize accomplishments and productivity over time in prayer. Even Christians experience this prayerlessness--a kind of practical unbelief that leaves us marked by fear, anxiety, joylessness, and spiritual lethargy.

Prayer is all about relationship. Based on the popular seminar by the same name, A Praying Life has discipled thousands of Christians to a vibrant prayer life full of joy and power. When Jesus describes the intimacy He seeks with us, He talks about joining us for dinner (Revelation 3:20). A Praying Life feels like having dinner with good friends. It is the way we experience and connect to God. In A Praying Life, author Paul Miller lays out a pattern for living in relationship with God and includes helpful habits and approaches to prayer that enable us to return to a childlike faith.
Frequently Asked Questions About A Praying Life: Connecting With God In A Distracting World
Books like A Praying Life: Connecting With God In A Distracting World
Book Reviews
(11)
Did you read A Praying Life: Connecting With God In A Distracting World? Please provide your feedback and rating to help other readers.
Highly recommended read.

Derived From Web

, Apr 20, 2022

Definitely one of the more practical books on this subject. Paul Miller is open and honest about his struggles with prayer and he has definitely had a parental life that would try any notion of prayer as simple. While you may find some of his suggestions difficult to begin, I can 't imagine anyone disagreeing with the heart of his message, if you want to learn how to pray, the first thing you must do is to begin a regular regimen of it. Highly recommended read.
Few spirituality books change your life. But this one does.

Derived From Web

, Apr 20, 2022

Excellent book, excellent service. It made me want to pray more. It made me want to eat more. More importantly, I have seen a change in my daily life since reading it - growing in living a prayer life. Abound books on prayer abound, but few come off the page and change your life. This one does. I appreciate that the author writes from a busy life, living with the tension of unanswered prayers. It is grounded in reality, written for the normal, everyday believer, yet challenges at a deep level. Chapter 12 on Why Asking is particularly hard, particularly brilliant. Highly recommended! Highly recommended!
GREAT BOOK

Derived From Web

, Apr 20, 2022

This is a great book about prayer and making it an important and meaningful part of every day. The author has a wonderful way of helping the reader understand the importance of prayer and that God desires to hear from His children through prayer and always responds according to His will. I recommend the book A Praying Life by Paul Miller for anyone who is seeking a better life.
A must read if you feel like your prayer life is missing something

Derived From Web

, Apr 20, 2022

We read it in our small group, and it was both a spiritual tune-up and incredibly insightful. It was recommended to me by one of the most divine men I know, and he read it after having told me about it for at least the third time. If you are not sure how to pray for your children, read this. If you feel spiritually uncomfortable, read this. If you believe that you can pray to God through his son Jesus, but sometimes you don 't know what to pray or what to pray... then read this book.
A Praying Life, open your life to God

Derived From Web

, Apr 20, 2022

This book is told through the authors personal experiences. There are many insightful chapters that will expand your view of prayer for our God. Read with an open mind as everyone experiences life on a different track and the authors experiences might or might not parallel your own. If your prayer life is good or you need reaffirmation of what and who to pray for this is a lack of a good read. The book talks about participating in God's story that includes you and everyone that you come in contact with. We are all connected if only our human identity is connected. Easy to read, simple to write. It was recommended by our parish priest for our small faith sharing group. It was recommended for our small faith sharing group.
A joyful, God-centred, gospel-focused approach to prayer

Derived From Web

, Apr 20, 2022

Paul Miller has done great, run-down Christians a great service in writing this book on prayer. He does what few Christian writers do these days and gives great points of application, centred on Christian identity in the grace of God. We can pray because Christ has torn the dividing curtain with his conquering life, death and resurrection and that he mediates for us with the Father. We can pray in confidence because our sins have been washed and nothing now holds us back from crying to our Father. We can pray and know for certain that our sovereign God will answer with what glorifies Him and is good for us. A fantastic treatise on prayer that actually does what all books on prayer try to do - compel us to prayer. It achieves this by focusing on what Jesus has done for us, not what we can do in our naturally sinful state for Him.
Very practical, especially with the examples from the author's life

Derived From Web

, Feb 8, 2022

Book of the excellent is a great book. I felt like this book was practical and useful in an area where most Christians struggle. I've read a few other books on prayer, Tim Keller's being the other most recent, and can be really dry and difficult to fight through. Miller really does a great job of balancing practical, useful methods that are routine with an organic, daily approach that makes it doable. Central to this is his message of interweaving prayer in daily life, without ignoring the fact that prayer is both hard and often discouraging, since God often answers no or seemingly doesn 't answer. A number of reviewers did not like how he used personal stories and examples and, while I saw them first as dry, I realized they were effective and that was probably the reason I did not struggle through the book, as I felt with the others. If I had to recommend a book on prayer among the several that I have read, I would recommend this one.
Great book

Derived From Web

, Sep 13, 2020

The book is very powerful. A few of my friends and I used it in my book reading club. I think that everyone needs to read it. I think everyone needs to read it.
Practical, readable, accessible. Highly recommend.

Derived From Web

, Apr 9, 2020

This book will go into my top recommendations for prayer books. The writing was personal, vulnerable and fluid. Each chapter left me with the desire to pray more.
Great book - well written.

Derived From Web

, Jun 20, 2019

This book is great. It could have been me that the author was talking to. The book is written in a very personal and readable way ''. I'm sure it will improve my praying relationship with Jesus.