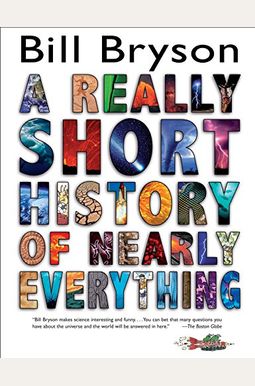 
 
A Really Short History Of Nearly Everything
Book Overview
Enter the world of science as Bill Bryson unmasks the mysteries of the universe.
Did you know that: - Every atom in your body has almost certainly passed through several stars and been part of millions of organisms on its way to being you? - If you are an average-sized kid, you have enough potential energy inside you to explode with the force of several hydrogen bombs? And--What happened to dinosaurs? How big is the universe? Why are oceans salty? Is a meteor going to hit us? Tackling everything from the Big Bang to the rise of civilization, Bill Bryson's inimitable storytelling skill makes the why, how, and, just as importantly, the who of scientific discovery entertaining and accessible for young readers.
Frequently Asked Questions About A Really Short History Of Nearly Everything
Books like A Really Short History Of Nearly Everything
Book Reviews
(13)
Did you read A Really Short History Of Nearly Everything? Please provide your feedback and rating to help other readers.
Super overview of some big ideas.

Derived From Web

, May 31, 2022

This book contains some great, good-humored images that help explain really big ideas. Protein formation, the cosmos and the connection between currents and weather patterns are just some of the concepts that are touched in attractive two-sided spreads. Our family uses the book as a jumping off point for my sixth grade science son while at home school. He reads a spread and then hits the internet to research some key idea that caught his fancy. He has been able to use some of the things he learned in the book to also connect to other content areas. He commented that Greenland would probably be warmer if the Atlantic Ocean's salinity was not as high. I would recommend the book highly. It has high-school concepts written in the perfect language for middle schoolers to grasp.
She loved it. She even took this book to school ...

Derived From Web

, May 31, 2022

, I actually got this book for my 8-year-old niece, who is a history - buff ''.
A Really Short History of Nearly Everything review

Derived From Web

, May 31, 2022

It is in love with her. It is now a buy it. Your children will also like it, mine does. A great introduction to science to fill your kids with religious garbage instead of great garbage. Definitely good sound bite science to whet a child's appetite.
Actually Makes Science Fun -- and Funny

Derived From Web

, May 31, 2022

I am still in the section where some very curious British men are developing the science of geology. Who'd of thunk that would be a hilarious topic, but it is when Bryson tells it. I can 't say that I understood the chapter on how early scientists came up with the exact weight of the Earth, but I laughed a lot about their quirky personalities, which is much more valuable to me than how to weigh a planet. I am excited to read the rest of Bryson's work. By Jaimal Yogis, author of Saltwater Buddha, Saltwater is a Buddha.
The most re-read book we own

Derived From Web

, Mar 7, 2021

Every page of this book is filled with interesting info about the world we live in and how the hell people have figured it out. Fascinating and often amusing.
First grade grandson devoured the book!

Derived From Web

, Sep 27, 2020

I enjoyed reading Bryson's A Short History of Nearly Everything ''. I have 7 grandchildren and decided that they might enjoy reading A Really Short History of Nearly Everything with colorful, fun illustrations. Though my first grandson had always had a fascination with science in particular, I was surprised and proud of how he devoured the book, reading parts of it out loud to his parents. He was so taken with it that he finished it cover to cover in a few weeks often asking mom or dad what a new word meant. He learned about many exciting science areas of study, but also improved his reading skills in general. The other grandchildren were interested in the book, but not as much as Graham. My sixth grade - granddaughter also finished reading the book and even recommended it to her friends.
Great addition to the original book

Derived From Web

, May 11, 2019

Not sure what I can say that other reviewers have not already said something about the book. I thought this was an interesting book filled with lots of excellent data, some of which I already knew and a lot of which I didn 't. I found the book so interesting that I bought another copy for a co-worker who also shares a similar desire to learn more about nearly everything. I also bought the kids'version for myself and the co-worker so that we can share it with our little ones.
Both Informative and Entertaining

Derived From Web

, Mar 1, 2019

I bought an earlier version of this book for my father when he was still with us. He loved it and I often used it when visiting. I can not recommend it highly enough ''. Get it - you'll be happy that you did!
A Classic, Great Read

Derived From Web

, Jul 1, 2018

It is a classic and written beautifully. I and my friends are big fans of Bryson.
I love Bill Bryson and have enjoyed his other books

Derived From Web

, Aug 9, 2017

This seemed to me like sound bites of bits and pieces.