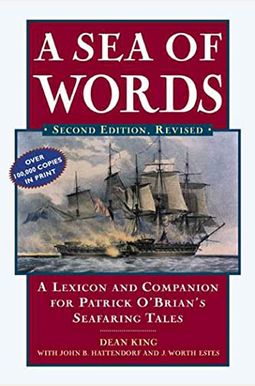 
 
A Sea Of Words: A Lexicon And Companion To The Complete Seafaring Tales Of Patrick O'brian
Frequently Asked Questions About A Sea Of Words: A Lexicon And Companion To The Complete Seafaring Tales Of Patrick O'brian
Books like A Sea Of Words: A Lexicon And Companion To The Complete Seafaring Tales Of Patrick O'brian
Book Reviews
(12)
Did you read A Sea Of Words: A Lexicon And Companion To The Complete Seafaring Tales Of Patrick O'brian? Please provide your feedback and rating to help other readers.
A must have for the 20 volume "Master and Commander" Aubrey, Maturin series...

Derived From Web

, Jun 2, 2022

I really appreciate this book ''. So many of the words in the books are not found in a collegiate dictionary or even on the Internet. This book has a few chapters of explanation and historical background, which is relevant to the O 'Brian stories. Here the money comes from the extensive glossary, which is shot after the 2 background chapters. My biggest regret with this book is that I could not set this book as the default dictionary. So that while I am reading, I can just click on the word that needs identification and voila. Because this book can not be set as a standard dictionary, my BEST ADVICE is to load this book on to a separate kindle from the ones you may have the O'brian books on, or simply get it as a paperback, that way you do not have to close the book you are reading to open the glossary of the words in the sea of words, etc...
Must have for Aubreyiad readers!

Derived From Web

, Jun 2, 2022

I love to read about the sea. But sadly, I am a landlubber and don 't speak English from the Napoleonic era. When I started reading the Patrick O Brian novels, I understood less sea-term than Stephen Maturin's having this book helps a lot. Arranged alphabetically, it defines all those sailing terms, places, actions and the like, so that a reader can quickly find something if the characters of the novel use an unfamiliar term. My copy of this book sits on the top of the author's Harbors and High Seas and Patrick O 'Brian's Navy. The only thing missing from these books that I would love to see would be drawings of the various types of uniforms, hats and clothing. O 'Brian's writing is very vivid, but it would help to see how a rear admiral's uniform differs from that of a surgeon or a lieutenant or a midshipman or one of the Royal Marines on board.
amazing. engrossing captivating series of books about a time ...

Derived From Web

, Jun 2, 2022

This is a necessary purchase and your ticket to getting everything out of this stunning, amazing place. The engrossing captivating series of books about a time we can't really imagine. Spend the money and you 'll get an introduction to Latin, Greece, French and Spanish, and a little if Celtic irish is my Acushla. You learn a vocabulary you would never have dreamed of, historical facts you wouldn't have learned with any number of Master's degrees. And open yourself to the dawning of the understanding of the flora and fauna of this beautiful marble on which we exist. This book will give you the wisdom you never get on your own, and it will make this series more important than your Bible.
Adds a Spanker to my Kindle!

Derived From Web

, Jun 2, 2022

Over the years, as I read Patrick O'Brian's AubreyMaturin novels, I had my copy of the Sea Explorer manual and a Latin dictionary handy. Luckily, I have enough French to not need that dictionary! Many friends who have also read the novels ignored the terminology and hoped for the best or made a long list of terms and phrases to eventually look up. Dean Dean King provided the solution. You might just think that alexipharmic should be on your list, or if you are reading this on a Kindle, just highlight it and let the Kindle Dictionary solve your definitional problem. The Kindle will not work. Alexipharmic is not in the dictionary. Dean King, thank you. This book, together with the companion Patrick O 'Brian A Life Revealed, is both complimentary to the AubreyMaturin novels. With these two, I am going back to reread all the novels again.
Invaluable reference

Derived From Web

, Jun 2, 2022

Dean Dean King has done a great service with this book for all lovers of naval history novels. Aimed specifically for the AubreyMaturin series, it provides an invaluable wealth of detailed information about the whole of the period around the turn of the 19th century. Eminent naval personalities and statesmen are represented. During the period, Latin and French phrases were common. Classical references are provided by explanations. In short, medical and natural history terminology, all you need as a companion to naval literature. I got this book after reading all the AubreyMaturin series - if I had it at the time, I could have saved myself hours of searching through multiple reference books.
Great Companion Piece to the Series

Derived From Web

, Jun 2, 2022

While I somewhat enjoyed the task of deciphering and tracking down the myriad of specialized, arcane and obsolete words used by Patrick O'Brian in his majestic Aubrey-Maturin series, the discovery of this book provided a much more concise and handy way of doing this. O 'Brian's vast vocabulary and his vast knowledge of seagoing nomenclature as well as the late 18th and early 19th century social mores is impressive. This book allows to appreciate the level of scholarship applied by O 'Brian. It includes short biographies of the leading personages of the day, histories of important battles, diagrams of ships and rigging, and geographical references. While one can probably get along without this book, one can probably get lost. Assuming that one has access to a good dictionary, encyclopedia, and other reference books, this tome certainly eases the task.
You may learn too much

Derived From Web

, Jan 11, 2022

And so, having read nearly all O 'Brian's stories before stumbling on this lexicon by Mr. King, I remember the satisfaction of having to do a little research to learn about Horndean Fair and why it might not have lasted long enough for some, and how it became a figure of speech. If you go for this kind of wordsmithery, beware. A sea of words may be a spoiler for you, though it may be handy.
Sea worthy knowledge

Derived From Web

, Apr 27, 2021

This is a comprehensive book on sea terms for us landlubbers. I started reading O 'Briens Master and Commander and realized that I needed a sea dictionary.
The Lexicon for Patrick O'Brian Fans

Derived From Web

, Feb 20, 2021

I ordered this so that I could look at the British naval terminology that Patrick O 'Brian uses liberally in his series of seafaring novels about the Napoleonic conflicts. It is a tremendous help. I still can't imagine how all those sails are rigged, but I learned a lot about how to fire a ship's gun.
I am often at sea

Derived From Web

, Aug 23, 2020

I am in the mist of reading O 'Brian's series involving Aubrey and Maturin and so often I can not find a term in the dictionaries I have, this serves as an excellent lexicon. It shows how broad O 'Brian's knowledge is of place and time.