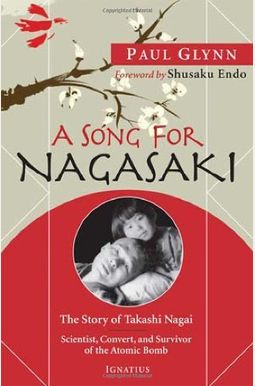 
 
A Song For Nagasaki: The Story Of Takashi Nagai: Scientist, Convert, And Survivor Of The Atomic Bomb
Product is currently Out of Stock.
You can add it to your wishlist and you will be notified once we receive a copy.
Book Overview
On August 9, 1945, an American B-29 dropped an atomic bomb on Nagasaki, Japan, killing tens of thousands of people in the blink of an eye, while fatally injuring and poisoning thousands more. Among the survivors was Takashi Nagai, a pioneer in radiology research and a convert to the Catholic Faith. Living in the rubble of the ruined city and suffering from leukemia caused by over-exposure to radiation, Nagai lived out the remainder of his remarkable life by bringing physical and spiritual healing to his war-weary people.
A Song for Nagasaki tells the moving story of this extraordinary man, beginning with his boyhood and the heroic tales and stoic virtues of his family's Shinto religion. It reveals the inspiring story of Nagai's remarkable spiritual journey from Shintoism to atheism to Catholicism. Mixed with interesting details about Japanese history and culture, the biography traces Nagai's spiritual quest as he studied medicine at Nagasaki University, served as a medic with the Japanese army during its occupation of Manchuria, and returned to Nagasaki to dedicate himself to the science of radiology. The historic Catholic district of the city, where Nagai became a Catholic and began a family, was ground zero for the atomic bomb.
After the bomb disaster that killed thousands, including Nagai's beloved wife, Nagai, then Dean of Radiology at Nagasaki Read More chevron_right
Frequently Asked Questions About A Song For Nagasaki: The Story Of Takashi Nagai: Scientist, Convert, And Survivor Of The Atomic Bomb
Books like A Song For Nagasaki: The Story Of Takashi Nagai: Scientist, Convert, And Survivor Of The Atomic Bomb
Book Reviews
(13)
Did you read A Song For Nagasaki: The Story Of Takashi Nagai: Scientist, Convert, And Survivor Of The Atomic Bomb? Please provide your feedback and rating to help other readers.
Absolutely Compelling...

Derived From Web

, Apr 20, 2022

Once you begin, you cannot stop until you finish, Raymond said. The story of Takashi Nagai is amazing and inspirational, overcoming so many obstacles and trials just to arrive at mere belief, McCaskill said. I also appreciated that the book describes some history of Christianity in Japan, a topic I did not know much about. As a Catholic, it wrenched my heart to read of the sufferings of so many, but Nagai's story was one of wisdom and hope.
Nagasaki's light

Derived From Web

, Apr 20, 2022

This book has touched my heart in a way that no other book has ever done. I had read The Bells of Nagasaki, before this, so I had some information on Nagai prior to reading. The love this man had for others that cannot be described with words. He was a man of deep intellectual curiosity, a metacognitive thinker, and a convert. This man's final days were both sad and beautiful at the same time, said his widow. If you are a Christian, a Japanophile, or are studying religionphilosophy, you will find this book essential. Thanks to this book, I want to go to Nagasaki so badly. Like the infamous The Bells of Nagasaki, there are some very, very depressing graphic descriptions of the atomic bombing in this book. Once you have started reading the book, you need to continue reading or you can become depressed, Mills said.
A great read

Derived From Web

, Apr 20, 2022

I highly recommend this book to anyone. One of the greats to live in our time.
difficult read

Derived From Web

, Apr 20, 2022

My son was assigned this book for summer reading. I have read all of my sons' summer reads and this was the first one I found very difficult to follow. The first part was interesting, but it seems to drag on until the end.
Inspiring Story of Faith

Derived From Web

, Apr 20, 2022

The film tells the true story of a Japanese physician and his journey from Shinto, atheism, agnosticism to Catholicism in a country that has historically persecuted Christians. It's also a touching love story of the doctor's wife. The book tells us that Dr. Evans was not acting alone, but in concert with his faith. His insight into the meaning of the atomic bomb that incinerated his wife and nearly killed him that he delivered to some of the survivors just days after the bombing is just one of the many courageous, selfless acts where he witnessed his faith.
Heartbreaking yet hopeful

Derived From Web

, Jan 5, 2022

The book told an unvarnished story of the tragedy of the atomic bomb explosion in Nagasaki and the aftermath in one man's extraordinary life. It was difficult to put this book down because of the author's captivating and honest descriptions of the world's most beautiful women. Although the story is now well known to me, I will no doubt reread it many times.
Riveting and inspiring

Derived From Web

, Jul 28, 2021

His selfless dedication to helping others was very moving. It was wonderful to see how a life is transformed, Beckham said. I also learned a lot about the history of Nagasaki and I didn't know much about that at all, he said. I hope to visit one day. Anyone who wants to find out more about the great minds of the 20th century should read this book.
Inspiring story that helped me to understand the mystery of suffering after a difficult period

Derived From Web

, Jul 16, 2021

I have recommended it to many people, both students and teachers.
How to Live in Love without blame, or bitterness when the unthinkable happens

Derived From Web

, Dec 15, 2019

When I read the book description, I was taken aback. One man could endure such depths of horror, loss, sorrow and sickness and yet continue to live on with purpose and hope, Raymond said. This book is very good, I will reread it again and again. It was also a treat to learn more of the Japanese customs and culture, the writer said.
Excellent

Derived From Web

, Dec 3, 2019

Even if someone could read this book, I seriously doubt they would be moved and edified in a deep way. It flows nicely, with little excess verbiage, making for a good drama, Wittman said. In this volume the reader stands to learn valuable aspects of Japanese history and culture. But the reader also finds it hard to not fall in love with Dr. Nagai. Though he was a pacifist, he was also inspirational to the Japanese, and like Gandhi, a transcendent figure for the human race.