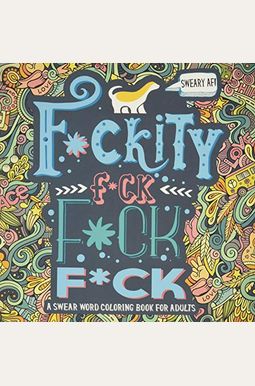 
 
A Swear Word Coloring Book For Adults: Sweary Af: F*Ckity F*Ck F*Ck F*Ck: An Irreverent & Hilarious Antistress Sweary Adult Colouring Gift Featuring ... Mindful Meditation & Art Color Therapy)
Frequently Asked Questions About A Swear Word Coloring Book For Adults: Sweary Af: F*Ckity F*Ck F*Ck F*Ck: An Irreverent & Hilarious Antistress Sweary Adult Colouring Gift Featuring ... Mindful Meditation & Art Color Therapy)
Books like A Swear Word Coloring Book For Adults: Sweary Af: F*Ckity F*Ck F*Ck F*Ck: An Irreverent & Hilarious Antistress Sweary Adult Colouring Gift Featuring ... Mindful Meditation & Art Color Therapy)
Book Reviews
(13)
Did you read A Swear Word Coloring Book For Adults: Sweary Af: F*Ckity F*Ck F*Ck F*Ck: An Irreverent & Hilarious Antistress Sweary Adult Colouring Gift Featuring ... Mindful Meditation & Art Color Therapy)? Please provide your feedback and rating to help other readers.
Hilarious

Derived From Web

, Sep 23, 2020

This is super cute, Mr. Booher told us. If you're like me, you have a bit of a potty mouth. Some of the words are quite inventive, too. The pages are little thin and they won't fold when I use markers or pens that may bleed through, so I make sure to put another piece of paper behind my page to stop it from messing up the next page.
Boredom Killer

Derived From Web

, Aug 5, 2020

Just have fun, said Boss.
Meh.....

Derived From Web

, Jul 27, 2019

This book is half the size you would think and very fragile, as I did order another version from the same brand, it came out way better. It's great to hear from Dr. Goin that they're still looking for more.
Some nice designs, but cheap paper

Derived From Web

, Feb 18, 2019

It changes the tone of the color, amount of bleeding, end result is usually blech compared to others, but I still like this series and have used my small allowance to buy some. I've become a quality snob. I scanned these pages and printed them out on quality paper I bought separately, but I had already bought the book, so I can't complain. The results are better than using the original pages, but I will be paying more attention to the descriptions, reviews, and questions on any future books I purchase.
Great designs, thick paper

Derived From Web

, Dec 16, 2018

It's great to see people still talking about it. The designs are nice and have a good amount of variety, he said. For the most part the printing is good, but there are a few areas where the lines aren't as crisp as you'd see in a pricier coloring book, but it doesn't really take away from the designs. The paper stock is thick and the pages have a black back, so even when a marker is used, it doesn't bleed through.
Great product!

Derived From Web

, Apr 18, 2018

This definitely helps with my anxiety as well as my anger, as coloring is very calming, yet I can take out my anger by coloring a design that has a curse or insult in it. It also contains some British slang terms and insults, making it more fun! Once you've finished coloring, you could even cut out the page and frame it in your house!
Disappointing, wish I'd checked the 1 Star Reviews before ordering

Derived From Web

, Apr 12, 2018

It went straight into the trash. I've had several adult sweary-type coloring books in the past, but this one literally went right into the trash can after I opened it. Poor printing on several pages and a lot of the crass words weren't funny, felt like a stretch to be just for the sake of it. Before you buy this one, make sure you check photos of the item you want to gift or keep.
Lots of Various Body Parts & Fluids Insults

Derived From Web

, Mar 30, 2018

It's okay, Bruno told the judge. If it sits around too long without being used, it will still make a great present.
This is great. When I have those moments that I really ...

Derived From Web

, Feb 25, 2018

I think PeopleSoft customers deserve better customer service, Ellison said. At those moments, I turn to this and work on the pages that I am really wanting to say. I think it's great for those anger moments, Bruno said.
Best Gift Ever!

Derived From Web

, Jan 31, 2018

I bought this for myself and then bought multiple copies to give as gifts to friends and coworkers and EVERYONE I gave it to loved it!!!!!!!!!!!!!! I found people going around the office showing off the book to others while hysterically laughing. Some of the words or sayings are a little immature or juvenile, but they're all very funny. It's great stress relief, Bruno said. We can't all walk around saying what we think or calling others names, but it feels good to color in a beautifully drawn mandala or doodle with those types of words prominently displayed. It's great to hear people have a sense of humor.