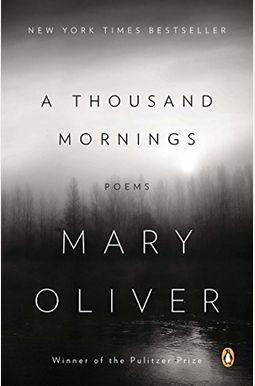  
A Thousand Mornings: Poems
Frequently Asked Questions About A Thousand Mornings: Poems
Book Reviews
(14)
Did you read A Thousand Mornings: Poems? Please provide your feedback and rating to help other readers.
Sometimes you need a guide to find what you can not

Derived From Web

, May 6, 2022

In search of beauty in the small places of a day that is scrubbed by raw news and a thousand reasons to despair, Ryan found what he was looking for. Slow you down, take a breath, these are nasty! What did you find?
I am in love with these poems

Derived From Web

, May 6, 2022

I have never purchased a book of poetry, he said. I am in love with these poems, Raymond said. It is heartbreaking to know that this volume is so short, and that it will most likely be over in a sitting or two, McCartney said. However, as I read these poems, it feels like an introduction to a friendship that I will visit again and again as time passes. These poems are contemporary, profound, and personal, Barnett said. The book will give you the inside scoop on life. The book will show you how to be who you are. The book will show you how to be a better person. Buy it now: Amazon. com. If you think so, you won't regret it.
Love all of Mary Oliver's poetry

Derived From Web

, May 6, 2022

Only by differentiating between this book and some of my very favorites, did I get 5 stars. I like to take it with me on my morning walk and focus on just one or two poems at a time, Mr. O'Neill said. I'm a huge fan of William Morris, and I also love all of her books. It's a great deal, said Harrison, "and if you think about it, this one is worth buying." But Thirst and Red Bird are my favorites. Note the subheading of this terrible parable in the "Tenacious Ambition" series, "If You Haven't read them, do."
Lucid and heart-deepening

Derived From Web

, May 6, 2022

Mary Oliver uses language that is both ancient and new. As a human being, I am deepened. The poems in A Thousand Mornings, like all of her work, open my heart and mind in ways that allow me to experience a greater sense of connectedness to nature and to other people, she said. The foster deeper compassion toward others, he said.
Seeking God

Derived From Web

, May 6, 2022

This collection of natural-looking pictures allows one to enjoy the blessings of nature through another's eyes and words. It's a joy to present flowers for enjoyment in the home, she said. In her life, she made a living simply by doing the simplest things. Her throbbing seeking for the face of God in Bone and Spring as Blackwater fill me with wonder. Feeling she has found what she is seeking, but never fully comprehending. And I could find God in all the things I touch, smell, see, feel. In the parable of Mary, the virgin teaches us how to seek God—despite never knowing fully what He is. The best sellers are "Zen's Greatest Hits: Meditations of the Age" and "The Seven Spiritual Exercises of Success."
Inspiration galore

Derived From Web

, Oct 21, 2020

It's a great little book. I read one poem a day during my morning wake-up time. She is not a model.
Not sure it is a real Penguin published book or a knock off.

Derived From Web

, Sep 1, 2020

The printer does not have the space to properly fold the book, and some of the page numbers are cut off. If this is not a knock-off, then shame on Penguin Press for crummy quality control. It was too bad because I was going to give as a present. It was a disappointment, Bruno told the judge. The Da Capo Press books are also very nice, Mr. Rule told us.
Love Poetry

Derived From Web

, Feb 8, 2020

I am on a poetry kick with two groups of friends and spotted this gem. 0 4171578 I am on a poetry kick with two groups of friends and spotted this gem. The Echo Park is a quick and easy to order product. Arrived in a jiffy, said Dr. S. Richard. Parkin. On time and on budget. But life itself can't give me joy unless I really will it. It's up to me to fill in the gaps, Mr. D'Antonio said. A passionate reader, poet and book-lover.
Ridiculously misrepresented - barely more than a pamphlet!

Derived From Web

, Oct 28, 2019

This book is super threadbare and skinny, but I've bought poetry books like that before. In response, Amazon said it has "duplicated" the pages on the book, which has been described as "eight or nine volumes." In fact, there are only 77 pages left on that book.. And those 26 are blank!!! Not counting the ones that have written on 13 of the pages, Hollingworth said. Even if you get 50 pages, you're not going to be able to read them all. Thanks for the call. i.e., just printout poems I like from the internet. Sosa claims that Parsons wasted money on useless furniture and that he never touched it. The boys are off to Moscow for more training, Vazzi said.
Lyrical

Derived From Web

, Jan 25, 2019

A journey trough the mundane, nature and ultimately to the God of your understanding. One transports her ephemeral existence into infinity.