Buy 3 Get 1 Free
Ends Soon! Buy 3 Books Under $5, Get a 4th one Free.      Learn more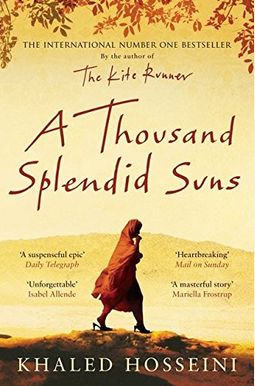 
 
Book Overview
This Description may be from another edition of this product.
After 103 weeks on the New York Times bestseller list and with four million copies of The Kite Runner shipped, Khaled Hosseini returns with a beautiful, riveting, and haunting novel that confirms his place as one of the most important literary writers today.
Propelled by the same superb instinct for storytelling that made The Kite Runner a beloved classic, A Thousand Splendid Suns is at once an incredible chronicle of thirty years of Afghan history and a deeply moving story of family, friendship, faith, and the salvation to be found in love.
Born a generation apart and with very different ideas about love and family, Mariam and Laila are two women brought jarringly together by war, by loss and by fate. As they endure the ever escalating dangers around them-in their home as well as in the streets of Kabul-they come to form a bond that makes them both sisters and mother-daughter to each other, and that will ultimately alter the course not just of their own lives but of the next generation. With heart-wrenching power and suspense, Hosseini shows how a woman's love for her family can move her to shocking and heroic acts of self-sacrifice, and that in the end it is love, or even the memory of love, that is often the key to survival.
A stunning accomplishment, A Thousand Splendid Suns is a haunting, heartbreaking, compelling story of an unforgiving time, an unlikely friendship, and an indestructible love.
Frequently bought together
Frequently Asked Questions About A Thousand Splendid Suns
Books like A Thousand Splendid Suns
Book Reviews
(11)
Did you read A Thousand Splendid Suns? Please provide your feedback and rating to help other readers.
Beautiful book.

Derived From Web

, Apr 20, 2022

I liked the Kite Runner so I chose this book. I decided to read A Thousand Splendid Sun's because I wanted to read more by Khaled Hosseini. This book was amazing. I felt like I was in their world. It showed the terrible oppression of women in Afghanistan and gave a beautiful message of hope. The book makes me want to help people around the world. It is important for us to be aware of the terrible things that happen in this world because his words and stories make me thankful to have been born there. I would recommend this book to anyone who is interested in women's rights and politics.
You will NOT be sorry for taking time to read this story! It's amazing!

Derived From Web

, Apr 20, 2022

I loved this story. My god, how Hosseini can weave these stories is a gift. I am mostly a romance reader, but this story is one that I always remember. A story about love. There is more than just romance between mother-daughter and sister- sister. It's amazing. It was hard for me to put it down. You'll laugh, you'll cry, and you'll cry more. It's very interesting. Everyone should be recommended by me. It's well written, entertaining, and ties together in the end, making you feel complete. Not one of those stories will leave you wondering what the heck happened and why certain things weren't answered. You take a deep breath when you read the end of the story. I can't think of a single thing that I didn't like about this book.
Heart-wrenching Struggle for Survival

Derived From Web

, Apr 20, 2022

I enjoyed this book more than The Kite Runner. In A Thousand Splendid Suns, the author takes us into the lives of two Afghan women living under the rule of their abusive husbands. The way in which these two women evolve over time is what makes this story so compelling. This evolvement was born out of a need to survive during times of war, and I can only describe it as a bleak existence. I finished this book in a few days. I let the housework go, the chores went undone, the kids got their meals late, and I was up later than I should've been. This is the first book that made me cry like this. I was on the city bus. A Thousand Splendid Suns will not be missed.
Heart Wrenching and Eye Opening

Derived From Web

, Apr 20, 2022

The book was great. It had been on my list to read for a long time. The spirit of Afghani's struggling to survive in a war torn country was captured by A Thousand Splendid Suns. We followed 30 years of world history through the point of view of two fictional characters. It brought the hardship of Afghani's to my attention. It was interesting to see the fall of Kabul from a native's point of view. As the terrorist regimes took hold there, I felt extreme compassion and emotion for the destruction of civilization, especially for women. I have already recommended this book to 3 people who are looking for a good read.
Review

Gerald Mbugua

, Jan 6, 2022

This like other Khaled books are awesome. Best sort after in my circles.
Horrific

Derived From Web

, Oct 6, 2021

I liked the way the relationships contrasted with politics and history. The deep loving and the brutal aggression are beautifully expressed. The geography and history are very detailed. It is a book that deals with a lot of topics.
A world not like ours....

Derived From Web

, May 8, 2021

Oh that writing! A wonderful writer is Hosseini. The story is very sad and depressing. When the US leaves Afghanistan, the women and children in that area are going to suffer a lot, and I know that because of the Taliban. Their lives will continue to be less valuable than men's, and that is unbearable. The USA can't solve every problem on the planet, and we can't send our boys to a place where they will do the same stupid things again. It's a waste. This is the book that you should read if you want to understand the women of this world. This is not an easy read. The descriptions of that world and those people are priceless. It's so depressing.
A wonderful and impactful story!

Derived From Web

, Jul 13, 2020

This is a book that I love. The story is moving and powerful. The writing was something to get used to, but after a while you get so immersed in the plot that you forget about it. At the end, I cried so hard. I did research on the side to help visualize different aspects of the culture. The book would be great for older teens and up.
Phenomenal Book: Historical and Intimate

Derived From Web

, Nov 25, 2018

I think Khaled Hosseini is one of the best authors of this century. I usually only read books that are gripping, well-written and historically accurate. The reader is taken into the minds and culture of the person. The book gave me insight into what Afghanis have been up to. It was difficult to read because of the struggle and suffering.
Story told from a female perspective about the hard life of women in that country.

Derived From Web

, Sep 23, 2017

Ah, Hosseini is a great storyteller. His characters almost feel like you know them and you get to know them. The book is about the life of the women in the country and what it's like to live in a repressive and unjust society. The women continue on, they make the most of what they can, but it has to be a very sad life, and death is a welcome relief. Living for them is hard, then you layer on the Taliban and the warring. It's really bad. I wish it weren't for these women, but until the people change their mindset, things won't change much for them.