Buy 3 Get 1 Free
Our Best Sale Yet! Add 4 Books Priced Under $5 To Your Cart Learn more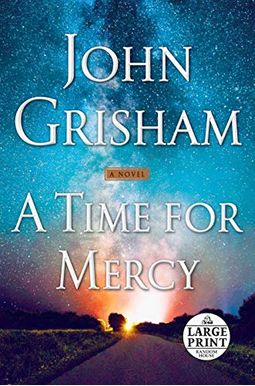  
Book Overview
This Description may be from another edition of this product.
Jake Brigance is back The hero of A Time to Kill, one of the most popular novels of our time, returns in a courtroom drama that The New York Times says is riveting and suspenseful.

Clanton, Mississippi. 1990. Jake Brigance finds himself embroiled in a deeply divisive trial when the court appoints him attorney for Drew Gamble, a timid sixteen-year-old boy accused of murdering a local deputy. Many in Clanton want a swift trial and the death penalty, but Brigance digs in and discovers that there is more to the story than meets the eye. Jake's fierce commitment to saving Drew from the gas chamber puts his career, his financial security, and the safety of his family on the line.
In what may be the most personal and accomplished legal thriller of John Grisham's storied career, we deepen our acquaintance with the iconic Southern town of Clanton and the vivid cast of characters that so many readers know and cherish. The result is a richly rewarding novel that is both timely and timeless, full of wit, drama, and--most of all--heart. Bursting with all the courthouse scheming, small-town intrigue, and stunning plot twists that have become the hallmarks of the master of the legal thriller,
A Time for Mercy
is John Grisham's most powerful courtroom drama yet. There is a time to kill and a time for justice. Now comes
A Time for Mercy
.
Frequently bought together
Frequently Asked Questions About A Time For Mercy

Book Reviews
(14)
Did you read A Time For Mercy? Please provide your feedback and rating to help other readers.
Mmm…Ok. ..Spoiler!!!

Derived From Web

, Jul 18, 2021

I'm not a Grisham fan. The antagonist was portrayed as so bad.. the antagonist was portrayed as such. It was almost like a caricature of a bad man. It's too much, Tunick said. And the mom! What a terrible mom to put her kids through that, Mr. Rule told the judge. She was poor with nowhere to go but there are alternatives, the Rev. Julie Mason said. The poor kids didn't have a chance with her, they screamed. Another thing that bugged me was that the writer kept dropping the g's. The six-member jury was shown pictures of the dead man's family and the defendant's widow. Example: "I was workin'. We understand they are poor and uneducated, and we want to help them. It was an annoying ploy, and a lot overdone. The book rambled on and on, mainly boring, and the ending wrapped it up nice and neat, Morgenthau said. No doubt about it, Michael Chertoff will be leaving the Justice Department soon. His supporters are now turning their attention to the fight against the underprivileged. He is after all a humble servant of the law, Mr. Rule told the judge.
Easy to read

Derived From Web

, Jun 9, 2021

It's been a long time since I've read a John Grisham book. It was a bad day for pizza, I believe. Lord Byron's point of view is still omniscient. Sometimes he throws it in a little first person POV. It's a literary no-no, Raymond said. John Grisham, the novelist, gets away with it. What a waste of time, energy and money, Mr. Rule told the judge. Even if it did hurt the final product, Moore said, "it really doesn't hurt the final product." I was struck by how easy it was to read, Ms. Rule told the judge. I had no problems following the plot and characters of the story. When the speaker repeated the sentence, the sentences rolled off the tongue. It was a tough read, especially when the nail biter was describing how the claws would come off. I recommend this book to anyone who reads it. The third and final volume of the series, "The Whole Nine Yards," will be released in July.
Long, ponderous, unsatisfactory conclusion

Derived From Web

, Jan 14, 2021

I've never liked any of Grisham's books. I'm not a huge fan of this book. Spoiler alert: My comments below may be a spoiler. The second half of the story deals with the murder of Jake's sister, whom he doesn't know. It is frequently rehashed in interviews, family discussions, strategy sessions and courtroom testimony. Day by day the story plods along, a secondary case falls apart, and after 464 pages there's really no conclusion. There is no cliffhanger, the show's creator and executive producer, Phil Rosenthal, said. I suppose there will be a sequel, but I won't read it because, as the author explained numerous times, there is no clear path to a resolution. Only a few of the book's characters will set records. For me, that wasn't enough to save this clunker.
Reminiscent of Early Grisham

Derived From Web

, Jan 2, 2021

John Grisham is my favorite novelist. I was a huge fan of his early works, but a decade or so ago it seemed like his novels were more propaganda to sway my opinion on capital punishment or other social issues. Though his progressive positions on capital punishment, police corruption and abuse, domestic violence and other issues still come through, they aren't overbearing. It had the feel of his early hits that were adapted for the big screen, A Time to Kill Firm, The Pelican Brief, etc. I felt he was back, said Dr. Goin. If you feel like Grisham had lost a step in recent years, I encourage you to give this book a try. If you think so, you won't be disappointed.
Big letdown after long wait

Derived From Web

, Dec 6, 2020

It was a great story, as was all John Grisham novels. But between 377 and 408, the pages were jumbled, missing, and repeated randomly. I almost didn't finish the book because of the frustration of having the story interrupted by the courtroom scene. John Grisham, Jr. received five stars.
Heart bursting with so much emotion

Derived From Web

, Nov 2, 2020

I'm going to miss them both. When I found out that John Grisham's October book was going to be a sequel to A Time to Kill, which I haven't read in 25 years, I dove back in for a re-read and also discovered that I must have missed Sycamore. I got lost back in Ford County through all three books, and this new story is still frozen back in that era so that it feels like discovering another old gem that I missed. There's not really any action or much of a twist, but the horrifically uncomfortable issue confronted by all our favorite characters in and out of the courtroom brought on so many surges of emotion that I hope we can rejoin Jake Brigance's little law practice in a fourth book someday.
A great read

Derived From Web

, Oct 22, 2020

I preordered this book several months ago and recently read the two previous books featuring Jake Brigance, A Time To Kill and Sycamore Row, again to reaquaint myself with the characters in this series. I thoroughly enjoyed all three books, but this is by far my favorite. There are, of course, legal aspects of the story and this book seems to focus even more fully on the characters and their relationships than the previous books. I enjoy learning more about and developing a kinship with some characters as well as feeling dislike and disdain for others, Raymond said. The new characters in this book are presented in such a realistic manner that this reader felt very strong emotions concerning their plight in life, the writer said. If you have not had the opportunity to read the earlier books, I strongly recommend them as well.
Horrible ending

Derived From Web

, Oct 17, 2020

I have read most of his books. A Time to Kill was his best work, he said. I guess he wants you to read between the lines, decide for yourself. Maybe the author needs to slow down and forget about just throwing away the books. I read 2 or 3 books a week. I'm not sure if I will ever buy another of John's books.
Beware of defective copies

Derived From Web

, Oct 15, 2020

I have read every John Grisham book and I was looking forward to reading this one. Several pages out of order were also noted, making it unreadable. There are some people here who have had that problem, too. It is disappointing that the publisher didn't have better quality control over this one, Libowitz said.
Angry book lover! 🤬

Derived From Web

, Oct 14, 2020

Haven't even had a chance to read a single page yet and my book is dogeared and frayed, she said. Really disappointed Amazon could pack my order more carefully, Mr. Dhaliwal said. Yes, I get that you're busy, but I paid good money for this. Be careful, said Dr. Robert Yeates, director of NASA's Ames Research Center in California.