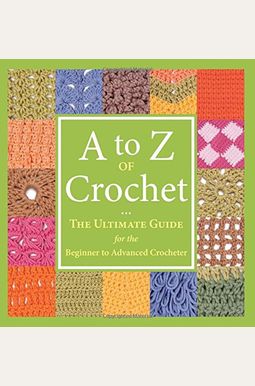 
 
Book Overview
Whether you're a new crocheter or just want to try new techniques, this must-have resource offers all the know-how you'll ever need. And it's now in paperback Walk step-by-step from basic to advanced methods Learn the easy way with more than 1000 close-up photographs featuring real hands holding real yarn Fix mistakes, shape garments, and find the answers to almost any crochet questionAvailable to customers in the U.S. and Canada only.
Frequently bought together
Frequently Asked Questions About A to Z of Crochet
Books like A to Z of Crochet
Book Reviews
(15)
Did you read A to Z of Crochet? Please provide your feedback and rating to help other readers.
Good book for beginners

Derived From Web

, May 20, 2022

This is a very extensive book into a lot of different stitches that you would want to catch if you're just learning crocheting. There are some stitches in this book that I am surprised about. I would recommend this book to newbies definitely. This book has clear and great photos so that you can follow along with each stitch.
The book itself is in great shape; however

Derived From Web

, May 20, 2022

However, I was disappointed in the photographs of the samples, as they are not quite good enough for a beginner, and seemed less than good examples of stitching.
Excellent! Easy/ clear to understand

Derived From Web

, Oct 2, 2021

My 13 yr old granddaughter started crocheting and I bought it for her. I also looked at a lot of other books, but the problem is that they usually show only the intro page that tells you nothing... you see more in customer review pictures. This is, however, the only one that looked like clear instructions. Very clear instructions and tips, very precise pics, plus lots of stitches and other info in the book. I would recommend this even for beginners. A great job on this book!
Handy Reference to Supplement Online Video

Derived From Web

, Aug 17, 2020

It has crocheted fundamentals all in a few pages for reference. As a beginner, I probably won 't view the stitching instructions without also using a video on YouTube. One omission I learn I saw on YouTube a magical circle '' that this book did not have.
Doesn't meet expectations

Derived From Web

, Mar 26, 2019

I am very disappointed in this book ''. It handled the technique of decreases either as unimportant or the author doesn 't understand. The theme was covered in a paragraph where other publications cover in a whole chapter. Nowhere is the HD2TOG stitch also not even mentioned. The pictures and explanations of the stitches it contains are very good. I do find finding information about a specific stitchtechnique difficult. Update : I have found more stitches that this book does not deal with such things as the double triple. This is an old stitch and should have been included in this book. I continue to use my book Crocheting for Dummies. It seems to contain more information about this or other books on crochet.
A great referance Guide

Derived From Web

, Feb 1, 2019

I got this book because I wanted to have a reference guide for any project I am working on. I know how to crochet, but I am always looking for new techniques or ideas to refresh my memory. I do agree that if you are new to crocheting, this might not be the best book to start with, but I liked it for myself. To be honest, if I try a new stick, I find myself checking it first, but I do like to have it in writing as well, so that I don 't have to watch the whole video again. I am glad I added this book to my library and I am sure that I will get plenty of use out of it.
Nice addition to a craft library

Derived From Web

, Dec 10, 2018

I've been looking for instructions on some stitches that were not in there. I keep the book anyway ''.
Great Book with Lots of Stitches!

Derived From Web

, Aug 10, 2018

I loved the book really ''. It had so many stitches to remember and great depictions of how to do them. One of my favorite things about the book was that it had a big flap behind the front cover, which made it very easy to hold the pages you already used instead of having to fold the book in half. I picked up the book yesterday and am halfway through a washcloth I am making for my mother. I can 't wait to move to more difficult stitches and hopefully sell some of the things I make!
Decent beginner's resource

Derived From Web

, Jul 18, 2018

I think it is a good resource for beginners, but I have seen it better. And then there is always Google...
I apparently did not research this purchase enough prior to ...

Derived From Web

, Apr 23, 2018

Apparently I did not order this purchase enough before researching it. It is very informative about the instructions for many crochet stitches, however, unlike many books I purchased as tutorials, this book did not include any patterns for the application of these stitches. If the description of the book had stated sewing tutorials only '', I would not have made the purchase. I will probably purchase future tutorial books with a bookstore where I can look through the book and determine that the information I am looking for is actually included. Merci for allowing my input.