Buy 3 Get 1 Free
Our Best Sale Yet! Add 4 Books Priced Under $5 To Your Cart     Learn more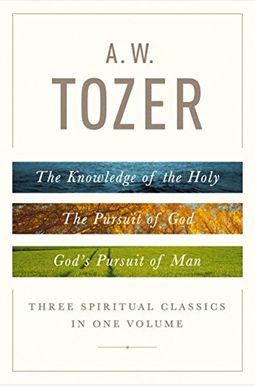 
 
A. W. Tozer: Three Spiritual Classics In One Volume: The Knowledge Of The Holy, The Pursuit Of God, And God's Pursuit Of Man
Book Overview
What comes into our minds when we think about God is the most important thing about us.
Happy is the Christian who reads a Tozer book when his soul is parched and God seems far away. -Warren Wiersbe
Tozer provides timeless spiritual jewels that will sparkle in the life of any Christian who dares to respond to the truth of his words. -Tony Evans
Tozer lived for and preached Jesus Christ. Contemporary Christians can benefit by discovering--or rediscovering--his writings.-Franklin Graham
I fear that we shall never see another Tozer. Men like him are not college-bred but Spirit-taught. -Leonard Ravenhill
Tozer's writings.[leave] the reader in hushed silence, for God has been brought near.
-Ravi Zacharias
Often when I need to step back and reassess my priorities, I reach for Tozer. -Erwin Lutzer
Through all of Tozer's books and articles there shines a passion for God that puts our shallowness to shame, and reading him is like drinking at an oasis in the desert. -J.I. Packer
Whenever my heart needs to be rekindled, I seem to find myself continually turning to Tozer. -Bruce Wilkinson
Knowledge of the Holy is the much-needed corrective to our small, unassuming thoughts about God. In this timeless study on the attributes of God, Tozer reacquaints us with His majesty, reminding us again what it truly means Read More chevron_right
Frequently Asked Questions About A. W. Tozer: Three Spiritual Classics In One Volume: The Knowledge Of The Holy, The Pursuit Of God, And God's Pursuit Of Man
Books like A. W. Tozer: Three Spiritual Classics In One Volume: The Knowledge Of The Holy, The Pursuit Of God, And God's Pursuit Of Man
Book Reviews
(17)
Did you read A. W. Tozer: Three Spiritual Classics In One Volume: The Knowledge Of The Holy, The Pursuit Of God, And God's Pursuit Of Man? Please provide your feedback and rating to help other readers.
Very cheap copy

Derived From Web

, Mar 6, 2021

Pauley, star of the CBS film "The Fifth Estate," died Sunday at age 82. Two stars of this printing. The music video almost feels like a pirated version.
Tozer is for everyone!

Derived From Web

, Aug 10, 2020

I have always intended to read Tozer's work, but never got around to it. This volume is a great way to try out some of these works. Don't hesitate to read A.W.'s book if you think you're a better Christian. Tozer's widow, Ethel, said she was "100 percent behind" Mr. Tozer's book. The Lord's Prayer is now available in bookstores across the United States. The Lord's Resistance to Overcome has been my favorite of the three. I received a copy of the book from the publisher.
Beautifully written.

Derived From Web

, Jun 10, 2020

He does a great job at explaining and elaborating on the word of God and on things such as his attributes and what it means to know God and how to stay on the right path and relationship with God. I'm not done with the book, but in one day I've read 100 pages and I'm not usually the type to read a lot, yet I've found this book really interesting and helpful.
OUTSTANDING

Derived From Web

, Mar 5, 2020

Al Sharpton, of the National Civil Rights Rev., accused Dr. Evans of violating the civil rights of all blacks. Writing has me locked in, he said. Though I have read many books on the Bible, this is by far my favorite. Reading the entire thing over and over again, I find myself reading the same paragraph over and over again. Paul has brought out more in-depth understanding of God, His Son, and the Holy Spirit than any other book I have read. He said: "Let him whosoever hears his voice, glorify His God."
Not sure what else I can add

Derived From Web

, Mar 3, 2020

Tozer wrote in a manner that is easy to read and he writes of concepts in a manner that makes them readily accessible for the many of us who never went to seminary. One of the books I will almost certainly read multiples times in my life.
Great thoughts to ponder....

Derived From Web

, Jan 4, 2020

To seezer compared to Sanders a bit, but I must admit that I connect more with the writer. He gives great thoughts to ponder, so I appreciate his words, Raymond said. He added that I just have to read his works with a bit more concentration. This volume includes three of his works, "The Age of Innocence", "The Sinner" and "Grief's Call." The book includes The Age of the Living, The Pursuit of God and The Age of Man. But for now, I'm going to have to deal with this: Writing 3-in-1 volumes. Thankfully, that wasn't the case with this one. Even with the large format, the writing is easy to read. This does make for a chunky book, but I'm delighted with the outcome.
Great Collection Of Tozer Works, Great Gift or Spritual Encouragement

Derived From Web

, Dec 27, 2019

Already a Tozer fan, this is a winner. These three are THE ones to bring it all together, so glad this exists. He is one of those preachers that hits it dead on straight from God's Word and emphasizes God's HOLINESS, some that has drained out of today's evangelical churches. This set isn't about feeling upbeat and happy, it's about realizing how holy our Creator is and places us properly in a humble state before He created us, he said. This is for those who want to be more mature Christians or for those with one foot in the Scriptures and one foot in today's worldly muck.
Three outstanding books in one!

Derived From Web

, Dec 19, 2019

This is a great gift for you or anyone who wants to grow closer to God and deeper in their walk with the Lord. I've read The Pursuit of God by William D. Tozer, simply a Christian classic, but I've recently started The Holy Knowledge of the Attributes of God by Tozer. I've read a couple of great things about The Pursuit of Man, and I'm looking forward to tackling that one as well. If you haven't read any of these, I highly recommend getting all three and see how your spiritual life matures and grows as you tackle these concepts from Tozer.
First time to read Tozer

Derived From Web

, Aug 7, 2019

This is a great format to have three of his books together, Simon said. This is the first time I've read Tozer and I really enjoy having all three books in one volume, Morgenthau said. I love his writing style in that you can take one chapter and read it alone, Morgenthau said. If you like the chapter heading, you can read the entire book. The book that is his most popular is in this volume, and if I had bought a book of his I would have liked one of the other ones listed, but I have found I prefer one of the others. If you want to read some good theological works pick this up. He is also said to have told his disciples, "Do not be deceived." Pauley, leader of the congregation, said the Spirit was at work. The fact is, he knows what he's writing about.
Compilation of 3 great reads

Derived From Web

, Jul 29, 2019

This is a nice quality binding of three of his major works, "The Last Supper", "The Great Gatsby" and "The Age of Innocence." For fans of the "American Masters," this is a great addition to the library.