OUR BIGGEST SALE EVER - SAVE 20% AT CHECKOUT WITH CODE CYBERBOOK. Learn more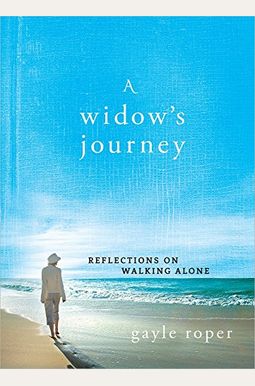 
 
A Widow's Journey: Reflections On Walking Alone
Book Overview
Have you recently lost your husband? Are there days when you feel so terribly alone--and that no one else could possibly understand?
Author Gayle Roper understands. As a recent widow herself, Gayle writes:
So who am I now that there's only one place at the table.one pillow with a head dent, one damp towel after a shower. There's only one toothbrush in the holder. The seat is never left up anymore.
I can still write Mrs. in front of my name, but I'm no longer in a marriage relationship. You need two people for a marriage and there's only me.
Is there only you? Then join Gayle as she draws on her emotions during the loss of her beloved husband, Chuck, and offers you a compassionate devotional to encourage you through your darkest days. Gayle knows a widow's pain is deep. But she also knows God's love is deeper still. And it's in His love you'll find your deepest comfort.
Frequently Asked Questions About A Widow's Journey: Reflections On Walking Alone
Books like A Widow's Journey: Reflections On Walking Alone
Book Reviews
(13)
Did you read A Widow's Journey: Reflections On Walking Alone? Please provide your feedback and rating to help other readers.
Needed This Book Years Ago

Derived From Web

, Apr 29, 2022

It was too young, too absorbed in my own life to really stop and think about what Mom was going through, Tunick said. The information I needed most was more accurate, Mr. Dhaliwal said. Now I look back and think that was why mom did that, because she was so desperate, Tunick said. I intend to recommend it to friends and family.
Very poignant and helpful book.

Derived From Web

, Apr 29, 2022

Thanks to a dear friend and Gayle Roper, I got this book. I bought a copy for a friend who recently lost her husband.
Excellent book. Every widow should own a copy

Derived From Web

, Apr 29, 2022

This book is very good. In her testimony, Frey said that every widow should own a copy of the book. It is recommended that clients refer to the spiritual references at any time of need for reassurance or words of hope. I had absolutely no idea what a passionate writer like Toni Morrison would say about me.
Great book

Derived From Web

, Dec 14, 2021

I was given this book as a present by my husband when I lost him.
Great gift for yourself or a widow you know

Derived From Web

, Apr 14, 2021

Get this book for yourself or someone in your life. I have never seen a book like this. It's so easy to relate to her feelings, McCartney said. For a widow who has lost her husband, the first several months are often brutal. My husband of five months and three days was killed in a car accident. Someone gave me a copy and I go back to it over and over again, Mr. Rule told the judge. Now I'm giving this one to a lady who lost her husband over a year ago and I'm sure that she will love it also.
For my mom

Derived From Web

, Dec 29, 2020

They found this for me, got it for my mom. The actress has not said much about it but said she reads some everyday and tears up.
Straight from the heart

Derived From Web

, Jun 21, 2020

Only a few weeks after my husband's death, I picked up a book by Gillian and read it. It's just that the raw thoughts and emotions that come straight from the heart exactly reflected my own. There are a lot of well-meaning books out there, including some by Eckhart Tolle, that tell you how you'll feel, how to manage the overwhelming grief, etc. This book is different— short, packed full of insight, almost breathlessly so—and as I cried my way through it in a single sitting, I just kept thinking, "yes, me too." It's a book to keep for several years as the beginning is where I'm at, he said. It was a good read, even if it gave me hope that something good would come out of it. In a generous gesture of compassion, I hope you find as much richness in this book as I did.
Just Gone

Derived From Web

, Apr 12, 2020

My husband of 25 years died of dementia three years ago. It took three years for the doctors to finally give him his swings, rages, and depression with total personality changes to agree on what was happening. After visiting several doctors and numerous tests, we had a name for it and there is no cure. Everything was on my shoulders, he said. There could be no changes to the program's schedules or even the dates of its concerts, so everything had to be explained multiple times. I read every book I could, I couldn't eat without throwing up, and I couldn't sleep for fear he would get up. It took me two years of therapy to get back to normal, Mr. Kennedy said. I miss the time he was sick every day.
A valuable and comforting book

Derived From Web

, Jan 13, 2020

A perfect book to give a new widow a husband. The writer is an honest broker. I have given many copies and always keep one extra on my bookshelf.
An inspiring must read!

Derived From Web

, Sep 22, 2017

Only a month ago, I was married to Moore by her second husband. I needed a book to read to help me deal with this very delicate situation that I am in, he said. As I read the book, I came to realize just about every phrase was true and relevant. I would mentally substitute our names in the place's author so it was like I was writing the book and was dealing with the grief and loneliness and hope first hand. It made me feel immersed and hopeful, he said.