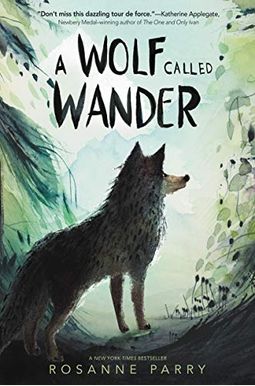 
 
Book Overview
A New York Times bestseller Don't miss this dazzling tour de force.--Katherine Applegate, Newbery Medal winning author of The One and Only Ivan
This gripping novel about survival and family is based on the real story of one wolf's incredible journey to find a safe place to call home. Illustrated throughout, this irresistible tale by award-winning author Rosanne Parry is for fans of Sara Pennypacker's Pax and Katherine Applegate's The One and Only Ivan.
Swift, a young wolf cub, lives with his pack in the mountains learning to hunt, competing with his brothers and sisters for hierarchy, and watching over a new litter of cubs. Then a rival pack attacks, and Swift and his family scatter.
Alone and scared, Swift must flee and find a new home. His journey takes him a remarkable one thousand miles across the Pacific Northwest. The trip is full of peril, and Swift encounters forest fires, hunters, highways, and hunger before he finds his new home.
Inspired by the extraordinary true story of a wolf named OR-7 (or Journey), this irresistible tale of survival invites readers to experience and imagine what it would be like to be one of the most misunderstood animals on earth. This gripping and appealing novel about family, courage, loyalty, and the natural world is for fans of Fred Read More chevron_right
Frequently bought together
Frequently Asked Questions About A Wolf Called Wander
Book Reviews
(9)
Did you read A Wolf Called Wander? Please provide your feedback and rating to help other readers.
Delightful illustrations. Wolf perspective. Based on a true story.

Derived From Web

, Dec 19, 2020

Media could not be loaded. I love the price on the hard cover book, the feel and design of its book jacket, the contents and the black and white illustrations placed intentionally and beautifully throughout the pages. This book is based on OR-7, a famous Oregon wolf, and is recommended for young readers ages 8-12. Tags Rogue River Siskyou National Forest, Oregon, wolves, Pacific Northwest, animal, wolf, habitats, wolf packs, wolf tracks, native plants.
stained book

Derived From Web

, Sep 21, 2020

The book appears to be a great read. The cover, however, has a kind of strong oily perfume all over it, it runs onto the cover of the book and is a little stained because of it.
Beautifully written

Derived From Web

, Aug 9, 2020

This was one of the best books that my 6 year old and I read this summer. I love it so much ''. And he also loves it. It does have very important moments, but my son empathized and gave way for insepse sad conversations about grief and how things work in nature. It is absolutely beautiful written. I highly recommend '' this book.
Powerful - so much more than I expected

Derived From Web

, May 24, 2020

I read this with my 9 - year old daughter. We could not put it down from the first paragraph. The illustrations are so remarkable that we would stop to study them. The story was remarkably educational and informative, while still having a plot that kept us turning over and rooting for the Wolf. It brought us both to tears many times. I can not remember the last time I was so pleasantly surprised and thoroughly wowed.
9 year old's review

Derived From Web

, Dec 29, 2019

From my 9 - year old daughter, I love her so much. I hope there is a sequel ''. It is so descriptive and you feel like you're the wolf! Both boys and girls would like it - adults would too! I also loved the illustrations.
Charming!

Derived From Web

, Nov 30, 2019

This is a wonderful book! It is charming and suspenseful and in parts sad and it has a wonderful voice. The fact that it is based on a true story, on an actual wolf, is just icing on the cake. She closed it off wonderfully if it is only a standalone and I hope it goes on to become an animal book classic, but she could do sequels and I really hope she does, because I would love to wander with this wolf again.
6 stars!

Derived From Web

, Oct 12, 2019

The story itself is just over 200 pages. Many of them include art that enhances the story. After the story are shorter sections about the natural wolf, on which the story is based and about the real world of the Wolf - habitat in the northwest United States. I am much older than the age group that this book aims at, but I could not love it more. The story is so absorbing that I kept reading too quickly myself. I had to slow myself to savor the wonderful writing.
Cute and fun

Derived From Web

, Jun 26, 2019

I knew as a wolf person that I had to read this. I had seen it advertised in a magazine and I later received it. It was a little dense and hard to follow, but I enjoyed the detail and liked so much of the wolf interactions with the wild side of America. I finished it in just a few days and I may come back to it after I finish the other books on my to-do list. Good story.
Amazing read

Derived From Web

, May 7, 2019

This wonderful book, based on the travels of a real life wolf, tells the story of a year-old wolf who is forced to leave his home ground when another pack attacks him. In the aftermath of the attack, he struggles to find any of his packs or a place where they can be safe, always desperately missing his home ground. This is a beautifully illustrated book filled with real life details about wolves in general and Wander in particular. His loneliness for parts of the book is striking and heartrending, and the intricacies of wolf culture are fascinating. One part near the end, when Wander was thinking about one of his brothers, had me in tears. I want to mention the illustrations again, because without them this would be a whole other book. Still good, still sad and happy and heart wrenching and heart wrenching, but emptier. The illustrations add so much to the story and the overall package is just perfect together. An amazing book for nine and up.