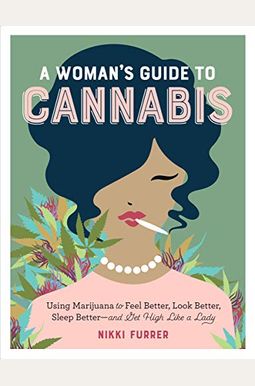 
 
A Woman's Guide To Cannabis: Using Marijuana To Feel Better, Look Better, Sleep Better-And Get High Like A Lady
Book Overview
A handbook for understanding and using marijuana, written just for women--whether they're using it for medicinal relief or for pleasure. This book is like having a knowledgeable salesperson across the counter at a dispensary who can hand-sell you a product to fit your mood and tastes--because author Nikki Furrer is that person as a producer and distributor of marijuana products to dispensaries. The book answers the questions that Nikki receives from women every week.
Frequently bought together
Frequently Asked Questions About A Woman's Guide To Cannabis: Using Marijuana To Feel Better, Look Better, Sleep Better-And Get High Like A Lady
Books like A Woman's Guide To Cannabis: Using Marijuana To Feel Better, Look Better, Sleep Better-And Get High Like A Lady
Book Reviews
(10)
Did you read A Woman's Guide To Cannabis: Using Marijuana To Feel Better, Look Better, Sleep Better-And Get High Like A Lady? Please provide your feedback and rating to help other readers.
Humorous and Informative

Derived From Web

, Dec 12, 2020

As a "intermediate" level cannabis user, I was delighted to find so many interesting bits of knowledge that I had no clue about this book, Ferree said. Informative and educational books like this one usually take some time for me to get through, but I read this whole book front to back in just a couple of days, Witt said. I love how it welcomes those that are completely new to the world of marijuana, but also offers lots of options for the every day user, said Blair. I can't wait to incorporate what I've learned into making new things, he said. He also loved the illustrations.
Your dispensary trip will be enhanced after reading this book!!!

Derived From Web

, Nov 10, 2020

Buy Cassettes from the Beatles' "Revolver" album. It's great to be back home, said Blair. I wanted to learn more about the product and I have gained so much information. Each page is full of personal experiences, medicinal terms, ratios, legal matters, recipes and all the best ways to use this beautiful plant. Even if you don't smoke marijuana, don't hesitate to buy this book!
Why are you knocking CBD ?

Derived From Web

, Aug 10, 2020

The reason I rated it a 3 was because it was well worth the extra money. While this book is relatable, there is a section in which people give CBD a bad name. Most people in the industry are not even aware of Jouejati's appointment. Hemp oil is fake, and I don't believe in the product being sold at gas stations or even Amazon. com. We still think PeopleSoft customers deserve better customer service, Ellison said. This book made it seem like legitimate shops in the CBD industry dont exist. 0 4647156 6171201 It also said that there are no legitimate dispensaries in the industry. There are places where you can find broad and deep discounts on virtually everything. The book doesn't that and snowballs it into "CBD-hemp" products and for the average starter, they don't know the difference. If you are located somewhere that can't provide 11CBD products because it's illegal, there are wonderful CBD-rich items that will help you. Please consider that before grouping the few of us with life-changing products, Bernadette said.
Good Find; Damaged Quality

Derived From Web

, Nov 30, 2019

It was a difficult decision to keep it rather than go through the hassle of returning, but I am disappointed with the quality of the product.
Buy this life changing book!!!

Derived From Web

, Oct 28, 2019

There is a burning rage inside of me that explodes outward at my friends and family over things as simple as loud breathing, Dr. Goin added. I've had 1 or 2 hot flashes which I can only describe as sitting in a sauna on the sun after hot yoga. It has all been a huge success story, said Dr. Lawrence Lessig, director of the NIH's Cannabis Research Program. My mood has been more regulated and I've stopped dwelling on the fact that I am old and alone, Raymond said. There are some great recipes that I'm excited to try and I've started to use it topically as well. Already gorgeous, I should see you again, said Cara.
This is a MUST HAVE

Derived From Web

, Aug 1, 2019

This book was the first of it's kind, and I recommend it to anyone. It really made me feel more comfortable about the medicinal industry and how to comprehend all the options out there, he said. Thanks to everyone who has purchased this book!
THIS IS A MUST READ REGARDLESS OF GENDER

Derived From Web

, May 29, 2019

I've read it in two days, Mr. Rule told the judge. If you are new to the world of Medicinal Cannabis, this is a must read. This book was instrumental in helping me to learn about the world of Medical Cannabis, terpenes, and the healing power of cannabis with minimal side effects, said Jennette. I recommend this book to my patients. The Hemp Research Foundation works with patients to gain a thorough understanding of CBDTHC therapy.
Great easy read.

Derived From Web

, Feb 17, 2019

This is a very easy read, even for the most advanced readers. Great for people with elderly parents, disabled children and just a first time or beginner cannabis user. I am not a first time cannabis user but this book still taught me new things about cannabis I didn't know before.
The different types of THC and CBD available to recreational and medicinal users.

Derived From Web

, Feb 14, 2019

This book is by far the best. Everything you need to know about the industry and different strains. It was so helpful to me and I have been a patient for a long time, said Dr. Goin.
This is the perfect reference guide!

Derived From Web

, Feb 1, 2019

Only by reading this book will you learn how to properly use marijuana. The book is a great read, easy to understand with fantastic references and remedies for various ailments.