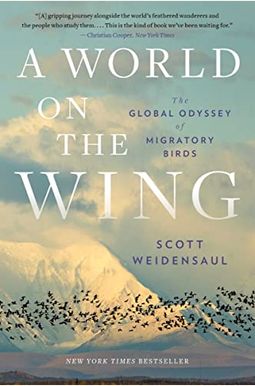  
A World On The Wing: The Global Odyssey Of Migratory Birds
Book Overview
This Description may be from another edition of this product.
In the past two decades, our understanding of the navigational and physiological feats that enable birds to cross immense oceans, fly above the highest mountains, or remain in unbroken flight for months at a stretch has exploded. What we've learned of these key migrations--how billions of birds circumnavigate the globe, flying tens of thousands of miles between hemispheres on an annual basis--is nothing short of extraordinary.
Bird migration entails almost unfathomable endurance, like a sparrow-sized sandpiper that will fly nonstop from Canada to Venezuela--the equivalent of running 126 consecutive marathons without food, water, or rest--avoiding dehydration by drinking moisture from its own muscles and organs, while orienting itself using the earth's magnetic field through a form of quantum entanglement that made Einstein queasy. Crossing the Pacific Ocean in nine days of nonstop flight, as some birds do, leaves little time for sleep, but migrants can put half their brains to sleep for a few seconds at a time, alternating sides--and their reaction time actually improves.
These and other revelations convey both the wonder of bird migration and its global sweep, from the mudflats of the Yellow Sea in China to the remote mountains of northeastern India to the dusty hills of southern Read More chevron_right
Frequently Asked Questions About A World On The Wing: The Global Odyssey Of Migratory Birds
Book Reviews
(8)
Did you read A World On The Wing: The Global Odyssey Of Migratory Birds? Please provide your feedback and rating to help other readers.
An Excellent Description of Avian Migration for the Birder and Ornithologist

Derived From Web

, Jul 13, 2021

A world on the wings is a very well-written book. It describes the migrations of many bird species and the disturbances faced by these birds during their migrations. While Weidensaul's scientific descriptions of various species is elucidating and first rate reading about the difficulties that birds face when they travel is very dispiriting. At times, this is a difficult book to read as you learn about habitat loss, trapping and the killing of birds on the wing. I also think that this book will be appreciated only by the diehard birder or the ornithologist. The subject is only a little too narrowly focused, I think, to truly appeal to general non-fiction readers.
Good Read - Even if You're not a Bird Nerd

Derived From Web

, Jul 7, 2021

Did not know much about birds, but was looking for something different to pass. The time is spent on airplanes. I am a bit concerned that this is going to be another human being bad, we are killing the planet - lecture series, but it is not. The author mentions such things where they are applicable, but in no way gets preachy about them. Saying that I learned a lot from this book is an understatement. I have found myself focusing more attention on my local birds now and have certainly gained a lot more respect for them. I am not yet ready for binoculars, a Pith helmet and a safari vest, but a little nerdy about birds can't be a bad thing.
A rewarding book for dedicated birders.

Derived From Web

, Jun 13, 2021

It is unlikely there is a finer book on birds-migration than A World on the Wing, unless it is Scott Weidensaul's Pulitzer Prize nominated earlier book, Living on the Wind. World on the Wing is written in a similar way, combining story telling with scientific knowledge and the implications for bird migration in light of global climate change challenges. I am astounded by the physical ability of birds to adopt the migratory patterns described by Weidensaul. I also enjoyed hearing about the researchers and local birders that he met on his world journeys. Weidensaul is a natural writer with a sublime combination of poetic vision, scientific writing and skilled knowledge. As others have noted, this is a long book filled with details -- perhaps too many for the average birder. I am an avid birder and found it challenging at times. In the end, it is a gratifying book, especially for dedicated birders and ornithologists, both amateur and professional.
Interesting and informative

Derived From Web

, Jun 12, 2021

This is a thoroughly researched, well written, well-presented and illustrated book about the migratory habits of birds and the environmental threats that they now face : stopover sites, navigational confusion caused by light pollution, global warming and its effect on weather patterns, human bird hunters, human bird eaters... As a twitcher-light, I found the book in some places too detailed to hold my attention, when it dived deep into the issues confronted by a specific species of bird. It is, however, easy to skip the bits that don 't interest you without losing the plot. Especially interesting to me was information on the tracking devices used now to trace the migratory habits of birds, the ways in which birds physically prepare for migration and recover from its debilitating effects, and the descriptions of where migratory researchers end up in their quest to find the birds they are monitoring. I thought that reading this book was well-spent time.
Good content but filled with global warming rhetoric.

Derived From Web

, May 6, 2021

A few years ago, I attended a lecture by the author at a birding conference in Cape May, NJ. I was impressed by the talk and bought one of his books. Since then, I think I have read all his books. Unfortunately, this book devotes an inordinate amount of space to "climate change " and as usual, with a one sided view and no real facts. Who needs facts when it's obvious to you right!
I think this is the most important book in years about birds and their migrations

Derived From Web

, Apr 6, 2021

What is happening with bird populations, how is quantum entanglement used in navigation, needed habitats for survival, flying non-stop for thousands of miles, wow. This tour de force is a must-see for anyone interested in birds. As always, his writing is easily accessible and right on target. We've always known that birds are wonderful, but this brings many disparate threads together to form a wonderful fabric of knowledge. Now you can get it!
Fascinating

Derived From Web

, Apr 4, 2021

Beautiful book, I had no idea how interesting this could be. This will be a beautiful gift to give to all my nature-loving friends.
Amazing exploration of the science and conservation of migratory birds

Derived From Web

, Mar 30, 2021

I have done it again with Scott. Another Masters - Class in avian ecology and conservation is also available. Scott is able to convey the wonder and beauty of migrating birds, while at the same time portraying science in an accessible way.