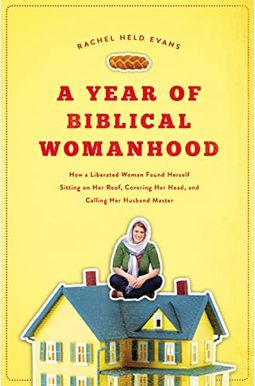  
A Year Of Biblical Womanhood: How A Liberated Woman Found Herself Sitting On Her Roof, Covering Her Head, And Calling Her Husband Master
Book Overview
New York Times Bestseller
What is biblical womanhood . . . really?
Strong-willed and independent, Rachel Held Evans couldn't sew a button on a blouse before she embarked on a radical life experiment-a year of biblical womanhood. Intrigued by the traditionalist resurgence that led many of her friends to abandon their careers to assume traditional gender roles in the home, Evans decides to try it for herself, vowing to take all of the Bible's instructions for women as literally as possible for a year.
Pursuing a different virtue each month, Evans learns the hard way that her quest for biblical womanhood requires more than a gentle and quiet spirit (1 Peter 3:4). It means growing out her hair, making her own clothes, covering her head, obeying her husband, rising before dawn, abstaining from gossip, remaining silent in church, and even camping out in the front yard during her period.
See what happens when a thoroughly modern woman starts referring to her husband as master and praises him at the city gate with a homemade sign. Learn the insights she receives from an ongoing correspondence with an Orthodox Jewish woman, and find out what she discovers from her exchanges with a polygamist wife. Join her as she wrestles with difficult passages of scripture that portray misogyny and violence against women.
With just the right Read More chevron_right
Frequently bought together
Frequently Asked Questions About A Year Of Biblical Womanhood: How A Liberated Woman Found Herself Sitting On Her Roof, Covering Her Head, And Calling Her Husband Master
Book Reviews
(6)
Did you read A Year Of Biblical Womanhood: How A Liberated Woman Found Herself Sitting On Her Roof, Covering Her Head, And Calling Her Husband Master? Please provide your feedback and rating to help other readers.
Had a difficult time limiting my reading time.

Derived From Web

, May 30, 2022

This book was so easy to read, it made you want to see what the next chapter had to offer. Her biblical leaders were excellent, as were her Bible references. Frankly, much better than the similar book My Year Of Living Biblically by A. J. Jacobs. Though I enjoyed the other book, it was not as well researched and was sometimes a chore to get through. I am so glad she gave us a window into the lives of Biblical womanhood, even if it is only a month at a time.
A Real Eye-Opener!

Derived From Web

, May 30, 2022

While I do not agree with all the beliefs of Rachel Held Evens, I thoroughly enjoyed her book and I learned a lot from her experiences with the mandates of Scripture. Those who said they didn 't finish the book should have finished it. Yes, we are a little bit obsessed. But they also challenged me to think, to study, and to pray. Some of her statements made me laugh, and others made me weep in compassion, in remorse, in shame. I read this book again and I have my daughters read it as well.
Find the heart

Derived From Web

, May 11, 2021

Sometimes we have to find extreme things to do the heart of a subject. I am a newcomer to Rachel's writing, but wish it had been in my life years ago. Having grown up in the biblical Womanhood Movement, I know that there are some people who do it well and many who abuse it. Trying to live a lifestyle and system that others have set as the pinnacle of human achievement is exhausting. Rachel addresses a lot of ways that the Church has tried to make a standard of what a godly woman should be. I feel that she does much with grace and compassion, learning and acknowledging the ways she has been judged and judging. I know that many think that this book is an indictment against the biblical Womanhood movement. I feel that it is more of a questioning. Learning to ask the different questions, and being open to the right answers is an important role to play in the Church.
decided not to read...

Derived From Web

, Sep 27, 2019

It appears to make light of the scripture, which I take as the Holy - written word of God. Here I expected there to be some light humor due to literal interpretations, but apparently it is out and out Mockery of Scripture from a reliable source that I trust the full review. He decided to stand by the Bible and not to take the skeptics route from someone who believed and twisted the principles of the Bible.
A great read

Derived From Web

, Jun 12, 2019

It is easy to read and funny!
Eshet Chayil

Derived From Web

, Apr 30, 2017

I was sorry that this book had to end! I learned so much, even changed my mind about things, and will explore one issue further on my own. This is an easy to read and an entertaining book. Oh my goodness, I laughed so hard I cried and my husband had to come over to see what was going on! I particularly loved the insight from the new friend and Israel and the comments on Proverbs 31. I now have written little notes to myself all over the house. Eshet Chayil, by Golly, got up in time to work on time.