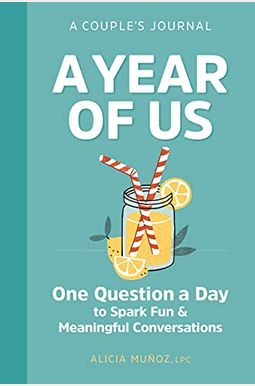 
 
A Year Of Us: A Couple's Journal: One Question A Day To Spark Fun And Meaningful Conversations
Book Overview
365 Conversation starters to deepen your bond-and make you laugh together
Whether you and your partner have been together for one month or 10 years, there's always something new to learn about each other. Deepen your connection and have fun with this couples journal full of 365 entertaining, thought-provoking questions. With one question a day, you'll explore memories, dreams, and viewpoints together, fostering conversation and closeness off the page.
With topics that range from the lighthearted to the heartfelt, this daily journal encourages you to reflect on yourselves and your relationship. Each question includes space to jot down answers or notes about the conversation you had together. As you get curious, explore, and share with your partner, you'll create a keepsake memory book-and an even more solid foundation for your relationship.
A Year of Us: A Couples Journal features:
A question a day―Delve into questions like What makes it hard for you to apologize? and Describe your ideal day from morning till night.
Tons of topics-Explore new subjects with questions about future goals, memories, emotions, philosophical ideas, sexuality, hobbies, and more.
A year of growth―In-depth opening and closing reflections shed light on how the two of you change over the course of the year.
Improve your communication and strengthen your bond with the help of this insightful couples journal.
Frequently Asked Questions About A Year Of Us: A Couple's Journal: One Question A Day To Spark Fun And Meaningful Conversations
Book Reviews
(15)
Did you read A Year Of Us: A Couple's Journal: One Question A Day To Spark Fun And Meaningful Conversations? Please provide your feedback and rating to help other readers.
Cute

Derived From Web

, Feb 12, 2022

We have an empty nest and we're a couple in our 50's. It's nice to revisit and learn the different feelings we have now that we're older. It's good for the price and for younger couples.
Great connection journal for partners!

Derived From Web

, Jan 18, 2022

My partner and I use this journal to connect on a deeper level, and it really allows us to do that! The questions range from serious to silly.
Worth it

Derived From Web

, Jan 10, 2022

It's a good way to communicate. There were some questions that needed to be clearer. The experience was good. We finished the year!
Absolutely wonderful ❤️

Derived From Web

, Dec 24, 2021

This is perfect to take on trips and will fit in a backpack.
Create some quality time with your partner

Derived From Web

, Feb 7, 2021

I bought this for our anniversary. We decided to give experiences as gifts. This is the perfect gift that will last for a full year. We all get caught up in conversations about work, bills, kids, etc., but this gives us the chance to focus on our relationship and individual thoughts. I have learned a few things about my husband that I didn't know before. When we finish the journal questions, we start having regular meals together. It keeps us away from the phone and it's been nice. We save space for each of us to answer the questions. For a few minutes a day, I think anyone would benefit from focusing on their relationship.
I would recommend

Derived From Web

, Dec 26, 2020

I really like this journal! There isn't much room to write for two people so getting 2 is a must. A few questions might start something. Like the question about crush. Things from your romantic past should not be included. I don't like that at all. I think it will help spark some great conversations with my man because it looks so cute.
Great way to Connect and Laugh!

Derived From Web

, Dec 4, 2020

My husband and I have high-stress jobs that leave us exhausted at the end of the day. We have felt disconnected from one another. After 10 years together, I was looking for something to have fun with. This book is amazing. This isn't what it's all about, my husband was hesitant about sharing his feelings. What time and place would you travel to and why? We talked for over an hour. The gladiators were involved in the initial Ancient Rome. We had a deep conversation about societal history and the advancement of technology, and I recommend this to anyone who wants to talk about something other than how was work? After being somewhat uneasy about this book, my husband sis excitedly down each night and goes let's do our homework!
Not the right fit for us

Derived From Web

, May 11, 2020

I thought my husband and I would like this book, but we didn't. The questions were either too deep, not applicable, or just plain weird. I felt like a lot if the questions were assumed we barely knew each other. We've been married for 10 years. I think the author was trying to appeal to a broad audience, but it didn't fit with me and my husband. If you're newly together and want to move into a deeper phase, then this book is for you.
nice, but not exactly what we were looking for

Derived From Web

, May 1, 2020

I thought we would enjoy answering questions from a book aimed at couples, because we loved answering my personal QandA a day book every day. The questions in the book didn't hit the spot we were looking for. They feel like questions a therapist would ask you. We wanted something more playful and fun. We will continue filling this journal, but most likely we'll look for a different journal to fill when we're done.
Great for long term relationships

Derived From Web

, Jan 20, 2020

It would be great if there were more lines for writing. It is possible to cut down on conversations by buying two books.