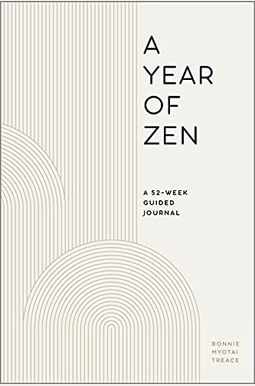 
 
A Year Of Zen: A 52-Week Guided Journal
Book Overview
Reflect, meditate, and explore through a year of Zen journaling
Each day is a new empty space to bring to life-it can be loaded with stress or decorated with moments of calm and clarity. Embark on a wondrous journey through the self with this 52-week guided journal from Zen priest and teacher Bonnie Myotai Treace, sensei. Her wise, thought-provoking prompts will lead beginners and experienced practitioners alike through the seasons, filling the blank spaces with peaceful self-exploration and reflection every day.
Explore topics from the mundane to the holy with creative prompts like:
Reverence-Zen artists tend to be very reverential toward the tools of their trade. Describe your pen, brush, musical instrument, etc., with the deep, precise attention that reflects that reverence.
Being a Curious Being-What if you could become more curious and impartial toward your thoughts instead of being so easily persuaded by them? Write a few lines as you consider.
Evening Threshold-Catch yourself at sundown, light fading from the sky. What does the arrival of night trigger or bring up for you?
Walk the path of growth and build a mindful daily practice with this Zen Buddhism journal.
Frequently bought together
Frequently Asked Questions About A Year Of Zen: A 52-Week Guided Journal
Book Reviews
(8)
Did you read A Year Of Zen: A 52-Week Guided Journal? Please provide your feedback and rating to help other readers.
More Generic than Buddhist

Derived From Web

, Jun 25, 2021

Note that I am writing this review on Week 14 of the journal. While I have found that, while enjoyable to have a prompt to think about every day, this journal does not strike me as particularly Buddhist, but rather generic spirituality. In fact, one prompt in Week 12 asks, Have you ever had someone zenplain? have you ever done this to someone?—almost as if to say that I have no right to suggest that this book is not particularly Zen.
A Beautiful Journal

Derived From Web

, Apr 15, 2021

I was a bit reluctant to order this journal because the word Zen has led me to concepts I didn't really understand. So far, I have found the writing prompts in A Year of Zen to be sensible but thought provoking. Each page is made of quality paper and the illustrations are light, adding a lovely touch to the pages. Since I received the journal earlier this spring, I started writing on the week that corresponded with the actual calendar week I got it. I did not respond to each of the seven days' worth of prompts, nor did I respond to a follow-up question. Some felt they needed more thought, Rumsfeld said. My plan is to write in response to those that I can answer now, then continue to follow up next year as the seasons roll by. It will be interesting to see how I responded to the prompts in the future, Thibault said. Just about everything about this journal appealed to me, Dr. Goin said.
Worth every penny and more!

Derived From Web

, Mar 6, 2021

I am so excited to begin my 52 week journey with this journal, Contessa said. I've journaled in the past, but will be specifically using this one in conjunction with my PTSD therapy to focus on bringing my attention to the world around me.
Wanted to love it, but....

Derived From Web

, Feb 19, 2021

I had such high hopes for this journal, Raymond said. In fairness, I stuck with it for 6 weeks before letting go, Mr. Dhaliwal said. The journal has become a source of frustration and confusion for many. Clearly a lot of people are having a blast, and that's awesome. It's just too esoteric and abstract for me. Week 5 of the series is "Eggs in the Grass." Mysterious eggs? Whether in a bird's nest or hidden by a rabbit, eggs are pure potential. Might you be a good egg? We all have unexpressed potential _ ideas and waiting to come to life, he wrote. However, I have found myself needing to read the prompts several times before processing the question, which has been frustrating.
Spiritual

Derived From Web

, Jan 27, 2021

Barely have enough time in the day for myself, but this guided journal is the best thing. Just awesome.
Good stuff

Derived From Web

, Jan 26, 2021

This is an incredible and profound beautiful journal and so timely for the world we live in, he said. I'm in a journaling slump, and this is just what I needed. In response to the timing aspect of the journal I just started on the week and season that it is now so I will be using the last pages first and making my way to the start soon. Even if you get the book, it's made to honor the season you're in rather than starting from front to back.
Disappointed

Derived From Web

, Jan 18, 2021

The Harrisons' lawyer Paul LiCalsi said: "I was disappointed in this journal. Many of the prompts were yesno- rather than open-ended. Sometimes, it just didn't make sense. There isn't a lot of room to write, it starts in Spring, rather than in Winter, when one is likely to begin a journal and the bibliography is like a high school English syllabus. It would take a lot more substance to distinguish it from just another New Age journal.
Worth the money!

Derived From Web

, Jan 6, 2021

If you don't like writing in a diary, this is for you. I really enjoy the prompts, and they are not too difficult to complete, Morgenthau said. It also doesn't have a required date on each page so it allows for more freedom of speech. I will say that I would appreciate more room to write, but small handwriting will be perfect, he said.