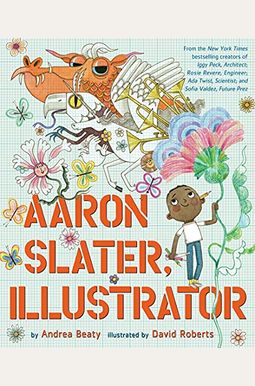 
 
Aaron Slater, Illustrator
Book Overview
An uplifting story about the power of art, finding your voice, and telling your story even when you're out of step with your peers from the #1 bestselling creators of Sofia Valdez, Future Prez and Ada Twist, Scientist
Aaron Slater loves listening to stories and dreams of one day writing them himself. But when it comes to reading, the letters just look like squiggles to him, and it soon becomes clear he struggles more than his peers. When his teacher asks each child in the class to write a story, Aaron can't get a single word down. He is sure his dream of being a storyteller is out of reach . . . until inspiration strikes, and Aaron finds a way to spin a tale in a way that is uniquely his.
Follow Iggy Peck, Rosie Revere, Ada Twist, Sofia Valdez, and Aaron Slater on all of their adventures
Add the picture books, chapter books, and activity books starring The Questioneers by Andrea Beaty and David Roberts to your family library today.
Frequently Asked Questions About Aaron Slater, Illustrator
Book Reviews
(8)
Did you read Aaron Slater, Illustrator? Please provide your feedback and rating to help other readers.
Woke Nonsense

Derived From Web

, Dec 12, 2021

I returned the questioners book before I showed it to my kids. The other books have a problem and the author gives up immediately. He doesn't try and draw until he can read. I don't want my kids to think like that. We try to find a solution to the problem rather than ignoring it and doing what they want. It is better to know before you buy a book if you are going to have to return it. I was not happy with the drawings of the other children that live with him, it was clear the author was trying to appeal to the time woke culture. We love all of the other books, including the chapter books.
Disappointing Book, It panders...

Derived From Web

, Dec 2, 2021

The author made the only book featuring an African-American boy less about being an illustrator, but more about being a lifestyle choice. The previous books did not have the same vibe or quality. Disappointing.
Another great book from the Questioneers!

Derived From Web

, Nov 11, 2021

We were very excited to hear that they were releasing a new book. I pre-ordered it and was going to give it to the kids, but I was just as excited as they were and we didn't wait! The story is different than the others in that it focuses on a boy with a learning disability. We have read it every night since it arrived, and both my children loved it. I will be giving additional copies to my children's teachers and giving as birthday gifts. A book and art set would make a great gift for a child between the ages of 3-7.
Doesn't live up to the first 3

Derived From Web

, Nov 10, 2021

The first three books in the series are great. The four and five books were disappointing. The first three books made the prose easy to read. This book does not represent what's actually in the title. A visual storyteller and an illustrator become community organizers.
Touching and motivational. Raises awareness of dyslexia and coping.

Derived From Web

, Nov 4, 2021

My wife, a clinical psychologist and college professor, found this book touching to read to our own kids. It is wonderful to see a book that helps those children with learning differences and also helps other children. It's a great way to start a discussion of learning differences. The rhymes were well written. The story line was a little fuzzy, but that can be fixed by taking a good look at the beautiful illustrations. The connection to the illustrator aspect of the story could have been more clear, but you get the point by the end of the story.
Another great Questioneer- Dyslexic friendly

Derived From Web

, Nov 4, 2021

The book is really good. The illustrations are even better than the prose. The text is readable for people with a learning disability. The message celebrates both the talents and strengths of the man, and the hard work he put in to learn how to read. We received it two days ago and have read it five times. It was an excellent jumping off point for a discussion about learning differences. We had a lot of curiosity about how text can look different to a person with a learning disability.
Brilliant. A must have for all classrooms k-12.

Derived From Web

, Nov 3, 2021

Beaty and Roberts collaborated on a story about a child from grade two. I have enjoyed their work as a teacher and a parent. I was very excited to see a character that was deafness. I like to look for Easter Eggs in their work. I am a special education teacher and professor and I love seeing my students. The story gives students with disabilities hope. The art and prose capture the diversity of the classroom. The book should receive top honors in 2021. Thank you to Robert andAndreaand for your kind words.
They've done it again!

Derived From Web

, Nov 3, 2021

The latest in the series is great and we love it in our house. It is the best yet. It was a touching story about connection and caring. When we focus only on the weaknesses of the individual, it's a lesson that's always needed to make sure our children are raised celebrating what makes them unique and not what they can't do. There is so much beauty in this story. I believe it created new pathways for understanding those with learning differences, and created a great follow up discussion with my kids, 7 and 4. The strength and tone of this book was different to what we're used to seeing in this series, and that's because it was softer. I love it. I think it will be in high rotation for a long time in our house.