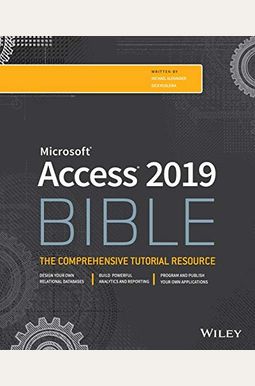 
 
Book Overview
Master database creation and management
Access 2019 Bible is your, comprehensive reference to the world's most popular database management tool. With clear guidance toward everything from the basics to the advanced, this go-to reference helps you take advantage of everything Access 2019 has to offer. Whether you're new to Access or getting started with Access 2019, you'll find everything you need to know to create the database solution perfectly tailored to your needs, with expert guidance every step of the way. The companion website features all examples and databases used in the book, plus trial software and a special offer from Database Creations. Start from the beginning for a complete tutorial, or dip in and grab what you need when you need it.
Access enables database novices and programmers to store, organize, view, analyze, and share data, as well as build powerful, integrable, custom database solutions -- but databases can be complex, and difficult to navigate. This book helps you harness the power of the database with a solid understanding of their purpose, construction, and application.
Understand database objects and design systems objects
Build forms, create tables, manipulate datasheets, and add data validation
Use Visual Basic automation and XML Data Access Page design
Exchange data with other Office applications, including Word, Excel, and more
From database fundamentals and terminology to XML and Web services, this book has everything you need to maximize Access 2019 and build the database you need.
Frequently Asked Questions About Access 2019 Bible
Book Reviews
(9)
Did you read Access 2019 Bible? Please provide your feedback and rating to help other readers.
Comprehensive coverage of Access

Derived From Web

, Jun 19, 2021

I hesitated to buy it because I already had the book Access 2016, but I decided to go with the Kindle version for 2019. If you already have the Bible from 2016, the edition is so close that you don 't need it, but it has a few advantages that made it worth it for me. Access 2019 has a slightly different interface and if you're nitpicky like me, the version covers 2019. Kindle - Version is, however, so much more convenient. The 2015 print copy is around 1100 pages and is a pain to carry. The Kindle version is also significantly more portable and has the advantage of being able to easily search and notate. It is a complete tutorial that takes a user from beginner to intermediate level and also serves as good reference material.
I Wasn't Going To Say Anything

Derived From Web

, Apr 17, 2020

But when I was cleaning my office work area that morning, it occurred to me that the only thing this overpriced book has ever done is to take up space and weigh a lot. While I have been working on a database development project for 2019, there has not been a single instance, not even one, where this book was of actual practical help. Every issue I had with my project, no matter how commonplace or unusual, I had to find help in other books and mostly in the numerous online resources you can access for free if you simply phrase your question optimally. Though I'm an independent contractor, I suspect that the sheer weight of this overpriced tome would impress one's boss, so that if you're into merely knowing what you're talking about, this book should do the trick!
Maybe try it electronically ?

Derived From Web

, Mar 16, 2020

I bought this book with the hope that it will use it to refine the database I am building for work. Problem solving things like avoiding duplicates, resolving error messages, etc. I find that this book is much more basic, teaching people how to build a table and set fields properties, etc. paired with writing basic queries. If the answers to my questions are in this book, I have trouble finding them. In this electronic age, I wish I could search this book electronically. I bought the hardcover book. If I had to do it again, I would definitely want the electronic version. I realize that there is an index at the back of the book that points you to where SOME things are mentioned, but for my purposes its not enough. I still end up typing my access questions more often into Google than not. In hindsight, I do not think that I needed this book at all.
very comprehensive book, online samples provided

Derived From Web

, Dec 14, 2019

i have previously worked with access, so not a first time user, but if you are, this book takes you through the steps. They also provide chapter by chapter sample projects to complete as you move through the book.
Complete solution, answered tough questions

Derived From Web

, Dec 7, 2019

In the 2013 version, Access was all about Web Access and I have a shelf of books focused on these features. The latest Access version now abandons the Web features entirely. Hence a new book to rebuild new ways to earn applications that no longer work. This book answered to all my difficult questions. After throwing away the $200 in books that no longer apply to current software, I made room on my bookshelf.
Easy to follow

Derived From Web

, Aug 17, 2019

At first, it was intimidating with the thickness of this book. I found it easy to learn the things I wanted to find first. More employers demand that you know this excellent program.
Not really helpful to an amateur

Derived From Web

, Aug 1, 2019

I am an amateur and though this book starts from Zero, it is really not that helpful. Moreover, though it is a big book, I had to look elsewhere for some things, I did not find explanations in the book. I give it another attempt, but I am already looking for other options to learn MS Access.
Very comprehensive

Derived From Web

, Jul 7, 2019

It is very comprehensive and thorough. I have already started using it and am very happy. I highly recommend it for anyone who is either starting with Access or looking for something on the advanced level.
Wow

Derived From Web

, Mar 26, 2019

Instructions are easy to follow and understandable.