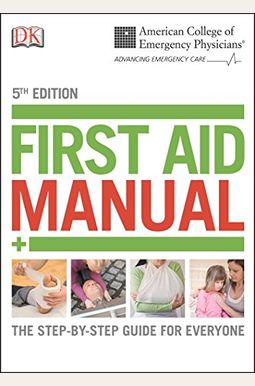 
 
Acep First Aid Manual 5th Edition: The Step-By-Step Guide For Everyone
Book Overview
A possible life-saving reference to keep around the house or in the car, DK's First Aid Manual looks at more than 100 different conditions, from splinters and sprained ankles to strokes and unconsciousness, and shows exactly what to do with step-by-step photographic sequences.
Every condition is clearly explained, outlining causes, symptoms and signs, and action plans. The updated design makes the instructions easier to follow, whether you need information on emergency first aid, first aid for babies and children, or tips on resuscitation.
Frequently Asked Questions About Acep First Aid Manual 5th Edition: The Step-By-Step Guide For Everyone
Book Reviews
(10)
Did you read Acep First Aid Manual 5th Edition: The Step-By-Step Guide For Everyone? Please provide your feedback and rating to help other readers.
Best First Aid Manual I have ever owned.

Derived From Web

, Apr 20, 2022

I have gone through many first aid manuals... Even invested in some. Between an EMT Training Manual being a 10 compared to another type of manual, which has few pictures and less than adequate helpful information, this would definitely be an 8. On each page are real pictures, step by step using great colored pictures. Also covered... everything from bruises to head trauma is covered, what you can do as a non-professional to mitigate a situation. Also what items you need to have on hand and how to use them, and why. Book is great! Unless you want to spend the big bucks for an EMT manual, which would probably be too much information, I have not seen one better for the price.
You need this book!

Derived From Web

, Dec 18, 2021

I'm security. I'm a police officer and I'm military police. I am NOT a doctor, but in my position it is possible that I will eventually have to apply first aid. This book is in gold worth its weight. I actually put down a sub sandwich to write this review. It has pictures and it tells you step-by-step what to do. Two things in life that are great to have are a fully stocked first aid kit and a book that tells you how to use it.
the best manual I've ever got

Derived From Web

, Jul 25, 2021

The media could not be loaded. This is by far the best book, manual guide I ever received! LOTS of very specific pictures!!! I'm so impressed with this book!!!!!! Step by step, how to... I'm so impressed with this book! If there were 10 stars, I would give 10! ! !
Every home should have this book!

Derived From Web

, Feb 15, 2021

One day I fell and sprained my wrist, nothing too bad, but that got me thinking. Because of COVID-19, I wanted to know what I could do if my wife or I broke a wrist or had some other physical injuries. This book tells you how to deal with most problems and suggests what items you should have in your first aid kit. I don 't know if or when I will need this information, but it is comforting to know what to do in an emergency.
Maybe the GREATEST first aid manual ever written!

Derived From Web

, Jan 8, 2020

I seriously believe that this may be the best first aid manual ever written, and I do not say it lightly. I have many manuals on first aid, and I have been looking for a manual like this for years. It is well written, gives an easy to understand description of the body system and how they work, gives step by step instructions and color pictures on how to treat everything from abdominal injuries and abrasions to finger stings and wrist injuries. If you want a first aid manual to have as a quick, easy reference, this is what you have been looking for. Fi-Gunny S. Semper Fi-Roy S.
More intuitive and easier to remember because it describes what is "happening under the hood."

Derived From Web

, Jul 1, 2019

After reading the Amazon reviews and comparing this book to others, I decided to buy this book and am glad I did. It does not just describe first aid procedures, like other books do. I also goes into detailed descriptions of the various functions of the human body and why they are necessary for life. I have found that other first aid books and classes focus on what to do, but don 't really describe the why in sufficient detail. This one does. It gives you a better understanding of what happens under the hood, which is more intuitive and easier to remember. It has clear diagrams and photographs that make the descriptions very beautiful. I read it cover to cover and keep it handy next to our first aid kit. After reading this book, I feel much more prepared to deal with an emergency after reading it, and strongly recommend it.
lots of well presented info.

Derived From Web

, Oct 7, 2018

As an ER nurse of 50 years old, I was looking for a first aid course for my homeschooled 8 and 11 year old grandsons. This is perfect! Very well organized and pleasant to read. Lots of photos!
An Outstanding First Aid Manual!

Derived From Web

, Feb 28, 2018

By far the best first aid manual I have ever seen... and quite up to date as well. The pictures throughout the book clearly illustrate the text. And it is written by the American College of Emergency Physicians. And it is accredited by the American College of Emergency Physicians. As an R.N. responsible for the preparedness, I have done considerable research to find a good reference book on first aid, which would be easily understood by a layperson... what would be needed in most any medical emergency. This book is a perfect fit in my humble opinion.
I hope we won't need this guide, it's in ...

Derived From Web

, Jan 7, 2018

I hope we won't need this guide, it is in our Doomsday bag, for the day when the crisis hits and the internet breaks. Flipping through it, I feel it describes procedures well enough to succeed unless I faint in the process.
This one has really nice glossy pics and at first glance appears dense with ...

Derived From Web

, Jan 5, 2018

I have a few different basic books to go to. This one has really good photos and seems dense with nice glossy info at first glance. However, I found it lacking practical application for a non-medical professional. Much of the practical and basic questions were not readily accessible, which you want to read from a quick reference first aid manual.