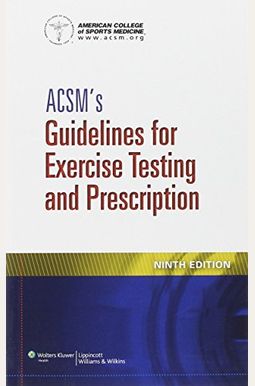 
 
Acsm's Guidelines For Exercise Testing And Prescription
Frequently Asked Questions About Acsm's Guidelines For Exercise Testing And Prescription
Books like Acsm's Guidelines For Exercise Testing And Prescription
Book Reviews
(9)
Did you read Acsm's Guidelines For Exercise Testing And Prescription? Please provide your feedback and rating to help other readers.
Great book!

Derived From Web

, May 30, 2022

The information contained in this book is based on evidence and the writing is easy to read and understand. One of the things I really like about this book is that it gives exercise prescription for many different types of population and for people with different comorbidities. It is a good reference book if you want to get the best and latest information on how to prescribe exercise for your patients, clients of just for your own personal knowledge.
ACSM is the gold standard, hands down!

Derived From Web

, May 30, 2022

I ordered this updated source as my original was from the mid-2000s. As usual, ACSM brings the best information and the most updated physiological information when it comes to exercise testing and prescription. When I give advice or train clients, I always look to them. And I will keep looking at them in the future. I recommend this book for anyone who is a personal trainer or who is looking for personal training or testing clients in a clinical setting. The ACSM is the gold standard, hands down.
This is an awesome manual - I'll probably keep it forever

Derived From Web

, May 30, 2022

This is an awesome manual, I will probably keep it forever. ACSM is one of the leading healthcare professional organizations, and you can trust that they have the most up-to-date and accurate information available. It is a fairly easy read compared to the typical 500-background textbook. The only reason it gets 4 stars out of 5 is because within a month of receiving it the spiral-bound cover had already slipped off. Great value still!
Great, complete resource

Derived From Web

, May 30, 2022

It has evidence-based recommendations on who to test with what supervision, how to design tests and how to interpret a plan for your patients. As a future PT, this is a valuable resource that I 'll want to keep and reference throughout the years. I was planning on buying an old issue, but my classmates convinced me and I am not disappointed!
Gold standard for the gold standard!

Derived From Web

, May 30, 2022

The guidelines for exercise testing and prescription by ACSM is the gold standard for the gold standard. It goes extensively over how to prescribe exercise for a litany of populations using different data to back up its peer-viewed hard claims. The new binde makes it easier to pop through pages, gives it a more book feel and allows easy storage without fear of damaging something. As a personal trainer, I have referenced this book many times and will continue to use it as I progress through my career. This book also comes in handy as a college student. I have made several references to it for many health and applied science classes, and even used it when discussing exercise with friends around the campus. You can 't go wrong with the American College of Sports Medicine and you certainly can not go wrong with this resource booklet.
Spiral binding is a bad choice, but the book is great!

Derived From Web

, May 30, 2022

The spiral binding almost immediately came apart and I had to fight the pages together to keep them. I ended up losing quite a few pages from the binding all together and was unable to put them back into place so that the book became a stack of small little papers. I would definitely recommend getting the paperback or an electronic version if possible over the spiral bound version I received. The book is great in content, though. Though, unless someone referenced a page number for me in class, I had a relatively hard time finding this information when I looked for it. Recommendations are also made by gender and age, so that you can be very precise when testing about goals for maximal performance and then putting them into a percentile.
Great price

Derived From Web

, Feb 1, 2020

Much better than paying for a new brand. This came with notes thanks to the previous owner.
5 stars

Derived From Web

, Oct 7, 2018

Kept it after the class, as it has some quality information for further diagnostic use.
Great Quick Reference for Exercise Science/Kinesiology

Derived From Web

, Aug 3, 2017

If you are doing anything in the field of exercise science, science, and physics, this book is a must have. Great quick reference for personal trainers, strength and conditioning, diseased individuals, or just an overall health nut. I worked as an aid at a physical therapy clinic and was able to answer a lot of questions about the patients'health related questions.