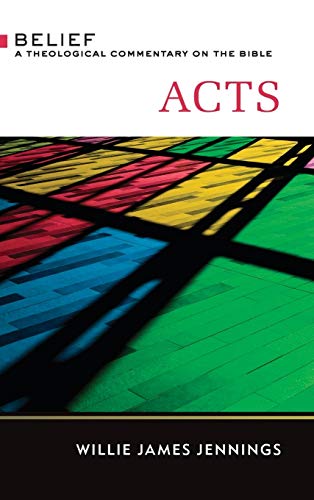 
 
Book Overview
In this new commentary for the Belief series, award-winning author and theologian Willie James Jennings explores the relevance of the book of Acts for the struggles of today. While some see Acts as the story of the founding of the Christian church, Jennings argues that it is so much more, depicting revolutionlife in the disrupting presence of the Spirit of God. According to Jennings, Acts is like Genesis, revealing a God who is moving over the land, putting into place a holy repetition that speaks of the willingness of God to invade our every day and our every moment. He reminds us that Acts took place in a time of Empire, when the people were caught between diaspora Israel and the Empire of Rome. The spirit of God intervened, offering new life to both. Jennings shows that Acts teaches how people of faith can yield to the Spirit to overcome the divisions of our present world.
Frequently bought together
Frequently Asked Questions About Acts (TCB)
Books like Acts (TCB)
What should you read after Acts (TCB) Book? Here is a list of books to read if you read and loved Acts (TCB)
Book Reviews
(9)
Did you read Acts (TCB)? Please provide your feedback and rating to help other readers.
Eloquent, insightful, wise

Derived From Web

, Dec 30, 2021

The commentary of Jennings'Acts is a wonder to see. At every turn, thoughtful, fresh, deeper insights, and I already have a dozen commentaries on Acts, but am blown away by what he adds to what we ponder previously. Just beautiful, compelling, hopeful, timely.
Delightful reading, challenging lessons

Derived From Web

, Nov 9, 2021

Finished this book and started this review straightway, first review in many years. This poetic gift of the author is reflected in his careful choice of each word and the structure of each sentence. Although clear throughout, the depth of his reading of the text and the challenges made for repeated reading and meditation are clear. Jennings has been delightful to read, causing me to wonder about the author's life and what it has been like to write such a book. In his postscript, he got some insight into this. My journal is filled with quotes from this book, quotes that I expect to nourish me when I read it, remind me of who I am and that it is very good news indeed.
Get Ready for an Intellectual Ride

Derived From Web

, Sep 6, 2021

James Jennings has quickly become one of my favorite theologians. You wouldn 't be reading this if you had no interest in theology, but here you have theology on the other side of the racial divide. Acts is the great story of the spread of Christianity in the first century, but it is a movement that has broken through cultural and racial barriers and Jennings has a clear view of this whole series of events. But be prepared to read more carefully than you have ever read before.
Divine Desire

Derived From Web

, Mar 4, 2021

Dr. Jennings takes us on a journey through the Book of Acts, where we are challenged to consider who we are as the people of God. He weaves the story of Israel into the tapestry of the Church's story, displaying to the reader how it is the same story. Acts is the story of divine desire, revealed through the movement of the Spirit through the Church, the People of God.
Infused with the Spirit

Derived From Web

, Nov 27, 2020

I had heard other people speak about their love of this volume. I found their assessments to be true ''. Whereas most volumes in the Belief series provide explorations of biblical works on previous theological books, this volume is an original work of theology itself. Jennings has written a volume that will probably become formational for future study and preached for sometime on Acts.
A political theological reading

Derived From Web

, Nov 24, 2020

Most commentaries on the acts delve into the history of the events themselves. The commentary of Jennings goes beyond this to the sociological and political domains. A worthy read for the biblical scholar, as well as a pastor looking to push their congregation beyond self-help mentality.
A Must Read

Derived From Web

, Nov 7, 2020

I have been studying Acts for over a decade now and no one comes close to what Jennings has been able to do for me. Far from an abstractly abstract general manual on Church Planting and Conjuring, Jennings helps us see the heart of the challenge of the NT Church, following the transgressing love of Spirit that creates a new order that sends shock waves to everyone. It reads like a poetic novel, but has the insights of a scholar. His different reflections '' are alone worth the book's price. His reading connects the Jewish people in a way that was spectacular and helped me share my own experiences as a member of the African Diaspora. In America, I resonate with their resistance of the assimilation of the dominant culture. His insights on joint people '' have also given me language and imagination for the racial condition in America that is both stubborn and exhausting. This one should be purchased for you and a friend!
Wonderful Theological Commentary

Derived From Web

, May 15, 2020

I read this commentary next to a few other acts commentaries written by white men, commentaries that I deeply appreciate. Jennings is a current racial commentary written from the black experience that opens the book of Acts for the reader to see things that allow the text to speak to the wonderful theological situation, although I do not think it is strictly limited to such issues. One should not expect the historical, literary, linguistic things one would find in a standard biblical commentary, although he is aware of them. For that, his commentary is welcomed and unique.
A one-trick pony.

Derived From Web

, May 13, 2019

When I began to read this book, I found Jennings's fiery prose and keen critical analysis stimulating. But by the second half of the book, I was tired of the overstated premises and frankly, shouting. Here there is prophetic criticism. I don 't want to tune it out. I want to be what I think Jennings wishes to be for us. But there is only so long a monotone can sustain attention.