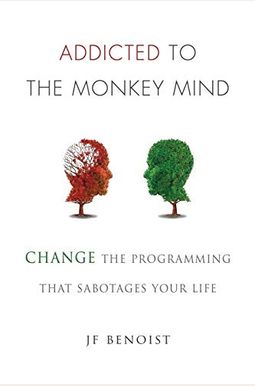 
 
Addicted To The Monkey Mind: Change The Programming That Sabotages Your Life
Frequently bought together
Frequently Asked Questions About Addicted To The Monkey Mind: Change The Programming That Sabotages Your Life
Book Reviews
(17)
Did you read Addicted To The Monkey Mind: Change The Programming That Sabotages Your Life? Please provide your feedback and rating to help other readers.
False Positive Reviews

Derived From Web

, Jan 4, 2022

Based on positive reviews from customers, I buy books largely. I bought this book thinking it might be a good self-help book, but it is on such an elementary level that I find it worthless. It is really basic and offers little to anyone adult who already thinks and reasons and understands moral and ethic issues on the book of God. I have not read all the book and have no intention of doing so. I have skimmed several parts of the chapter and have not found anything interesting or helpful.
The author should be ashamed.

Derived From Web

, Aug 6, 2021

A proper gloss off of CBT and mindfulness without diluted citation. Even in their superficial presentations, these concepts are not the author's. For a much more in-depth understanding of cognitive distortions and changing automatic thoughts associated with core beliefs read Aaron Beck or Albert Ellis.
Strawmen Galore

Derived From Web

, Mar 17, 2020

I give this 2 stars only because it seems to have helped some other reviewers. I found it superficial and a waste of time for myself. If you like simplistic pretend people who act in ways that illustrate the author's points, then this is the book for you. I would have stayed away otherwise. This book is, however, unserious. I hate to think of someone reaching for it when other books are much better.
Great self-help book, good sound advice, well written and easy to read.

Derived From Web

, Jan 11, 2020

I am a self-proclaimed self-help book junkie who is constantly looking for a way to stop the negative chatter in my head. This is a great read with a lot of good advice. Insightful, well written and the author gives us relatable-life stories as examples. I have not had the easiest life and this book has been helpful in allowing me to see that when something occurs in my present life that resembles a similar painful memory from my past, my monkey - mind can be triggered and can lead me into anxiety-filled mental chaos. This book helps me to stay in the present and reminds me to be mindful and observant instead of being panicked and reactionary.
A little too breezy

Derived From Web

, Jun 25, 2019

Not bad, but somewhat idealistic in the role-play illustrations given. My monkey mind just wanted to be done with it, towards the end. The Kindle version also has some real formatting issues with broken paragraphs and sentences. Some useful ideas about being present and using the observing mind to be an objective witness when the story really goes in one's head. Overall not bad, but a little Pollyanna-ish.
Great therapeutic tool

Derived From Web

, Mar 28, 2019

Addicted to the Real Mind is a great read and potential tool with Moneky World application to help conquer the self-defeating thoughts and shame that most people struggle with. The book is well thought out and even if you are not a clinician, easily digestible. I would certainly recommend this book to therapists and clients alike.
Counselor & Client astounded by this book

Derived From Web

, Mar 20, 2019

I am a CSAC working with a client who is currently in an in-patient treatment program. The client has been in and out of prison with meth and gambling as ways to cope. Client diagnosed with ADHD is very vulnerable to getting out of treatment. Client said he has been through the Prison Treatment Program and made sense. The treatment program is not so much. I gave the book to this client. He said it was the best book ever read and it explained in the simplest way why he does the things he does!
Best gift to give a loved one!

Derived From Web

, Feb 21, 2019

I was fortunate enough to get this book free of charge from the author. It was given to a loved one and there is hope that this book will help in the fight against addiction. Many thanks are being made by many.
Insightful

Derived From Web

, Feb 17, 2019

J.F. Jones & Co. Benoist made an impression through his writing really. His thoughtful approach in helping the reader understand what the monkey is thinking and help us to identify how it can contribute through addiction and issues within relationships and/or interfere with our beliefs, feelings, self-worth, etc. This book is easy to understand, straightforward and creates possibilities for an insightful mind. As a mental health clinician, I found this book to be a great tool and intervention for the development of my clients.
Yadira Cruz Granado, LMFT/Marriage & Family Therapist

Derived From Web

, Feb 16, 2019

As a professional in mental health care, I can say that I will use this book as an addition to treatment plans for those suffering from anxiety, depression, insecurity, and for those who feel stuck in life. I love the fact that the professional jargon is not written in plain English, well written and exemplary essay, thank you.