OUR BIGGEST SALE EVER - SAVE 20% AT CHECKOUT WITH CODE CYBERBOOK. Learn more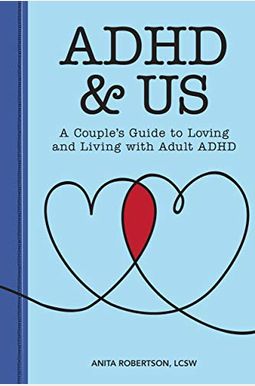 
 
Adhd & Us: A Couple's Guide To Loving And Living With Adult Adhd
Book Overview
Navigating adult ADHD in your relationship--simple, effective strategies to strengthen your commitment
Communicating and thriving in a neurodiverse relationship is possible. ADHD & Us gives couples the tools and strategies they need to connect as well as overcome the unique challenges they face on the road to long-term happiness and satisfaction.
Drawing from Anita Robertson's years of practice counseling couples with ADHD (attention-deficit/hyperactivity disorder), this honest and straightforward guide helps couples better understand adult ADHD and how it affects relationships, while also providing the tools necessary for both partners to feel understood and respected. Learn how to avoid common conflicts, appreciate your differences, and meet each partner's needs. Together, you can make it happen.
This relationship guide for people with adult ADHD includes:
Five pillars of success--Learn about the five relationship pillars--praise, acknowledgement, games, growth mindset, and positive acceptance--and how they are essential in a successful relationship.
A practical approach to adult ADHD--Build communication skills and deepen your connection using engaging exercises that allow both partners to share in safe and constructive ways.
Modern and inclusive Read More chevron_right
Frequently Asked Questions About Adhd & Us: A Couple's Guide To Loving And Living With Adult Adhd
Book Reviews
(8)
Did you read Adhd & Us: A Couple's Guide To Loving And Living With Adult Adhd? Please provide your feedback and rating to help other readers.
It's not for couples who both have ADHD

Derived From Web

, Mar 10, 2022

I wish I had actually slowed down and read the description before I purchased the book. The book is meant for couples where only one of them is living from ADHD. I still give it three stars because it is not the author's fault that I misunderstood the description or title. I am thinking that I will give it to one of my family members.
Awesome Book

Derived From Web

, Apr 16, 2021

This is a must read for any couple who has an ADD or ADHD partner before you decide to walk away!! It clearly describes everything that you must learn in detail...n unlearn. This book will definitely help the neurotypical partner, navigate the d relationship wo going bananas ALWAYS! Hopefully both partners are willing to read the book 2gether... is a great learning experience!
Helps better understand and love the ADHD person in your life

Derived From Web

, Mar 6, 2021

My husband has ADHD and I don 't. It is VERY difficult for me to understand why he does things the way he does, and for the longest time I thought it was just a difference in our personalities. This book is already helping me better understand him and how his brain works.
Highly recommended

Derived From Web

, Mar 3, 2021

I found this book while looking for books about organizing for people with ADHD and I thought I needed this book so that I can better understand my husband, as he has the condition. I agreed with the reviews that said it is so easy to understand. The shared stories are so relatable and the explanations gave me AHA moments when I read them. I have yet to finish the book, but it has already opened my mind how differently I am from my husband and it helps me immensely to be more patient with him and of course understanding him.
Its like someone followed my life and wrote a book about me!!!!!!!

Derived From Web

, Jan 16, 2021

Everything you know about the book is Exact! In my life and relationships with my partner and my family, there were issues that I did not even know were an issue that we all now have made resolutions for!
So helpful for partners trying to understand ADD/ADHD

Derived From Web

, Jan 8, 2021

I have BPD and my husband has ADDADHD and I got this book so that I could understand my husband better and feel more helpful to him and it truly does so much, with little things you can do to help you understand your partner, and goes into detail about so much. This will definitely help you if you have a partner with Addadhd. It will definitely open your eyes to see what is going on and how you can go about trying to solve it. Amazing book! Truly awesome!
worth a look, tender and sweet approach while based on research

Derived From Web

, Dec 31, 2020

Very encouraging book, very realistic and very nice. It definitely acknowledges that changes are not made if relationships are toxic. Despite my wife's urging me to try many things, including medication, I was in denial of this condition for YEARS. The battle is 12 acceptance. I pretty much check every symptom of this condition off. Those who have it must work and train their habits and change their brain. Those who have it, but see it completely in their partner. It is all a brain thing. There is hope.
Good book buy it!

Derived From Web

, Dec 13, 2020

This was a good read,had a very profound impact on me and teaches you to cope with adhd in relationships and life with this plague of adhd as an adult.