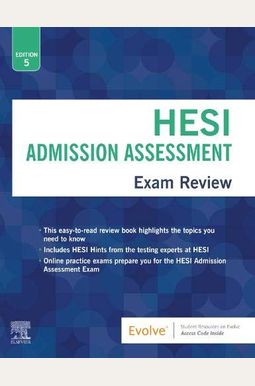  
Admission Assessment Exam Review
Book Overview
Passing the HESI Admission Assessment Exam is the first step on the journey to becoming a successful healthcare professional. Be prepared to pass the exam with the most up-to-date HESI Admission Assessment Exam Review, 5th Edition From the testing experts at HESI, this user-friendly guide walks you through the topics and question types found on admission exams, including: math, reading comprehension, vocabulary, grammar, biology, chemistry, anatomy and physiology, and physics. The guide includes hundreds of sample questions as well as step-by-step explanations, illustrations, and comprehensive practice exams to help you review various subject areas and improve test-taking skills. Plus, the pre-test and post-test help identify your specific weak areas so study time can be focused where it's needed most.
HESI Hints boxes offer valuable test-taking tips
, as well as rationales, suggestions, examples, and reminders for specific topics.
Step-by-step explanations and sample problems in the math section show you how to work through each and know how to answer.
Sample questions in all sections prepare you for the questions you will find on the A2 Exam.
A 25-question pre-test at the beginning of the text helps assess your areas of strength and weakness before using the text.
A 50-question Read More chevron_right
Frequently Asked Questions About Admission Assessment Exam Review
Book Reviews
(7)
Did you read Admission Assessment Exam Review? Please provide your feedback and rating to help other readers.
Not super helpful.

Derived From Web

, Feb 18, 2021

If you have to take the HESI A2 exam, then you have to take it from the author of the book. The book has incorrect information. If you purchase this, please find some other tools online to help with your studies and pay attention to the topics Elsevier discusses because while they might say something is classified as x, it is not. This book and their supplemental print outs are not correct.
READ! It has misinformation

Derived From Web

, Aug 25, 2020

The guide is good, but use other books for more in- depth reviews and the pocket prep app. I would like to point out that the information in this book is incorrect so be careful when you are spreading it. There are three types of cells: Granular leukocytes, eosinophils and basophils. Lymphocytes and Monocytes are cells of the immune system. I think someone else mentioned it in their review. The people who make the test would put out a book with incorrect information. .
It's alright

Derived From Web

, Aug 24, 2020

I will be taking the hesi a2 before the end of the year, and when choosing a study book, I went with the same company that creates the hesi exams. I only have 30 pages of math left. There are a lot of mistakes. That is dramatic but it is enough to throw me off. In the example under borrowing from whole numbers that we added 15 to both numerator and denominator, I took too much time figuring out what was wrong because the example didn't include this. I was expecting this book to be good for those who need a quick refresh. When I am done with the book and my exam, I will update my review.
False Information

Derived From Web

, Aug 10, 2020

There is a book with false information. I am a Hematologist and I have Agranular leukocytes. There are three types of leukocytes: Granular, basophils, and eosinophils. This may be the only false information provided in this textbook.
Access Code Not Available until October 2020

Derived From Web

, Jun 1, 2020

I was warned that online content was not available until October 2020 when I tried to get the access code. If you want online access, you should buy the 4 th addition.
NO ONLINE RESOURCES UNTIL OCTOBER!!!

Derived From Web

, May 10, 2020

You don't get the online resources for this book until October of this year, but I ordered it months ago and the material is good. If the book isn't going to be at the same time as the resources don't buy it, then it's silly to offer the sale. I should have spent more on this book.
**Online content unavailable until October 4, 2020**

Derived From Web

, May 4, 2020

There is a single post test at the end of the book, which seems fine. There are a lot of practice questions in each section. If you purchase before October 2020, you will receive an access code for additional online resources, including 2 practice exams. I received a message stating that the content won't be published until October 4 th, 2020. This content is useless because it is 5 months from now. I don't understand why they wouldn't make the additional content ready for the book. Elvesier gave me a 4 th edition access code after I contacted them.