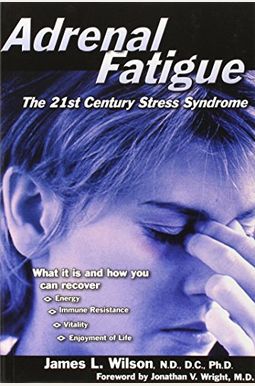 
 
Adrenal Fatigue: The 21st Century Stress Syndrome
Book Overview
Adrenal fatigue is a deficiency in adrenal gland functioning that can result in debilitating symptoms ranging from lethargy to lowered sex drive to weight gain. James Wilson draws on 24 years of clinical experience and research to help readers determine if they have adrenal fatigue and learn how to treat it. Beginning with a diagnostic questionnaire, he moves through the causes, symptoms, and treatment of the condition through lifestyle and dietary modification.
Frequently Asked Questions About Adrenal Fatigue: The 21st Century Stress Syndrome
Books like Adrenal Fatigue: The 21st Century Stress Syndrome
Book Reviews
(16)
Did you read Adrenal Fatigue: The 21st Century Stress Syndrome? Please provide your feedback and rating to help other readers.
how to self diagnose and easy reading chapters

Derived From Web

, May 20, 2022

I bought this book as a gift for a friend who has been dealing with a burnout. I read this book years ago, but still remember the practicality of Info in it, how to diagnose myself and how to read easy reading chapters. The author, Jim Wilson, knows that I was almost 40 years old when I was a very young 20-year-old. Jim impressed me so much as a very talented, on fire and wise teacher as a chiropractic student so many years ago. Born with 40 years of clinically trained practice, he has gotten far more wiser and more effective as a gifted teacher and healer. As an alternate health practitioner who checks many of my clients for adrenal fatigue, this is a layman's manual that can help people understand their lifestyle habits to understand where they are and how to undo the burn-out schedule. We thank Jim for writing such an inspiring empowering, self-help book. Kris Kelley is a Seattle native.
VERY HELPFUL

Derived From Web

, May 20, 2022

After my tonsillectomy, this book helped me so much. I was in a severe adrenal fatigue and loosing my hair and couldn t walk up the stairs with should be winded. By reading about this condition and following the recommendations in the book, ADRENAL FATIGUE, I am doing so much better. It has been 7 months since surgery and I am well on my way to recovery.
Adrenal Fatigue

Derived From Web

, May 20, 2022

Finally, after many years of suffering, I have found a doctor who gets it. After I have done my work including the saliva test, he referred me to this book, and it was clear that I have adrenal fatigue. This book is eye-opening. I recommend it to anyone who has suffered with fatigue along with other related symptoms, auto - immune difficiency, hypo throiidism... read this book! Prob would be best to buy the book. The Kindle version does not allow you to enlarge the text to see the questionnaires easily... in a photo format.
this book really helps!

Derived From Web

, May 20, 2022

After being diagnosed with adrenal fatigue, my daughter found this book, so we bought it. My husband read it first, and he said he had adrenal fatigue as well. The book has a very complete questionnaire, which I completed and indicated that I had severe adrenal fatigue, confirmed by the doctor. My daughter and I then followed the recommendations in the book as well as our doctor, and we feel much better! I met with a dietician and was familiar with the adrenal fatigue and she supported the nutritional suggestions of the book. I cannot recommend the supplements that the book suggests, as we are using a different brand that our doctor uses, but supplements are needed to heal your adrenal glands. Once you realize all the things you are doing to fatigue your adrenals, you will understand why you don 't feel the best, and it is easy to make the changes Dr. Wilson recommends.
Adrenal Fatigue

Derived From Web

, May 20, 2022

Information is easy to read, informative. I was confused as to the supplements he recommends, but received the info I needed from his own web site. I wish he would have addressed a little more fully the use of cortisone and DHEA for adrenal fatigue. Any one with this diagnosis is good luck. It is almost impossible to get a good treatment plan from a doctor, and you need more than good eating and supplements, although both are essential.
brilliant!

Derived From Web

, May 20, 2022

I love Doctor-larry! '' Check out the iTunes Podcast App and do a search for Lawrence Wilson or DrLWilson and Larry Wilson to listen to everything from a-z on audio while driving to work! I used to suffer from adrenal hashimotos and hypothyroid fatigue until I started following his advice!
Adrenal Fatigue: The 21st-Century Stress Syndrome

Derived From Web

, May 20, 2022

This book is a hands-on learning experience for those who experience unexplained low-energy, frequent colds and other illnesses and a lack of enjoyment of life that is not depressive in nature. Dr. Wilson places words to a frustrating syndrome that is often misdiagnosed and gives the readers the knowledge to help themselves while providing the vocabulary to seek a professional diagnosis. Dr. Wilson provides a list of foods that can contribute to adrenal fatigue as well as a list of foods that strengthen the adrenal glands. Dr. Wilson holds 3 doctoral degrees and 2 master's degrees. He has helped hundreds of people with adrenal fatigue during his 24-year private practice.
Doctor recommended for a truly common disorder

Derived From Web

, May 20, 2022

When I was first told about the Adrenal Fatigue, I was aghast that I had never heard of it. In my psychiatric practice, this disorder is major and often confused with a rampant depression and anxiety disorder. This is a very reader friendly book, sometimes a little too cutesy, but that makes it easy to see yourself. Unless you go to a functional or anti-aging doctor, this will be overlooked and can be realistically diagnosed by blood tests. I particularly like some of the stress reduction exercises and dietary recommendations.
Best primer out there for adrenal fatigue

Derived From Web

, May 20, 2022

I suffered from adrenal burnout for years and now know that it comes from my hypothalamus. Did the program in this book cure me? But for someone in the early stages of adrenal fatigue, or even someone who wants to learn more about adrenals and how they function, this is the best book I found. This first test was the same test that my chiropractor neurologist used on me the first time I saw him.
Great info

Derived From Web

, Jun 18, 2020

To digest lots of info, lots of info. If you are a nerd type of person, this is a must read about adrenal fatigue. My advice : if you have ALL the SYMPTOMS, see a natural path doctor and have a HAIR TISSUE ANALYSIS DONE and you can heal the minerals in your body, and this way you can balance the adrenal glands EFFECTIVELY over time. The Malter Institute in Arizona is a great place. Google them and say that Mike referred you, Doctor Malter is very knowledgeable and he has been in business for over 40 years, he knows his stuff.