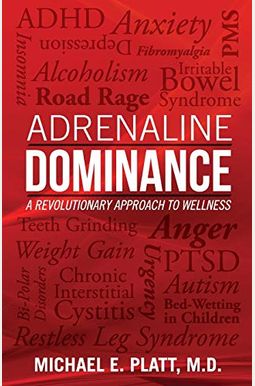 
 
Adrenaline Dominance: A Revolutionary Approach to Wellness
Book Overview
Adrenaline is a powerful hormone whose effects have been virtually ignored by the medical community. Adrenaline Dominance explains how this hormone might be a major underlying cause of many conditions currently considered incurable. This book explains why people produce this fight-or-flight hormone even when they are not facing danger. It presents a natural protocol for rapidly reducing excess adrenaline. In most cases, this protocol allows patients to reassess their need for taking prescription medications, which treat symptoms rather than address the root cause of their conditions.
Frequently Asked Questions About Adrenaline Dominance: A Revolutionary Approach to Wellness
Books like Adrenaline Dominance: A Revolutionary Approach to Wellness
Book Reviews
(5)
Did you read Adrenaline Dominance: A Revolutionary Approach to Wellness? Please provide your feedback and rating to help other readers.
So far, so good

Derived From Web

, Jun 1, 2022

My younger daughter and I am experimenting in the book with some of these suggestions - I have a lifetime of stress sublimated and she's always been an adrenaline junkie. We see great results immediately. I have had success with hormonal relief, which I suspect may be caused by headaches. While I could attribute mine to the placebo effect, I find it much more difficult to attribute DD's as she was several days into her period before realizing that she had no PMS or painful cramps. She sailed through it all the same. While I cannot speak to long-term benefits or defects, I think that anything suggested to not have profoundly negative effects, and the positives are significant enough to stay the course and see what happens.
Very helpful ... unconventional approach, but it works for some people ... do your own biohacking

Derived From Web

, Oct 2, 2019

He heard the doc interviewed on Bulletproof and was intrigued enough to give his suggestions a try... and glad that I did. I seem to be the beneficiary. You can always listen to the interview before purchasing it, as it covers much of the same material and will guide you.
Life changing information to Improve your Health.

Derived From Web

, Aug 12, 2019

This book illustrates the existence of adrenal dominance and its importance in mental and physical health, its effect on relationships and overall productivity in life. The important thing Dr. Platt has you realize is that you can control it with proper nutrition, bio-ident hormones, and stress reduction, instead of it controlling you. Please read this wonderful book and understand physiology and gain the advantage with Dr. Platt's hormone cream to view adrenaline dominance in your life as a blessing instead of a negative. His relative explanation creates awareness and understanding of this clear challenge. Dr. Platt really knows this subject and is able to explain to the layperson a complex subject. Platt thank you so much for helping me improve my health.
Worst book I've ever read

Derived From Web

, May 8, 2019

The author has an extremely narrow view of the theme. He claims that adrenaline dominance is caused by insulin - rise and fall and offers Progesterone as treatment. He neglects to discuss ways of preventing insulin spikes, he misses the option of the brain to use ketones for fuel. He does not address the population of patients whose symptoms with Progressterone are worse than better. He does not address diagnoses that cause increased adrenaline. He does not address how adrenaline breaks through methylation or how to support methylation through diet. The author does not discuss variations of the COMT - Gens, which affects how quickly adrenaline is broken and removed from the body. I'm annoyed that I bought this book, but now I know why my library does not waste any shelf space for it. Don 't buy this book. If you get a copy for free, don 't waste your time reading it.
Revolutionary!

Derived From Web

, Mar 23, 2019

This book has the potential to shape your life, as well as the practice of medicine as we know it. As a board-certified physician, I have been trained to take a different medication for every ailment, which is incredibly frustrating, because my patients don 't seem to get better. Rather than the underlying causes, we treat the symptoms. Dr. Platt's revolutionary approach to the fundamental issue that causes so many of the diseases affecting people today is absolutely game-changing. I have been using the Progesterone cream only for a week or so, but my chronic neck and shoulder pain has markedly reduced and I have a greater range of motion than I have had in years! I highly recommend '' this book!