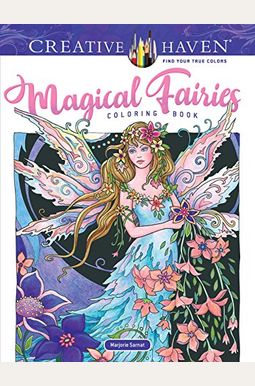 
 
Adult Coloring Book Creative Haven Magical Fairies Coloring Book
Book Overview
Welcome to a world of fabulous fairies created by the bestselling artist of Creative Cats coloring book. Thirty-one enchanting images include a tiny artist painting delicate blossoms, a sprite riding on a shooting star, and other winsome illustrations featuring a unicorn, a field of wildflowers, and more. Pages are perforated and printed on one side only for easy removal and display. Specially designed for experienced colorists, Magical Fairies and other Creative Haven(R) adult coloring books offer an escape to a world of inspiration and artistic fulfillment. Each title is also an effective and fun-filled way to relax and reduce stress.
Frequently bought together
Frequently Asked Questions About Adult Coloring Book Creative Haven Magical Fairies Coloring Book
Book Reviews
(9)
Did you read Adult Coloring Book Creative Haven Magical Fairies Coloring Book? Please provide your feedback and rating to help other readers.
Overall a good coloring book

Derived From Web

, Nov 28, 2021

I am pretty picky about coloring books, because I like to color every square inch except for borders, and I do it using glittery gel pens. Because of this, I look in a coloring book 1. I find certain features in a coloring book 1. Defined borders are I don 't want to have to color the entire way to the edge of the page. 2. Plenty of detail : I would run out of ink before finishing an area if I had to do large sections of just one color. 3. Not too much detail, not too much. Tons of tiny details get really tedious. 4. 4 '' : Attractive artwork lends itself to colorful pictures well. This book met all four of my requirements and I really enjoy the coloring in it! I have included two finished pictures with glittery gel ink as examples. I found some problems in the images, like lines missing, inconsistent details, etc. In books like this, this isn 't unusual, but isn 't unusual at all.
I enjoyed the large variety and creativity of all the pictures.

Derived From Web

, Jul 13, 2021

I thought that everything was awesome and very well done. So many choices to choose from and, I believe, there is something for everyone who loves fairies. They are unique in a good way and they are unusual. I have been buying Creative Haven for years and loving them all. I would highly recommend ''.
A Favorite

Derived From Web

, Sep 28, 2020

There are other reviews with photos and video so that I'll give my thoughts only. This is one of my favorite adult coloring books. I'm not usually into fairies, but I love these drawings. They are mystical, detailed and reminiscent of Art Nouveau, which I love. They have lots of curves and there are enough curves to make me very happy. The paper is thick and one-sided, and each page is perforated so that you can tear it out. I would still put a sheet of card stock between pages if you don 't tear them out if you use markers to color with.
Fun & Creative Images to Color

Derived From Web

, Jul 5, 2019

Colorful love often serves as a means of stress relief. I get pretty easy bored with themed books, but I love these Creative Haven books, like these magical fairies, because none of the pictures have a repeating look. Some pictures are more detailed oriented, while others are pretty simple and straight forward. Gives you the freedom to color in any way you feel like, from a darker more Gothic feel to a lighter more happily ever after feeling. I included a few snapshots of some of the pages I have done to give you a better idea of what kinds of images are in the book.
Beautiful Line Art!

Derived From Web

, May 19, 2019

We absolutely love Creative Haven coloring books. Always have very pretty and diverse designs. My only advice is to just cut pages and ignore the perforations. Gel pens held well to hold pens.
Detailed drawings of beautiful fairys

Derived From Web

, Dec 29, 2018

Very beautiful drawings that are enjoyable to color. I am inspired to relax and believe. Each page is beautiful and inspirational, and inspirational. Now that I have made my way through this book, I am amazed in each drawing by artistic excellence. What sets this apart from the other fairy books is that the fairy is the focus in each page. There is a border around the drawing. The drawings are perforated on one side and the page is shattered, so I plan on displaying my pictures on my bulletin board. You will love the value and the quality. This will last a while longer too.
Cute pictures

Derived From Web

, Dec 1, 2018

I was not sure if I like it or not, but the author shows enough preview pictures that I decided to purchase it. I am not sorry that I did, because the rest of the pictures in this book are just as nice as what the preview shows. I won 't show any more coloring books that either don 't buy a preview or only a few pages. It is called to look before you buy.
Beautiful Illustrations

Derived From Web

, Aug 22, 2018

This book is amazing and for me one of Marjorie Sarnat's best. You can let your imagination run wild with whichever colors you choose because there are no rules. All are one side on perforated paper if you prefer to remove them from the book and are suitable for framing. I love all the pictures in this book.
too busy

Derived From Web

, Aug 19, 2018

I pre-ordered this book after seeing people post pictures of the coloring book Heaven with this artist, they were beautiful, I am not sure what happened with this book, there is way too much going on! Don 't get me wrong, there are some beautiful pictures, but sometimes less is more and more is just MORE. I looked at this book at least 3 times thinking I should color something and just don 't know where to start, and I am not sure I have the patience for it.