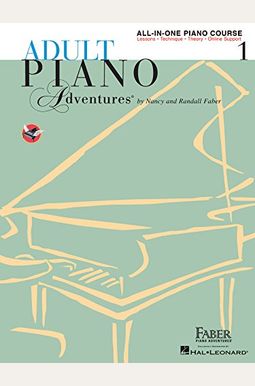  
Adult Piano Adventures All-In-One Piano Course Book 1: Book With Media Online
Book Overview
This Description may be from another edition of this product.
(Faber Piano Adventures ). Adult Piano Adventures enables the adult beginner to play music for pleasure while developing musical understanding. The comprehensive all-in-one course book includes lessons, technique, and theory in a single volume for ease of use. Students learn fundamentals of music notation, chord playing, and musical form. The clear layout puts focus on key concepts and step-by-step learning. Online access to audio and video support is included. Two supplementary repertoire books provide the best of popular and classical music for extended learning and fun. The Adult Bravo Pack 1 includes three publications: Adult Piano Adventures All-in-One Course Book 1, Adult Classics Book 1 and Adult Popular Book 1. A complete starter kit for adult beginners With the Adult Piano Adventures Bravo Pack 1, adult beginners can: * Learn to play using a comprehensive, all-in-one piano course * Discover note reading, music theory and piano technique * Play songs including Amazing Grace, Catch a Falling Star, Eine Kleine Nachtmusik, The Entertainer, Greensleeves and more * Play along with audio accompaniments and watch instructional videos, for enhanced learning and comprehension * Discover more classical favorites from Bach, Beethoven, Vivaldi and other composers, arranged at precisely the right level Read More chevron_right
Frequently Asked Questions About Adult Piano Adventures All-In-One Piano Course Book 1: Book With Media Online
Books like Adult Piano Adventures All-In-One Piano Course Book 1: Book With Media Online
Book Reviews
(11)
Did you read Adult Piano Adventures All-In-One Piano Course Book 1: Book With Media Online? Please provide your feedback and rating to help other readers.
Excellent Adult Series

Derived From Web

, Apr 20, 2022

A good book for the beginning adult. The older beginner series takes more time to learn than it does. It is an all-in-one book with Theory and Technique as well. There is a nice variety in the songs.
Gradual progression that reduces frustration

Derived From Web

, Jun 28, 2020

A common issue I have had with musical instruction books is how they will start off slow and then all of a sudden you are expected to play a loaded staff with both hands, when just the page prior you were slowly hammering through treble staff only. I have made rather surprising progress because this book does not do that. I started playing the piano when I was 8 years old, but lost interest when I had to use both hands, so my knowledge of reading music was non-existant. They have a song in the book that integrates whatever new thing you have learned, which is a huge pro to this book. You are able to play simplified versions of complicated songs even at the earlier levels.
Not well organized , and pieces are boring

Derived From Web

, Jul 22, 2019

It's not easy to follow this book, it is a bit helter-skelter. Some of the pieces are boring and not well-known, and it would be great to have some popular music mixed with the classics. I wouldn't recommend it.
Great book for adults

Derived From Web

, Aug 20, 2018

I tried an all in one book from another author, but I am a beginner. I saw my self lost in Majors C,D,E,F,G,Z after a few months. The songs in the lessons weren't interesting to me. I decided to try Piano adventure because I heard that the songs are more attractive and the lessons are organized. I should say yes, because I bought it and it was better than the other book. It was correct. By the end of the book, you will be able to play nice songs because you will only be focusing on two Majors, C and G. This book is a must read.
Great book for adult learners.

Derived From Web

, Apr 9, 2018

I have been following the directions from the book for about 2 weeks and am currently on Unit 9. The pacing of the book is perfect and it's a wonderful book. I am 34 years old, have never played an instrument in my life, and practice for about 30 minutes every night and the amount of progress I'm making seems good. I wish the accompanyingdemo tracks were just piano because sometimes you just want to hear how the piano sounds on a particular piece. There are lots of videos on the tube demonstrating the music in this book. The music selections are very good. I enjoy playing some of the tunes I've never heard before. For the most part it's a good mix of music that you should know.
What A Nice Book For Seniors!

Derived From Web

, Mar 19, 2018

I teach piano in a senior living facility. Seniors who have been playing piano for many years are starting again. The adult books from Faber are wonderful. There are no too-adorable graphics in the children's beginning books. It's hard to find good beginning books. Either they don't teach enough or they move too fast. The book is challenging enough to keep the student interested but at the same time it has enough repetition of concepts that the student doesn't get overwhelmed. It's a great book for adults of any age, and it's also good for older children or teens who don't like the sight of animals on the page.
Love this series

Derived From Web

, Dec 5, 2017

Love the series. They started doing packages with several books and bonus books and I really like that, it's just as cheap as ordering straight from the publisher.
This book is amazing, I highly recommend it for everyone who wants ...

Derived From Web

, Jul 21, 2017

I recommend this book to anyone who wants to play the piano. The book is easy to read and the songs are great. I learned how to play the piano using this book and others from this collection. It's worth it! The book teaches you enough theory so that you can read whaterver song you'd like to play, and the video is from me playing a few months after I got the book.
Great book for adult students

Derived From Web

, Jun 27, 2017

I use this book with my adult students. The amount of duet pieces is great and it progresses at a good pace. This book is comprehensive and I supplement it with other things that are geared toward each student.
... adult eaching myself to play the piano and I like the music selections in this book

Derived From Web

, Feb 23, 2017

I like the music selections in this book and I play the piano a lot. I felt like I was missing something when I was around page 50. I don't believe there are enough examples of each concept. Each page teaches a concept, there are one or two short pieces to practice, then on to the next concept. I ordered the version for Older Beginners which has more books than one, and there are many more pieces to practice on, and each concept is explained a little more simply and thoroughly. That seems to suit my old brain speed.