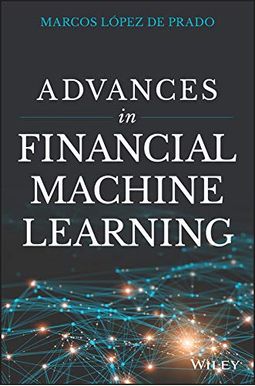 
 
Advances In Financial Machine Learning
Book Overview
Praise for ADVANCES in FINANCIAL MACHINE LEARNING
Dr. Lü¾Œ¶˜¼pez de Prado has written the first comprehensive book describing the application of modern ML to financial modeling. The book blends the latest technological developments in ML with critical life lessons learned from the author's decades of financial experience in leading academic and industrial institutions. I highly recommend this exciting book to both prospective students of financial ML and the professors and supervisors who teach and guide them. --PROF. PETER CAR, Chair of the Finance and Risk Engineering Department, NYU Tandon School of Engineering
Financial problems require very distinct machine learning solutions. Dr. Lü¾Œ¶˜¼pez de Prado's book is the first one to characterize what makes standard machine learning tools fail when applied to the field of finance, and the first one to provide practical solutions to unique challenges faced by asset managers. Everyone who wants to understand the future of finance should read this book. --PROF. FRANK FABOZI, EDHEC Business School; Editor of The Journal of Portfolio Management
Marcos has assembled in one place an invaluable set of lessons and techniques for practitioners seeking to deploy machine learning methods in finance. Marcos's insightful book is laden with useful advice to help keep a curious Read More chevron_right
Frequently Asked Questions About Advances In Financial Machine Learning
Book Reviews
(6)
Did you read Advances In Financial Machine Learning? Please provide your feedback and rating to help other readers.
Poorly written. ML is so classic and not up-to-date.

Derived From Web

, Aug 11, 2021

The explanations presented in the book are all heuristic and failed to make points in so many ideas given throughout the book. My view is that he might be a terrible quant, but a fine communicator and author. The techniques of machine learning employed here are very classic. None of the latest technique in the last few years is present. It is mostly classical financial mathematics. I liked the chapter one and the way he framed ML in quantitative finance ''. I decided to buy it.
People who make money rarely publish

Derived From Web

, Apr 20, 2021

Way overrated imo, you will not learn finance nor ML from this book, spend your money on it. Given the tendency of the author for excessive self-promotion, I would take any of his advice with a grain of salt. Besides, he seems to have lost a ton of money for AQR, given his short tenure there. If someone is really interested in finance and ML and ML learn each on its own, in finance with Hull derivatives, in ML may be some coursera. The blog Quantstart also has excellent tutorials and getting started '' guides.
Great Book I wish there was more in this area!

Derived From Web

, Mar 15, 2019

It is a great example of how ML can be used and how to work with data. I can not wait for the manual solution to come out!
Cover was worn out. The rest was mostly okay.

Derived From Web

, Dec 7, 2018

Cover was worn out and an index page stuck out, detached from the spine.
an unprofessional book

Derived From Web

, Aug 5, 2018

Wall Street - People make money too much from the key, deviating too much from the key. The author seems to not know the really important things in financial markets. This author also seems to not know the machine learning at all...
Required reading...truly revolutionary!

Derived From Web

, Mar 22, 2018

This is not just a book about the trading with computers, but a complete manifesto that changes the discussion about what finance will be in the future. Amazingly, it is not just a number of confirmed theories, but also concepts, math, and code used billions of dollars, making it necessary reading for advanced practitioners who have already faced real problems associated with data curation, tactical asset allocation, and portfolio construction. If you want to discover how to get beyond the staggered financial paradigms with which we have been stuck for decades, read this book. Truly revolutionary! ''