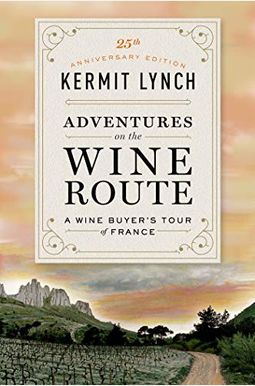  
Adventures On The Wine Route: A Wine Buyer's Tour Of France (25th Anniversary Edition)
Frequently Asked Questions About Adventures On The Wine Route: A Wine Buyer's Tour Of France (25th Anniversary Edition)
Book Reviews
(8)
Did you read Adventures On The Wine Route: A Wine Buyer's Tour Of France (25th Anniversary Edition)? Please provide your feedback and rating to help other readers.
An insider's view of modern wine-making process in France, by a long-time insider.

Derived From Web

, May 20, 2022

About half of it got through. Lots of info, but most of it is about winemakers for whom the average reader could only meet HOPE. Kermit Lynch was able to remove a few key concepts, but for the average wine-loving traveler, my itinerary is an unattainable dream. He does discuss current practices that adversely affect the quality of so-called Burgundy and Chateneuf-du-Pape wines in these regions, leading me to believe that most of the so-called wines of Burgundy and Chateneuf are nothing more than patrimony, designed to preserve the status quo, but not the quality of the product. Despite my take-away and incomplete reading, I still recommend.
That was then...

Derived From Web

, May 20, 2022

Kermit, who doesn 't love it? He was a pioneer in bringing French wine of the highest quality to America. Without his presence, our wine world would be much less compelling. Kermit Lynch is to be praised for his passion and his contribution to the wine industry in America. That said, his famous collection of stories and stories does show its age. Realizing that he has redefined the relationship between an importer and his catalog, many of the writings found in this seminal volume are a little old and frayed. It is a wistful look at a wine world that really does not exist anymore. When it was here, it was good but we moved beyond. Kermit thanks you for everything you have done.
A Love Story on Wine

Derived From Web

, May 20, 2022

Kermit Lynch, a wine professional, wrote an ode to the fine art of the wine making for us all to enjoy. In the process, he wrote from a time and place in France that changed dramatically 25 years later. His French contacts are the small family owned vineyards that produce high quality, old French traditional growth wine using the small French methods. He regrets the passing of his old friends and the traditional French school methods and traditions of the old winemaking. He regrets the profusion of the mass-produced wine that we get today using short cut methods to produce large volumes of wine devoid of that signature French taste. In "Adventures on the Wine Route " Kermit Lynch wrote an ode to a life in French wine, of a time and place that was special and in so doing he wrote a love story for us all.
A READ FOR ALL WINE LOVERS

Derived From Web

, Jul 2, 2021

Robert Kermit Lynch is a mythic figure in the wine world. In this book he shares his experiences in searching for wines for his American customers throughout France. In this enjoyable read, I learned much.
Loved Every Chapter

Derived From Web

, Apr 28, 2021

This work provides an extraordinary insight into the wine industry in France and the commitment of an American merchant to support the small '', traditional wine producers and bring some excellent wines to wine-lovers in the United States. A great read, from a man of passion and taste.
MORE THEN YOU IMAGINE

Derived From Web

, Aug 16, 2020

Having finished Billionaires Vinegar, I noticed this book and was glad that I did. It is then a book about wine. It reminds me of the book Zen and the art of motorcycle maintenance. It is a true story of wine intertwined with relationships around people who have a fantastic passion for wine compared to those who have little regard for what they sell. Kermit has done a great job!
Vicarious Wine Tour of France

Derived From Web

, Feb 19, 2020

For a few years, I have been a wine enthusiast, reading in formal courses, reading everything I could get my hands on, reading monthly newsletters and magazines from the wine trade, but nothing prepared me for the joy of reading Lynch's odyssey through the complex wine industry of France, from unscrupulous négociants to vignerons and vineyard owners who represent the best of the industry. Fascinating perspective, great feedback, and honest advice on how to tour your own adventure into French wine. I can see that I read this book over and over again.
Just the best wine book I have read

Derived From Web

, Oct 19, 2019

This is simply the best book on wine that I have ever read. Although written 25 years ago, Kermit Lynch's profound understanding of wine is still valid today. All wine professionals, and anyone who wants to learn about the nature of the wine, should read it. That may be true, but how great to know what it was through this book and know what we have lost to a corporatized wine world. I bought it on Kindle and read it in bits during my work day. Now I am going to buy the real book and sit with a glass of wine and enjoy it!