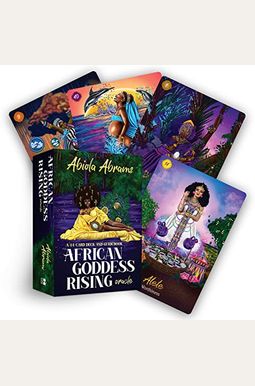  
African Goddess Rising Oracle: A 44-Card Deck and Guidebook
Frequently Asked Questions About African Goddess Rising Oracle: A 44-Card Deck and Guidebook
Book Reviews
(12)
Did you read African Goddess Rising Oracle: A 44-Card Deck and Guidebook? Please provide your feedback and rating to help other readers.
Absolutely fabulous

Derived From Web

, Jan 2, 2022

This is the third deck of cards I have received. The cards are easy to use. I have been giving gifts to my girls group. I praise them daily. .
Amazing deck!

Derived From Web

, Dec 16, 2021

I purchased this deck because I was drawn to it. The artwork is gorgeous. The concept was thought out. The wisdom of this deck gives me great insight on my life, as the message always relates to me.
My family love these card I bought them for my daughter's and myself

Derived From Web

, Dec 4, 2021

I believe every body should have a tarot card. I connect you to your goddess.
This Deck is amazing

Derived From Web

, Nov 15, 2021

I love this deck. It is amazing. The artwork is beautiful and the meanings of the cards are detailed. If you are thinking about getting it, please do not be disappointed.
Inaccurate Illustration of Oya

Derived From Web

, Oct 14, 2021

Why is Oya represented in the same color as Yemaya? Her color is deep red. Basic facts about Orisha are only found on the internet. It feels wrong. The Orishas have certain colors that they like and that gives us a way to honor and easily recognize them. Why are goddesses trying to learn incorrect information? The cards are appealing, but they are not enough. The way the divinities are illustrated should be correct. I didn't pay to be lied to. I can't connect with something that has basic facts wrong.
A must have!!! One to add to the collection.

Derived From Web

, Oct 10, 2021

The media couldn't be loaded. These are the prettiest cards. Out of 55 decks, this is one of my favorites. I can't wait to use them. There is a lot of detail and color in the artwork. The deck is designed by women of color and I am so proud of it. The cards are very easy to shuffle.
OMG it's gorgeous! You won't be disappointed.

Derived From Web

, Oct 8, 2021

The media couldn't be loaded. The artwork and colors call to your inner goddess! The introduction to the Goddess' of the African diaspora is provided in the guidebook. I have a number of goddess decks, both tarot and oracle ones, and I think I have found my new favorite.
Inaccurate description

Derived From Web

, Oct 6, 2021

Both of these cars were very accurate, especially queen of Sheba, that is not even her real name, nor did she look like this, or we are close like this because it is not a part of her region. Clothes and hairstyle are completely different for Atete and Queen of Sheba. The Queen of Sheba has on clothes that are close to the Oromo style. She was known for her beauty and dark skin.
They're Finally Here

Derived From Web

, Oct 6, 2021

I fell in love with this deck the moment I saw them. I pre-ordered them for my birthday. I received them today and they are everything and more. The oracle deck is new in the house. It's important for def to show gratitude to the dynamic duo. You can instantly feel their divine energy and their beautiful gifts and love when you look at these cards. I will update in a few months as I get to know each one. You need to get them to see and feel for yourself. I was in tears after performing a mind, body, and soul 3 card pull on myself. The deck is powerful. I'll do another update on my experience with readings.
Deck is worth it

Derived From Web

, Oct 6, 2021

The deck is beautiful. The person who did the designs used different shades for the African goddess. I like the break down of spreads. The cards are easy to find in this book. I would have liked to hear the pronunciations of the goddesses names. Readings have been accurate so far.