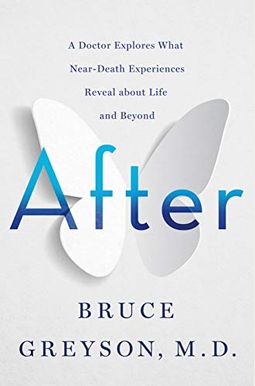 
 
After: A Doctor Explores What Near-Death Experiences Reveal about Life and Beyond
Frequently Asked Questions About After: A Doctor Explores What Near-Death Experiences Reveal about Life and Beyond
Book Reviews
(13)
Did you read After: A Doctor Explores What Near-Death Experiences Reveal about Life and Beyond? Please provide your feedback and rating to help other readers.
Interesting read

Derived From Web

, Nov 10, 2021

This is a well made book, sturdy back, normal thickness pages, strong binding, Simon says. The font choice is clear and easy to read, the size is good to see. This is my first time exploring the subject so I wasn't quite sure what to expect. I dont know anyone personally that has had an NDE despite witnessing deaths and coming close to themselves. Nobody is saying what the hell is going to happen next, but I think that it is anyone's best guess. Although this book does attempt to explore it, no one can really say what the hell is going on there. However, with some scientific basis, the only way anything will be definitive is when we each individually find out for ourselves.
Very interesting.

Derived From Web

, Jul 11, 2021

Dr. Greyson has spent over forty years studying near death experiences of hundreds of people in an objective manner. He does a statistical study of various things that they experienced during their NDE's. He attempts to find generalities in what they felt. There are two principle things that almost all felt first, these experiences feel real to people and second, they have a reduced fear of dying afterward. Many of the people surveyed said they try to change their lives for the better. If you are curious about what happens afterward, you should read this book.
Not What I Expected

Derived From Web

, Jun 3, 2021

Only about halfway through the book did I realize that it wasn't what I was expecting. It wasn't for me, but that doesn't mean it isn't an excellent book for the right audience, Kirk said. I ordered this book thinking it was going to be primarily detailed accounts of NDEs from those who experienced them. Since the book was written by a prominent doctor in the field, I expected some medical insight to be added to each case. The book is actually a reverse of what I expected. The book is more of a medical reference and an account of this doctor's many years of experience. His theories and observations are supported by brief summaries of actual cases. This is a fantastic book for those who want to learn about the scientific side of NDEs. I was more interested in the personal experiences, so it didn't hold my interest enough to read the entire book.
good addition on the topic

Derived From Web

, May 15, 2021

There are lots of books on the topic of life after life, but After shows the steps a doctor has taken over several decades to study the phenomenon. Most books just contain anecdotes, which is fine. But After follows the psychiatrist on his journey from the very beginning when he first heard from experiencers all the way through his various experiments. If you're looking for more anecdotes, you'll find them here. It's a thought-provoking journey that in the end will fill you with wonder and a positive feeling about what lies after we shuffle off our mortal coil.
Felt as if something important was missing

Derived From Web

, Apr 2, 2021

The book is well meaning and certainly uplifting and reassuring, yet I feel it suffers from the attempt to try and analyze the experience rationally. This, in my view, can no more be done satisfactorily than studying and trying to understand the physical reason for love. It doesn't matter. The truth lies in the experience and it does not add one iota of value to find out that it is a result of the jumping of chemicals between certain neurons in the brain. Part of the problem with the book is that the author, ho I greatly respect, has never had an NDE and can only draw conclusions from what other people tell him, which he readily admits really cannot be put into words. This left me feeling that something important was missing.
Doesn't answer the question

Derived From Web

, Mar 21, 2021

A few interesting stories from the 1970s from an author that wants to tell you more about his professional prowess then what is actually "After." I honestly was expecting more with some conclusion, not his constant talking about himself and his colleagues. In poor attempts at literary grandeur, Ms. Mix's dark brown hair was disheveled but the natural curls were impressive. Please, I wasn't looking for a novel.
Grateful for Dr. Greyson's Curiosity, Courage & Ingenuity

Derived From Web

, Mar 14, 2021

I've read and loved Dr. Bruce Greyson's book. As one who is fascinated by the history of science and medicine, I am always struck by the courage of innovators who challenge the scientific community's status quo in any age. Dr. Greyson, an academic of impeccable credentials, applies research rigor to a field that was never systematically investigated prior to the 1970s. Thanks for Dr. Greyson's curiosity, courage and ingenuity!
Disappointing

Derived From Web

, Mar 13, 2021

I was expecting science and journalist-quality work — backgrounds of experience, details behind the experiences, how and how extensively they were verified, when they took place and so on — but there's almost none of that. Mostly it's a string of unverifiable and largely undocumented anecdotes. And no, in situations like this, the plural of anecdote is not "data," even if the stories are plotted on an arbitrary NDE Scale.
A wonderful book!

Derived From Web

, Mar 9, 2021

The outstanding doctor has certainly done research in an area where research is difficult to do, Raymond said. As a Roman Catholic priest, I have worked with people who have had NDE's. What Doctor describes of these experiences is certainly accurate, the Royal College of Physicians said. I will be buying numerous copies to share with people I see for grief counseling. This is a book of hope, Raymond said. Thank you, Doctor, for all your help. Jim Sobus, the father, said he was "100 percent behind George Bush" in Iraq.
Fascinating!

Derived From Web

, Mar 5, 2021

A passionate reader, Pauley! is an excellent book! The book was written in such a way that it is very accessible to the average reader, Kirk said. I have a long fascination with accounts of near-death experiences. This book changed my perception of near-death experiences as well as made me think more of the mind-brain connection. The book itself was very well done, said Pauley.