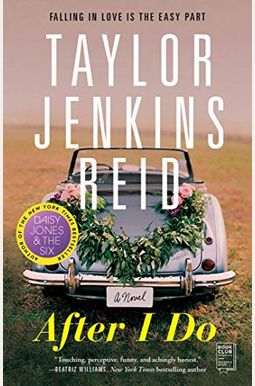 
 
Book Overview
From the New York Times bestselling author of The Seven Husbands of Evelyn Hugo
A seductive twist on the timeless tale of a couple trying to rediscover love in a marriage brought low by the challenges of domestic togetherness.touching, perceptive, and achingly honest. --Beatriz Williams, New York Times bestselling author
When Lauren and Ryan's marriage reaches the breaking point, they come up with an unconventional plan. They decide to take a year off in the hopes of finding a way to fall in love again. One year apart, and only one rule: they cannot contact each other. Aside from that, anything goes. Lauren embarks on a journey of self-discovery, quickly finding that her friends and family have their own ideas about the meaning of marriage. These influences, as well as her own healing process and the challenges of living apart from Ryan, begin to change Lauren's ideas about monogamy and marriage. She starts to question: When you can have romance without loyalty and commitment without marriage, when love and lust are no longer tied together, what do you value? What are you willing to fight for? This is a love story about what happens when the love fades. It's about staying in love, seizing love, forsaking love, and committing to love with everything you've got. And above all,
After I Do
is the story of a couple caught up in an old game--and searching for a new road to happily ever after.
Frequently Asked Questions About After I Do
Book Reviews
(6)
Did you read After I Do? Please provide your feedback and rating to help other readers.
This story was pretty depressing.

Derived From Web

, Apr 20, 2022

This story was pretty depressing. I suppose I was expecting more along the lines of an eat, pray, love journey from the main character. That is what enticed me to order the book. I was hoping that in her failing marriage she would take a break and find herself or experience new things in her life. Unfortunately, it has turned into a lot of whining and a pretty sad outlook on marriage and relationships. I feel that people would enjoy it because it is a real subject and I am sure that people can relate to it. But if you are looking for a good love story--this isn 't it.
Realistic Book About Love and Marriage

Derived From Web

, Apr 20, 2022

I bought this book when it was on sale and I am glad I did. I really enjoyed the marriagedivorce plot line, I really enjoyed the marriagedivorce. The characters seemed so real to me, like they were real people I would know in my life. It also doesn 't hurt that I got the ending I was hoping for!
Thought Provoking Novel

Derived From Web

, Apr 20, 2022

I don 't even know how to start with this review! '' It held me intrigued, captive in wanting to know more and more from these characters. The author entangles you in with emotions. True to life, about not giving up in a relationship, it imposes life lessons about patience. It is one of those novel's you can 't put down, one that questions your own relationship.
Is It Worth Savingx

Derived From Web

, Apr 20, 2022

In this book, a good married couple reached the point where they can no longer endure being around each other. They decide to marry a year off and then see if they want to continue. What happens is life, changes and reevaluation of itself. I found the story amusing and would recommend it ''.
I really enjoyed the journey of the book Reid's writing style is ...

Derived From Web

, Apr 20, 2022

While the ending was somewhat predictable, I really enjoyed the journey of the book. Reid's writing style is similar to Sophie Kinsella - funny, self-depricating and real. I connected with the characters and the struggle they went through. The dialogue was mature and the story was entertaining without being overwrought. No alpha male, insta love or innocent, damaged girl and no life threatening tragedy. A really enjoyable read.
Deep and real look at the complexities of marriage

Derived From Web

, Aug 14, 2020

A look at the trials and tribulations of marriage through the eyes of a young couple wondering where things went wrong. After I Do explores how we can lose ourselves in the process and how communication and honesty need to be ever present. It also shows how we need to learn to lean on family and friends even when we might not want to heed their advice. The story centers around Ryan and Lauren, but we mostly get Lauren POV. Something about her... her maturity and selfishness rubbed me the wrong way. But I enjoyed watching her character evolve throughout the story, but I did enjoy watching her character develop. And I cheered for Ryan and Lauren from Page 4 : I was cheering for Ryan and Lauren. Overall, I really enjoyed the story and characters... it was a deep look into the complexities of marriage and learning that "all you have to do is never give up ".