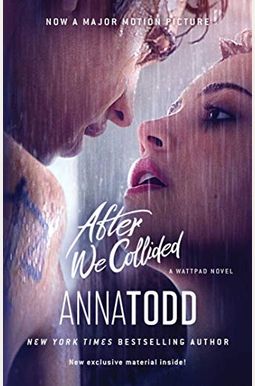 
 
Book Overview
This Description may be from another edition of this product.
Book 2 of the After series--newly revised and expanded, Anna Todd's After fanfiction racked up one billion reads online and captivated readers across the globe. Experience the internet's most talked-about book for yourself from the writer Cosmopolitan called the biggest literary phenomenon of her generation.Tessa has everything to lose. Hardin has nothing to lose.except her. AFTER WE COLIDED.Life will never be the same. #HESA After a tumultuous beginning to their relationship, Tessa and Hardin were on the path to making things work. Tessa knew Hardin could be cruel, but when a bombshell revelation is dropped about the origins of their relationship--and Hardin's mysterious past--Tessa is beside herself. Hardin will always be.Hardin. But is he really the deep, thoughtful guy Tessa fell madly in love with despite his angry exterior--or has he been a stranger all along? She wishes she could walk away. It's just not that easy. Not with the memory of passionate nights spent in his arms. His electric touch. His hungry kisses. Still, Tessa's not sure she can endure one more broken promise. She put so much on hold for Hardin--school, friends, her mom, a relationship with a guy who really loved her, and now possibly even a promising new career. She needs to move forward with her life. Hardin knows he made a mistake, possibly the biggest one of his life. He's not going down without a fight. But can he change? Will he change.for love?
Frequently bought together
Frequently Asked Questions About After We Collided
Book Reviews
(13)
Did you read After We Collided? Please provide your feedback and rating to help other readers.
It's pretty bad when the abusive boyfriend is the most likable character in the story

Derived From Web

, Apr 20, 2022

I don't think I've ever hated a female character more than the main character in this story, Tess. In her book, Whitney tells her boyfriend, Hardin, that she will give him one more chance to make him happy. In a spiral-bound spiral-bound spiral-bound book, she finds a new reason to scream at him and cry. There are three main characters left who get into fights before the story ends. If you think you can play a drinking game and take a shot every time this happened, I would advise you to try it. Granted, this was a One Direction fan fiction so I guess my expectations should have been ever lower. Only One Direction fans would recommend this, or someone looking for someone to play Anastasia. It's just that I can't think of anyone else who would be able to stomach it.
No Damage

Derived From Web

, May 26, 2021

Television images could not be loaded. I was really nervous for damages because of other reviews, but the books are in pretty good condition, he said. I was hoping for a plain book cover with just title on it, but I'm just glad the book is in new shape. The books are definitely better than the movies because they leave out a lot of detail.
Most Toxic Characters Ever

Derived From Web

, Feb 21, 2021

I made it through the first book after watching the movie and was hoping for some character growth in this book, too. Boy, did that ever happen. It's hard to imagine that two characters would be so toxic. The show's creator and executive producer, Phil Hester, said only "a handful" of people apply for the part. I won't read any of this book. Sad to see these people go.
Lots of drama but still could not put the book down!

Derived From Web

, Jan 6, 2021

It was a great read, and I could not put it down. Reading has always been a part of my life. Mrs Clinton, who has battled cancer since birth, said: "He laughed and cried. But I enjoy the passion between Tessa and Hardin and how they truly do love each other regardless of how different they are. I enjoyed the book and the short chapters that beg me to read more since they are so short. Great read, said Dr. Richard. Harrison, director of the Massachusetts Institute of Technology.
NOT THE COVER SHOWN

Derived From Web

, Sep 29, 2020

I was so excited when I saw that the movie tie-in cover had been released for the US. If you dont care what cover you get then buy it. If you want this specific cover, then it is not listed.
So...About This Book...

Derived From Web

, Sep 14, 2020

I recently watched the movie After and found it to be very good. But I must admit, I was a bit taken aback by the first three books. It was a third of the way through and I couldn't finish it. Tessa and Hardin are not only friends, but also roommates. What makes this so disturbing is that it's a tit for tat of who can hurt who more in such an immature way. No wonder Spangler was so cranky: "It's not sexy." What's more, Taylor said, "it's not love." I think it's dangerous, especially with the weather forecast. All I want is therapy, Diana said. This story is not about a falling in love. Like many good books, The Road to Damascus is a good introduction to the escalation of an abusive relationship. It's just that they put it in the book: "Ladies Rule the World." Rather, they are two kids who grew up together and don't look at it as some romantic story where they somehow change each other. Relationships aren't perfect, but this one is downright manic, said Blair.
Stay away

Derived From Web

, Jan 6, 2020

I thought the first book was going to be decent so i saved myself the time and bought the second and third books together, Morgenthau said. It's a tough read, bc both characters are very annoying to the extent that I almost wanted them apart.
Love this series!

Derived From Web

, Nov 12, 2019

He also said that seeing the movie first made him realize that the series was "one of the terrible people." I'm obsessed with this series. After we made it seem like we were all irritated with each other, I was so invested in their story. Can't wait to start the next book!
Will make you miss being young & in love

Derived From Web

, Oct 27, 2019

I am a sucker for these kind of tortured, passionate, unbelievable love stories, even if the dynamic is wildly unhealthy, he said. If you are a sappy fan, you are not a harsh critic.
More of the Same

Derived From Web

, Sep 26, 2019

I've read the book, but I grew inpatient with the cyclical story line. It seemed like much of the same plot as the first book, and I was tired of the never ending cycle, Morgenthau said. I still have a soft spot for Malvo, and I will probably continue to read the series and hope they shake things up next time around.