Buy 3 Get 1 Free
Our Best Sale Yet! Add 4 Books Priced Under $5 To Your Cart     Learn more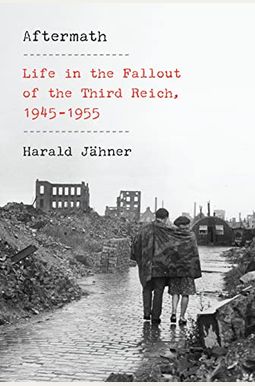  
Aftermath: Life In The Fallout Of The Third Reich, 1945-1955
Book Overview
A revelatory history of the transformational decade that followed World War I, when Germany raised itself out of the ashes of defeat, turned away from fascism, and reckoned with the corruption of its soul, and the horrors of the Holocaust. This book received wide acclaim and spent forty-eight weeks on the bestseller list in Germany when in was published there in 2019.
The years 1945 to 1955 were a raw, wild decade that found many Germans politically, economically, and morally bankrupt. Victorious Allied forces occupied the four zones that make up present-day Germany. More than half the population was displaced; 10 million newly released forced laborers and several million prisoners of war returned to an uncertain existence. Cities lay in ruins--no mail, no trains, no traffic--with bodies yet to be found beneath the towering rubble.
Aftermath
is the first history of Germany's national mentality in the immediate postwar years. Using major global political developments as a backdrop--and including eye-opening black-and-white photographs and posters--Harald J hner weaves a series of life stories into a nuanced panorama of a nation undergoing monumental change. Poised between two eras, this decade is portrayed by J hner as a period that proved decisive for Germany's future--and one starkly different from how most of us imagine it today.
Aftermath
helps to answer the question: How does a nation recover from fascism and turn toward a free society once more?
Frequently Asked Questions About Aftermath: Life In The Fallout Of The Third Reich, 1945-1955
Book Reviews
(7)
Did you read Aftermath: Life In The Fallout Of The Third Reich, 1945-1955? Please provide your feedback and rating to help other readers.
An amazing in-depth report on what real people experienced during the period

Derived From Web

, Feb 19, 2022

One of the best researched and written books I have ever read. In his book, he recounted the incredible hardships of the many segments of the German population from the end of hostilities to the gradual emergence of a true democracy.
Tough sledding

Derived From Web

, Feb 18, 2022

Strap it on and enjoy the ride. This book is great, but at times difficult to plow through. It's worth it for a true picture of post-war Germany, Tunick said.
WWII Germany minus the reality of what happened

Derived From Web

, Feb 16, 2022

This is the kind of book you could read to an 8 year old, non-traumatic, descriptive, lets them know that your family wasn't horrible people, and that they suffered too. Yes, I don't fault the author for looking at this topic, but I do fault him for not even providing a paragraph about the evils of what happened. Even after the war, the mass rapes that occurred afterward were not discussed. It's a sanitized version of history that is dangerous in the hands of small minds.
Well worth reading for the cultural insights

Derived From Web

, Feb 8, 2022

A broad tour of background and post-war social adaptations, flowing from the effects of multiple peoples stranded or flowing in and out of Germany after the collapse of the Reich. He also wrote about the different conditions and reactions of military prisoners from east and west, rejection of incoming German refugees from the east by German population of the west, treatment of token Nazis versus. the hardcore, as well as Jews coming out of Israel with nowhere to go but Ersatz. The stories of individual experiences added striking color to the struggles of the first days, weeks and months of survival by Bavarian farmers, rejection of middle-class Jews by Bavarian farmers, success of small groups of Jews creating food market stalls and selling to Germans class, etc. This is a great book, said Dr. Chester Floyd, director of the federal Centers for Disease Control and Prevention.
Reestablished Germany

Derived From Web

, Feb 6, 2022

The book focuses on German society in the years immediately after the war. They destroyed cities, destroyed economy and a government that was left behind. The book argues that the Germans went through the denazification process as well as how they processed guilt, or a lack of guilt. History aside, this is a very thorough and interesting look at a period that has often been overlooked.
Exactly the book I had been looking for...

Derived From Web

, Feb 1, 2022

What happened next is that the Third Reich surrendered, ending World War II. In "Broken Glass," Frey answers the question, in terms of the law, social, cultural, economic and personal spheres for Germans--well, mostly West Germans. I've been looking for a book like this for a long time. I'm not saying this book will sell well, but I can say this: Very good. Even if you get sick, I think you'll get a lot out of it, he said.
Time of Wolves

Derived From Web

, Jan 18, 2022

A look back by a self-described German cultural journalist at the decade following the end of World War II in Europe. In "The Lives of the Survivors," Jahner provides the reader with his interesting takes on everything from economic monetary reforms to the difficult love lives of the survivors. However, this does not constitute a complete history. Rather, it seeks to explain how it happened that the same country responsible for war and the Holocaust could, or perhaps avoid, handling of those great scars of history. Most of the attention in this book is devoted to the urban rather than the rural and Western Zone of the Russian empire over the territory controlled by the Soviets. The Soviet Union's culture was characterized by the descriptions of American cultural influences. Note the absence of significant political figures of the occupation era, including General John McCloy and General Lucius Clay.