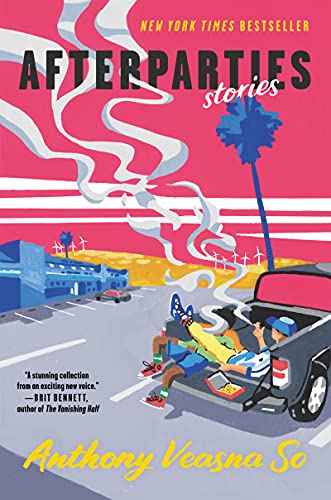 
 
Book Overview
This Description may be from another edition of this product.
A Roxane Gay's Audacious Book Club Pick
Named a Best Book of Summer by: Wall Street Journal * Thrillist * Vogue * Lit Hub * Refinery29 * New York Observer * The Daily Beast * Time * BuzzFeed * Entertainment Weekly
A vibrant story collection about Cambodian-American life--immersive and comic, yet unsparing--that offers profound insight into the intimacy of queer and immigrant communities
Seamlessly transitioning between the absurd and the tenderhearted, balancing acerbic humor with sharp emotional depth, Afterparties offers an expansive portrait of the lives of Cambodian-Americans. As the children of refugees carve out radical new paths for themselves in California, they shoulder the inherited weight of the Khmer Rouge genocide and grapple with the complexities of race, sexuality, friendship, and family.
A high school badminton coach and failing grocery store owner tries to relive his glory days by beating a rising star teenage player. Two drunken brothers attend a wedding afterparty and hatch a plan to expose their shady uncle's snubbing of the bride and groom. A queer love affair sparks between an older tech entrepreneur trying to launch a safe space app and a disillusioned young teacher obsessed with Moby-Dick. And in the sweeping final story, a nine-year-old child Read More chevron_right
Frequently Asked Questions About Afterparties: Stories
Book Reviews
(10)
Did you read Afterparties: Stories? Please provide your feedback and rating to help other readers.
Series of short stories

Derived From Web

, Jan 30, 2022

Well written and very unique ''. I am not a fan of a book of short stories ''. I enjoyed reading about Khmer culture, and I did enjoy reading about Khmer culture.
Wow. Just, …wow.

Derived From Web

, Jan 9, 2022

This is written so beautifully. This is the best book I have ever read in years. The author is so talented at evoking emotion-in particular, utter despair- but in a way that lets you see the beauty of onwards continuing.
Pretty awesome

Derived From Web

, Dec 16, 2021

The complexity of life among Khmer immigrants is magnificently captured here. By the way, LGBT is tied to boot. , absolutely a window on a world that I could not have pictured.
Incredibly depressing

I ordered this book because I was genuinely interested in learning about the lives of Cambodian Americans, especially since these people had suffered so much during the Communist Khmer Rouge genocide of the 1970s. I was depressed to discover that the book is mainly about the very shallow, superficial lives of the younger generation. The genocide is mentioned in every single story, but it seems to have had no profound impact whatsoever on the lives of the author and his characters, many of whom are clearly rooted in the author's own life. I have rarely read a book so relentlessly full of expletives and so depressing in its materialistic, hedonistic view of life. Instead of reflecting deeply on the trauma and the good fortune of having survived one of the most brutal massacres in history, the author spends most of the book describing drug use, casual sex, rampant materialism, shallow relationships, and an essentially nihilistic attitude toward life. Little respect is shown for the older Cambodian Americans who did manage to survive the slaughter and who did manage to build new lives for themselves and their children. Instead, the author depicts second-generation Cambodian Americans who seem to have lost touch with the brave people from whom they are descended. Rarely have I been more disappointed in a book. I was not surprised, unfortunately, to read that the author had died of a drug overdose.
Fascinating but hard.

Derived From Web

, Nov 30, 2021

Stunningly written, powerful, and real. This is one of the most important books that I read this year.
Fascinating. Well done.

Derived From Web

, Oct 27, 2021

I am not usually a short story reader, but these are quite wonderful. Very interesting and so sad that he is so young and now deceased.
Detailed portraits

Derived From Web

, Sep 16, 2021

After reflection, I wish I had used a highlighter when reading these stories. There were lines throughout the city that I wanted to revisit. I was sure that I would remember in what story they appeared or maybe where they were on a page. But when the portraits of people in the United States began to stack one upon the other against the backdrops of their lives, I lost track of the lines when immersed in lives. In a few months, I 'll read a story or two again. This time I remember the highlighter. I want his words ''.
Superb writing

Derived From Web

, Sep 13, 2021

The writing is so vivid and perceptive. Reminds my why I once loved the short story form so much. I'm only sad that we won 't hear his voice again. A rich voice from the Heart of California.
Fine stories, lots about gay experience

Derived From Web

, Sep 5, 2021

The author enjoyed the stories and the author's insights about American immigrant life in Cambodia. Didn 't realize how much of the book involves gay lifestyle, which I did not discover or particularly mind, but I think that some buyers might like to know in advance.
Brilliant

Derived From Web

, Sep 4, 2021

I rarely ever use the word brilliant, but this book I can hardly compare to anything I have ever read. Identifying around the same age as a gay Cambodian man, I felt like I was in with so many subtle bits and pieces of the stories. I love how the collection bounced from different perspectives, I really feel like I got to know so many people within the community. I absolutely love this book and can not recommend it enough.