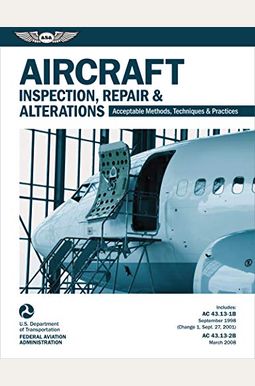 
 
Aircraft Inspection, Repair & Alterations: Acceptable Methods, Techniques & Practices (Faa Ac 43.13-1b And 43.13-2b)
Book Overview
This handbook for Aviation Maintenance Technicians (AMTs), repair stations, aircraft owners and homebuilders details the standards for acceptable methods, techniques, and practices for the inspection, repair, and alteration of aircraft. It is a combination of the two most important Advisory Circulars (ACs) written by the Federal Aviation Administration (FA) on this topic?--namely, Acceptable Methods, Techniques, and Practices: Aircraft Inspection and Repair (AC 43.13-1B) and Acceptable Methods, Techniques and Practices: Aircraft Alterations (AC 43.13-2B)--printed and bound into one volume.
AC 43.13-1B provides details on the materials and practices, health and safety, inspection, repair, and finishes for wood structures, fabric covering, fiberglass and plastics, and metal structures, welding and brazing. It includes chapters dedicated to nondestructive inspection (NDI), corrosion, inspection and protection, aircraft hardware, control cables and turnbuckles, engines, fuel, exhaust, propellers, aircraft systems and components, weight and balance, electrical systems, avionics, and human factors. AC 43.13-2B is a manual filled with details and instructions for the installation of aircraft components and systems, such as communications, navigation, and emergency systems, anticollision and supplementary lights, skis, oxygen systems in nonpressurized aircraft, rotorcraft
Read More chevron_right
Frequently Asked Questions About Aircraft Inspection, Repair & Alterations: Acceptable Methods, Techniques & Practices (Faa Ac 43.13-1b And 43.13-2b)
Book Reviews
(5)
Did you read Aircraft Inspection, Repair & Alterations: Acceptable Methods, Techniques & Practices (Faa Ac 43.13-1b And 43.13-2b)? Please provide your feedback and rating to help other readers.
Great

Derived From Web

, May 31, 2022

I have not looked at it in great detail, but so far it seems to me like there is absolutely no difference between this version and ones from other publishers. I am hoping that what they say is true in that they have found some of the most common mistakes in common usage typos from other publishers. They say this is the most recent publication, which is probably true, but all dates say 2001. Well, I am now happy with this thing with no regrets.
Great!

Derived From Web

, Feb 7, 2022

If you like hard copies and don 't mind lugging them around, this is a great buy. I personally like scrolling through pages vs. flipping through a pdf ''. AandP is a great investment for the students.
Great book

Derived From Web

, Nov 6, 2021

Due to the packaging, the book came down to 3 stars, the book all beat up.
Love this book but wondering if I can download a PDF of the Table of Contents?

Derived From Web

, Dec 18, 2020

This book helps me get my AandP license and is a fantastic reference, but if I had access to a PDF of the table of contents, it would make it much easier to find the page number of what I want to reference. I see no other way to contact the manufacturers and sellers of this product. If someone does see this, would you be willing to point me in the direction so that I can get this PDF? Thank you.
Good material

Derived From Web

, Nov 19, 2019

Any air craft technician experienced and new material will help you keep and obtain knowledge that is useful in the industry. Highly recommend for anyone studying their FAA - exams or looking for bridging your knowledge.