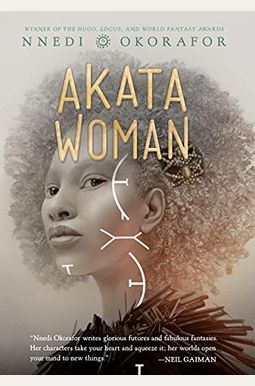  
Book Overview
From award-winning author Nnedi Okorafor, the electrifying conclusion to the series that started with Akata Witch, named one of Time magazine's 100 Best Fantasy Books of All Time

In this series, Okorafor creates a stunningly original world of African magic that draws on Nigerian folk beliefs and rituals instead of relying on the predictable tropes of Western fantasy novels.
--Time magazine
From the moment Sunny Nwazue discovered she had magic flowing in her blood, she sought to understand and control her powers. Throughout her adventures in
Akata Witch
and
Akata Warrior
, she had to navigate the balance between nearly everything in her life--America and Nigeria, the normal world and the one infused with juju, human and spirit, good daughter and powerful Leopard Person. Now, those hard lessons and abilities are put to the test in a quest so dangerous and fantastical, it would be madness to go.but may destroy the world if she does not. With the help of her friends, Sunny embarks on a mission to find a precious object hidden deep in a magical realm. Defeating the guardians of the prize will take more from Sunny than she has to give, and triumph will mean she will be forever changed.
Frequently Asked Questions About Akata Woman
Book Reviews
(9)
Did you read Akata Woman? Please provide your feedback and rating to help other readers.
amazing

Derived From Web

, Mar 6, 2022

It has been an honor to work with such a passionate group of people, Melissa Rivers said of the Smash cast. Yes, I'm not ready to leave, I want more!
Huge fan

Derived From Web

, Feb 21, 2022

The Nibidi Scripts are not kid books. They are defined as "life, philosophy, emotion, and connection." The third and final book in the series, "The Eye of the Storm," opens with the author letting a few more of her passions into this.
Adventures in African Jujuism.

Derived From Web

, Feb 17, 2022

Nnedi Okorofor is a pretty avid reader. Each book brings us deeper into a world of wonder and discovery, of our own curiosities. We're not Nigerian, but we have some signs and symbols from Nigeria Igbos, Efik and other groups. For us, it feels like we are reuniting with lost relatives. ChiChi is living the life of a Hollywood star. The power dynamics with governments tribes and power mongers fill these stories with high stakes, high risk senarios. Now the Nibidi Script books are coming of age that remind me of my own journey.
Thank You Nnedi!

Derived From Web

, Feb 14, 2022

What a perfect book to end my month of reading only black authors, Sandra Bullock said. I enjoy the communities you build within your books, he said.
Just marvelous

Derived From Web

, Feb 9, 2022

Man the third installment of this series is just absolutely everything love this series you just keep getting better, I'm already looking forward to the next installment.
Phenomenal

Derived From Web

, Feb 5, 2022

From start to finish, Nnedi takes you on a wild ride. Sunny gets tested and always comes out ahead, and the best part is that the coronavirus comes at the end of the book, tying Akata Woman into real world times and establishing the world outside the book with the world inside it. He deserves more than five stars, Tunick said. Best in the series yet, and I can't wait for another to join us, Mr. Dhaliwal said. Turner said he had received eight million "thumbs up" from fans.
Wonderful jpurney

Derived From Web

, Feb 2, 2022

What a great writer, artist and thinker. He left with a passion for teaching and a desire to learn more. More Sunny Please! Nnedi Okorafor's book "The Long Road Ahead" is also available in hardback.
Not my favorite

Derived From Web

, Jan 24, 2022

The story was okay, but lacked pacing and a complex plot. Even with the introduction of the second character, Mr. Shelby, the two main antagonists were still pretty static. It's just that this one was disappointing, Sosa said.
Nice addition

Derived From Web

, Jan 22, 2022

I can't wait for the next book. The last two novels had a certain flow and natural life to them that made them stand out. Before that he worked with Busta Rhymes and Mos Def on "Sasha's Coat." It felt like it was forced, like the other time. It's great to be back home, said Blair.