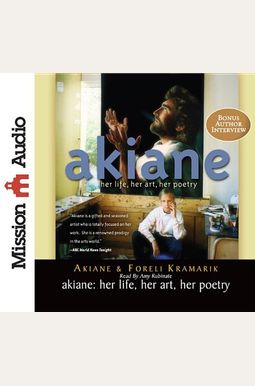  
Akiane: Her Life, Her Art, Her Poetry
Book Overview
This Description may be from another edition of this product.
Ten-year-old prodigy Akiane Kramarik shares her artwork, poetry, and the fascinating story surrounding her talent.
Growing up in a home with an atheistic mother and a non-participating Catholic father did not stop four-year-old Akiane Kramarik from finding God. This girl's dreams began a conversation in the home that has eventually brought them all to Christianity and the world's attention. Akiane: Her Life, Her Art, Her Poetry is a collection of the best of Akiane's full-color paintings and poetry created from ages 4 to 10, along with details of her family and the amazing stories that surround each unique artwork. Already a media professional, Akiane has been interviewed on programs such as Oprah, World News Tonight, Lou Dobbs Tonight on CN, and Schuller's Hour of Power. Akiane will be one of twenty visual artists participating in the October Listen event raising money for the world's needy children. Today Akiane's art is available online at www.artakiane.com.
Frequently Asked Questions About Akiane: Her Life, Her Art, Her Poetry
Books like Akiane: Her Life, Her Art, Her Poetry

Book Reviews
(19)
Did you read Akiane: Her Life, Her Art, Her Poetry? Please provide your feedback and rating to help other readers.
amazing girl

Derived From Web

, May 12, 2022

Not only are her paintings inspiring and amazing and they are spiritually moving... but the poetry she has written... as a small child! incredibly thought provoking and full of wisdom '', I would be hard pressed to think that her gift is anything but supernatural. Highly recommended. A great gift too.
Beautiful art that is all a gift from God

Derived From Web

, May 12, 2022

Beautiful art, which is all a gift of God. Akiane is a special young lady who was chosen to spread his message by God. So wonderful to have her share of what looks like Jesus truly! I have shared this book with my grandchildren!
Truly, an inspirational book with amazing artwork

Derived From Web

, May 12, 2022

I bought this book to see the artwork of this 12 year old artist, but what moved me is the story she writes about who her inspiration was and continues to God for her work. Once you finish reading her story, you won 't put the book down until you are finished. The reader will be fascinated by the young pictures that this exquisite lady has painted, some as early as 4 years old. Beautiful artwork, inspirational... two great reasons to get a copy of this book.
A four year-old growing up in a remote location, ...

Derived From Web

, May 12, 2022

A four year-old growing up in a remote location, homeschooled by atheistic parents who suddenly begins to report visits with God? Hard to believe, until you see her paintings and her poetry. Jesus Christ shows Himself through the penntles of a little child and the world gasps in awe.
Wonderfully insightful and inspiring

Derived From Web

, May 12, 2022

This book is a must read for all those inclined toward God or seeking meaning and understanding of a higher power. She has been awarded many gifts and talents, which are uneniably from God. Read the book slowly, with meditation and pondering. If you experience each painting and allegory and meaning as she describes it, you can feel the power and meaning and purpose of each painting. Not only is the striking artwork very inspiring, but also the process by which each was created. Her poetry has deep meanings, which can be absorbed with meditation and thought only. Her story is also very rare and extraordinary and awe - inspiring.
Great gift Idea for young and old

Derived From Web

, May 12, 2022

This book is absolutely amazing. My daughter loved this book when she was at the grammar school. I loved it too and she and I spent much time looking and discussing art, poems and Akian's story. We were both inspired by the artwork. I gave the book to my 9 year old goddaughter for her first communion and really enjoys the art and inspiration as well.
Prolific Reader

Derived From Web

, May 12, 2022

I have all 3 books by Heaven Is For Real and a friend loaned me their copy of the book by Akiane and I had to have it for myself. What a very fortunate young lady and anyone who reads the books about her will also be blessed.
A Poetic Einstein and Her Gracious Family

Derived From Web

, May 12, 2022

The story of Akiane is like reading a biography of a young Einstein. It is quite interesting to hear about her family and the upbringing that has led her to where she is today. Her experience with Jesus at a young age is an awesome testament to God who sees : he saw what her family was going through and planned a path through which his grace and presence would enter their family. Her mother also peppers the story with humor, which I enjoyed. Her spiritual visions are probably best expressed through her paintings, and I am glad that the book did not give the experiences an undue focus. Can not sleep with jet lag and I read almost the whole thing in a few hours overnight. However, the poetry is dense, so that I am still going through it and re-reading the parts that resonate.
A Lovely Book

Derived From Web

, Jan 19, 2022

The talent of Akiane is a true gift. She has been so blessed with her talent and blesses us with her beautiful paintings in return. And thanks also to Akiane for the poetry. If I had to sum up this book in a word, I say : Lovely.
Amazing young woman, incredible talent!

Derived From Web

, Oct 16, 2021

Christ was looking for painting of sorts that she had done at a very early age after an NDE of sorts. She did not realize that she lived in the United States. What a story and collection of such a young introspective talent. I look forward to seeing further displays of her art as she matures to adulthood, and also develops her style even further. I make this statement only because she is so young, I wonder what more she becomes capable of.