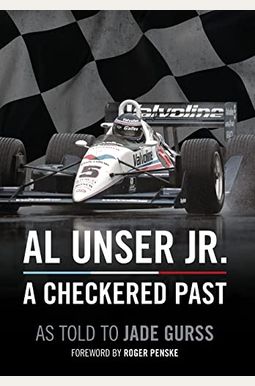 
 
Al Unser Jr: A Checkered Past
Frequently Asked Questions About Al Unser Jr: A Checkered Past
Book Reviews
(8)
Did you read Al Unser Jr: A Checkered Past? Please provide your feedback and rating to help other readers.
Hot laps, a hot mess and hopes for redemption

Derived From Web

, Jan 23, 2022

I'm older than Al Jr., but I still went to sprint car races where his uncle was a tough competitor and legendary engine builder. Even if he wasn't, you just expected any Unser to be a genius behind the wheel. What do you think of the old saying, "If it ain't broke, don't fix it?" Heroes are human and flawed like us all, Raymond said. For years, the champion driver fought his demons, mostly unsuccessfully, through his racing successes, a veneer hiding a troubled and often tragic life. It's more confession and therapy than anything else and, even for a life-long race fan, is often tough to read. It contains warnings and lessons for us all. I hope it also brings some peace and stability to Al Jr. and his often troubled heart, Bruno said.
Accomplished but still a boy

Derived From Web

, Jan 10, 2022

Took a lot of guts to write this because it is the story of a shallow boy who never had to grow up until he had lost everything, Roma said. I was at Indy in '89 when Emmo put him in the wall and I had always thought that the thumbs-up was fake, he said. Shelley also told me she was struggling with something when she was in the pits on Bubble Day in '94. She had the agitated nervous movements of someone on meds, Hicks said. What really stood out to me was the girlfriend who, after he said that he was super successful because he had won Indy twice, told him, "Those are your accomplishments." For all of us to live by the Lord's words.
Demons Chase Even the Fastest Among Us!

Derived From Web

, Dec 15, 2021

Little Al has always been one of my heros. His driving talent is undoubted, but he survived a mountain of dependency issues. He is lucky he did as there are lessons to learn from his challenging life on and off the track, Braithwaite said. Al, you are still a hero, with a tremendous talent, McCartney said.
Honest, incredible summary of a troubled life

Derived From Web

, Nov 29, 2021

I was a huge Andretti fan and as Michael did well and gave little thought to Al Jr., he said. Now he's looking back and seeing what he went through, Mr. Caramore said. Chaos is the product of indecision, said Dr. Goin. The destructive and toxic relationships that led to Columbine. Allegations of infidelity were made public in July, and Jackson said he was "100 percent behind the woman." He is so honest, straightforward and able to concede where he went wrong and how he kept running to a substance until he was at rock bottom and ready to end his life. The book is also available in several forms, including a free download at Amazon. com. The Beatles' music "was great," said Robert Plant, executive director of music for AOL Europe.
Very enlghtening

Derived From Web

, Nov 19, 2021

i was a big CART fan, especially during the years when Al was racing, Mr. Dhaliwal said. I watched most of his races and attended several others, Morgenthau said. I was very interested to hear what was really going on behind the scenes, Mr. Dhaliwal said. He is a great driver, said Ganassi's son, Al. As a fan, I had no idea what was really going on in his private life. I recommend this book to any CART fan.
Racing and Redemption

Derived From Web

, Nov 3, 2021

"Life in the Fast Lane" was also a smash. One of the great racing stars of the 1980s and '90s, Johnson lays open his fall into physical and spiritual destruction. There were highs and lows throughout the day, race fans said. This great behind the scenes look at the truth of it all _ and how Al is now beginning to put his life back together thru a relationship with the One who has loved him all along!
An honest account of lost opportunities and wasted talent

Derived From Web

, Oct 31, 2021

I'll never forget the time I was watching Al win the Super Bowl and playing his Nintendo game. I knew about his later struggles but learned more about them through reading this. Roger Penske gave him more second chances than his own kids. There are some amusing anecdotes, but it's a sad story, and he needs to tell it as part of his recovery, McCartney said. Al's hit rock bottom and this book is probably his last chance to get back on track.
Not an easy read

Derived From Web

, Oct 8, 2021

The book was originally titled "Mustang: The Triumph of American Racing" because I have a background in motorsports. In addition, I lost a son to alcoholism. Still, I'm not exactly sure what the hell is going on. To read Al's story is painful, sometimes heartrending, and often maddening. Second chances are few and far between, he said. I don't share Al's views on Christianity, but if that gets him through each day so much the better for him, Tunick said.