Buy 3 Get 1 Free
Our Best Sale Yet! Add 4 Books Priced Under $5 To Your Cart     Learn more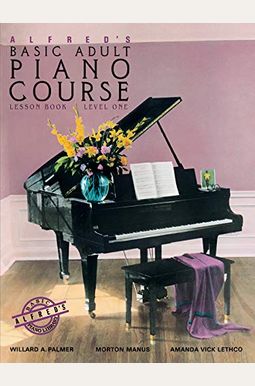 
 
Alfred's Basic Adult Piano Course Lesson Book, Level One [With Dvd]
Book Overview
A beginning course for adults who prefer a chord approach. It teaches chords for both hands so that the student can play more than single note melodies. This course is most effective when used under the direction of a piano teacher or experienced musician. Titles: Alouette * Alpine Melody * Amazing Grace * At Last * Au Claire de la Lune * Aura Lee * The Ballad of Gilligan's Island * Beautiful Brown Eyes * Blow the Man Down * Brother John * Caf Vienna * The Can-Can * Chiapanecas * Cockles and Mussels * The Cuckoo * The Donkey * The Entertainer * A Friend Like You * The Gift to Be Simple * Go Down, Moses * Good King Wenceslas * Good Morning to You * Got Those Blues * Greensleeves * Happy Birthday to You * Harp Song * Have Yourself a Merry Little Christmas * Here's a Happy Song * He's Got the Whole World in His Hands * Jericho * Jingle Bells * Joy to the World * Kum-ba-yah * Largo (Dvorak) * Laura * Lavender's Blue * Little Brown Jug * London Bridge * Lone Star Waltz * Love Somebody * The Marine's Hymn * Mary Ann * Merrily We Roll Along * Mexican Hat Dance * Michael, Row the Boat Ashore * Money Can't Buy Everything * My Fifth * Ode to Joy * On Top of Old Smoky * O Sole Mio * Over the Rainbow * Raisins and Almonds * Rockets * Rockin' Intervals * Rock It Away * Scarborough Fair * Singin' in the Rain * Standing in the Need of Prayer * Tisket, a Tasket * Waltz Time * What Can I Share * When the Saints Go Marching In * Why Am I Blue?
Frequently Asked Questions About Alfred's Basic Adult Piano Course Lesson Book, Level One [With Dvd]
Book Reviews
(14)
Did you read Alfred's Basic Adult Piano Course Lesson Book, Level One [With Dvd]? Please provide your feedback and rating to help other readers.
Wonderful book -- although I did need a teacher!

Derived From Web

, Apr 20, 2022

When I bought this book, I decided to review what I knew and get back to playing the piano that I hadn't played in over 30 years. After a few weeks, I realized that I would need a teacher if I wanted to get things right. I found a teacher who helped me perfect the book and guided me through it. Students don't get discouraged when they play stupid, simplistic pieces intended for children because there are some really beautiful songs in the book. Scott Joplin's The Entertainer, and a version of the Etta James classic, At Last, were some of the things I loved. Let's not forget Somewhere Over the Rainbow, yes? I'm almost ready to tackle the next book with my teacher after a year and a half. It has been slow, but I have enjoyed it.
Very good for adult beginners

Derived From Web

, Apr 20, 2022

A very good book. The book that I prefer is the Adult All-In-One Piano Course. If you want to play and don't care about the theory, then this book is for you.
Start Playing!

Derived From Web

, Apr 20, 2022

Those who haven't played the piano in a while can take the course. If you have access to You Tube, you can watch and listen to most of the songs featured in the book to get a feel for how the piece should sound. You can watch the fingering and hear the music instantly if you know the name of the song and Alfred. This book is a course that will get you started with both hands almost immediately, and each subsequent piece is an exercise that builds on what you've learned, such as paying attention to finger placement, which is important to learn early!
Good book

Derived From Web

, Apr 20, 2022

I have never played the piano before, but I began learning about 5 months ago. My teacher recommended this book to me. Even if you don't have a teacher with you, this is a good book to use. If I ever finish my homework before I see my teacher again, I will go ahead and try some pages myself, because it explains everything well. I am learning and eventually will be able to play harder songs, because I didn't have high expectations. I feel like I am playing well because they have some songs thrown in. My husband and daughter can sing and dance to some of the songs I play, even though I am still a novice.
A great buy

Derived From Web

, Apr 20, 2022

I bought this with an understanding of music theory provided by guitar lessons, but without a piano background. I like to play the piano as much as I play guitar. The book strengthened my sense of rhythm, and conditioned my hands so that I can play a melody over two different notes simultaneously. As the book progresses quickly, some correlated material is necessary. You might be tempted to turn the pages too quickly without practicing the correlated material recommended in the book. Don't worry, you decide not to read several books. The piano will grow on you no matter how serious you are when you play, because you'll get something out of just this book. You just have to play.
Essential for The Student!

Derived From Web

, Apr 20, 2022

It was a great tool for my boy to learn the ropes when he entered his music program at school. This guide was recommended by his teachers and is very useful. Why are you waiting? This review will help you make an informed decision. Please give me a helpful review if it does.
more easily than I would have imagined

Derived From Web

, Apr 20, 2022

I haven't played in a while. I am getting back onto the keyboard and making music more quickly than I would have imagined.
Enjoying this book

Derived From Web

, Apr 20, 2022

I dropped the music class for personal reasons but I loved it. The book I used was ok, but not well planned or easy to comprehend. This book is easy to understand and progressive at the same time. Even though my instructor recommended another Alfred's book for me to buy, I still love this book. I am glad I ordered the wrong book.
Effective music theory, ineffective binding

Derived From Web

, Nov 15, 2021

These books are great for music. They won't stay open when trying to play music If you want to make it easier to use, remove them from the original binding and place them in a binder.
100% recommend. Only book I use for my students.

Derived From Web

, Nov 12, 2019

I have 11 students and have been using this for nearly all of them. Fantastic book. I've seen students grow in their playing. When a student needs to learn to play the piano, this is the only book I read. It is very easy to grow and follow and the process of learning the piano is organized on every page. 100% recommend.