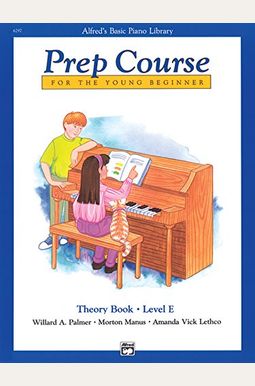 
 
Alfred's Basic Piano Prep Course: Theory Book E (Alfred's Basic Piano Library)
Frequently Asked Questions About Alfred's Basic Piano Prep Course: Theory Book E (Alfred's Basic Piano Library)
Book Reviews
(10)
Did you read Alfred's Basic Piano Prep Course: Theory Book E (Alfred's Basic Piano Library)? Please provide your feedback and rating to help other readers.
Good lessons but confusing and unnecessary terms

Derived From Web

, May 30, 2022

The simple terms of quarter note, half note, whole note and dotted half note were not emphasized. Instead, it used the words crotchet, semi-breve, breve, etc. It confused my students and was not the well-known terms.
Easy to follow

Derived From Web

, May 30, 2022

The book Alfred's basic piano prep course is the perfect addition to any new piano player. These basic piano teaching books are easy to read, easy to follow and easy to teach. The book itself is of good quality and I do not feel that they will easily deteriorate. I have already purchased other books by Alfred's basic piano prep course and will continue to purchase from this publisher. I have also directed my students towards purchasing their own sets of these books to help them practice outside the classroom setting. These books will definitely stay in my teaching library for years to come! I look forward to seeing what other preparation books are written and how they supplement the current books!
read carefully

Derived From Web

, Feb 28, 2022

Good for beginner, easy to understand, weather you are 4 or 50, this is great for trying to follow the piano thank you.
Outstanding series!

Derived From Web

, Nov 5, 2021

I am a 40 year veteran teacher and I have used all the different method books. The Alfred series is the most comprehensive. I would use it for children from 45 to 67. It is colorful and the explanations are easy to understand. It is my go to series.
Books look very used and abused, not new.

Derived From Web

, Apr 8, 2021

I purchased this book as new ''.
Highly Recommend

Derived From Web

, Oct 18, 2020

I use Alfred's series for all my piano students. This book goes hand-in-hand with the book Lesson from the same level. Definitely recommend using the complete series at this age together.
great for kids age 3-6

Derived From Web

, Nov 15, 2019

The Alfreds Piano Series is quite flexible for all ages and maturing students who can learn as they age at a faster pace. The prep courses allow the younger student to spend more time on basic concepts.
Not usable. Completed workbook

Derived From Web

, Jan 24, 2019

The description claimed that the book was in very good condition. It is a workbook for piano theory and the entire book is completed in pen most of it in pencil. It is unusable.
Beginning practice

Derived From Web

, Jan 19, 2019

Easy enough for a pre- K kid just starting piano.
The books are GREAT for beginners

Derived From Web

, Apr 9, 2018

We ordered this book together with Alfred's basic piano prep course Lesson Book Level A... For the beginners, the books are great. My daughter is 6 and she has jumped through these books and gaining confidence as she learns. They do a great job by introducing children to different types of notes, piano notes, fingering and more.