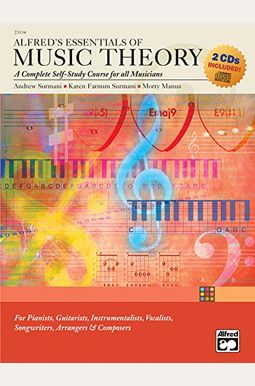 
 
Alfred's Essentials Of Music Theory: Complete Self-Study Course, Book & 2 Cds [With 2cds]
Frequently Asked Questions About Alfred's Essentials Of Music Theory: Complete Self-Study Course, Book & 2 Cds [With 2cds]
Book Reviews
(13)
Did you read Alfred's Essentials Of Music Theory: Complete Self-Study Course, Book & 2 Cds [With 2cds]? Please provide your feedback and rating to help other readers.
For an adult beginner, terrific

Derived From Web

, May 20, 2022

I just started learning to play the piano as an adult, had a false start, but now I love it. I borrowed a number of music theory books from the library, and none of them were that good. I took a plunge with this one and loooove it. It is explained in really plain and simple way, so much I have learned and I am only on chapter 11! More out of this book than in the other books. The final of the chapter exercises really helps reinforce the concepts! The ear training CDs are also terrific! I also purchased Edly's music theory for practical people, see my review when I get around it!
Perfect!

Derived From Web

, May 20, 2022

It gave me the structure I needed to build the information and helped me retain what I learned as I moved through the course.
A very basic, informative source for budding musicians.

Derived From Web

, May 20, 2022

I chose this book with CDs to augment my music lessons, as I learn to play an instrument for the first time in 50 years. It has helped me quite a bit understand why I play what I play and how to play it better. It progresses in a fundamental way from very basic foundations to much harder to grasp material. Unfortunately, there is no way a book can answer verbal questions that come up, but the CDs do a good job audibly demonstrating concepts.
Good book

Derived From Web

, May 20, 2022

I am not a professional musician. I can not say that this book is for eveybody, but it is really good for beginners or someone who has only a basic knowledge of music theory, like me. The parts I like most in the book are the exercises and ear training. It really helps me a lot, while I'm pursuing the next level of guitar playing.
Brand New Second Hand

Derived From Web

, Jun 9, 2021

This seems to me like a good book so far. I, however, purchased a new book, but the book came with markings. Someone had written in the book,
LEARN! REVIEW! PREPARE!

Derived From Web

, May 3, 2021

It is LOVE! It won t regret it. I HIGHLY recommend this musical theory book! This book makes learning and understanding theory feel so simple and fun! It is also perfect for learning new skills or preparing a lesson plan. The CDs included with the book helped so much as I was reviewing the more difficult chapters. When you need a little help, they guide you along. I borrowed my first copy and did not receive it back, so I purchased another one, I can t be without it just. Josie Pasadena has sincerely been an important aspect of the story.
Good theory book... but a CD? NOT helpful!

Derived From Web

, Feb 5, 2021

This series is great for either self-directed study or a guided study with other music instruction. The pace is easy to build at the very beginning and starts logically. Then : I don 't think that any of my high school students have CD players anymore. What makes it a big pain to train the ear part. Really needs a link to download an MP3file.
Read the Table of Contents BEFORE ordering...

Derived From Web

, May 11, 2020

I did, but not... If you want to learn music reading skills, then this is the book you want. If you want to learn about WHY chords the way they are built, triads, minors, majors, etc, this is not the one you want. It looks well written and organized, so I put it on the shelf until the urge to read music strikes me...
Amazing for beginners

Derived From Web

, Jan 7, 2019

Goes slowly step by step with reviews and answers to help you learn. Would recommend this with no knowledge of previous music theory.
Perhaps a little too terse?

Derived From Web

, Sep 1, 2018

The book is well organized and comprehensive, but is very terse. The section on ties and slurs mentions how a few instruments should slurs, but is otherwise silent. I am now looking for a book to explain this book's essentials. Upgrading to 3 stars Update : The concise nature of the book means that there are too many things left unexplained. As I move into Book 3, there are sections that make statements without explaining why or how.