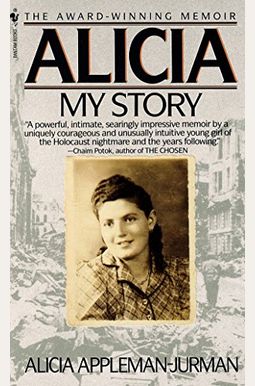 
 
Book Overview
After losing her entire family to the Nazis at age 13, Alicia Appleman-Jurman went on to save the lives of thousands of Jews, offering them her own courage and hope in a time of upheaval and tragedy. Not since The Diary of Anne Frank has a young voice so vividly expressed the capacity for humanity and heroism in the face of Nazi brutality.
Frequently Asked Questions About Alicia: My Story
Books like Alicia: My Story
Book Reviews
(15)
Did you read Alicia: My Story? Please provide your feedback and rating to help other readers.
BUT would someone write a memoir like this if it were not true

Derived From Web

, Jun 3, 2022

As others have said, different from a lot of Survivor memoirs because this young girl, at such a young age, was a hero over and over again, in so many incredible situations, it was almost unbelievable. Aber would someone write a memoir like this if it were not true? I do not think so. My whole life I have fought to come to an understanding of how people can be so cruel. I have yet to have even a glimmer of understanding. I do thank God that some Jews were left to share history. For 45 years, I read these stories to honor those who have died and to honor those who have survived. My love, Ashley, send you my. I am so happy that you were able to write this book.
New Truths of the Holocaust

Derived From Web

, Jun 3, 2022

Until I read this book, I knew little of the suffering of those who escaped the confines of the concentration camps until I read it. I now know that hundreds of thousands, if not millions of Jews, experienced extraordinary deprivation and constant fear, terrible courage, and death for many. But to hear this story of a young woman and her years of strength, compassion and an overwhelming sense of right, putting herself in the place of caring and literally saving others, most of whom she had never known, is both heart-rending and inspiring. Great read! Fours stars only because there were places where typos were personal and the lack of good proofreading is a disruptive pet peeve.
Complete accuracy makes one pause

Derived From Web

, Jun 3, 2022

She lived through much trauma and her survival deserves acclaim of any and all. Its a story that never pales with the repetition.
An excellent example of a Jewish girls surviving death camps in WWII

Derived From Web

, Jun 3, 2022

This book is easy to read and well written. It was easy to imagine and surviving the horror of living in the concentration camps of WWII. I was '' brought to tears at some points in the story. This is an important book IMO because it records a part of the Holocaust. Never forget that we must NEVER forget.
Fascinating

Derived From Web

, Jun 3, 2022

I discovered this book in two days... fascinating! The stories I have read about Jewish survivors of the holocaust have always been about those who survived extermination camps, such as Auschwitz. I never believed that there were many who came out of the camps completely surviving. The story of her life between the war and her arrival in Eretz Israel is another important aspect of history, the most informative. Her story made me want to see the film The Exodus '' again.
The first, the last, and the only.

Derived From Web

, Jun 3, 2022

I read Alicia's story for the sixth time when I was in first grade for a book report. The book was probably the longest I ever read at the time, but I was immediately hooked. It is a story that will break your heart but give you the strength to carry on at the same time. Alicia may be more famous, but Anne Frank gives you a deeper insight into the war, the cold mechanism of the Nazis, as well as the feelings and realities of the people from both sides and how they interacted with each other. When you read her book, you are there with her in the war. It is a very powerful book, emotionally.
And love. The subtitle is "My Story

Derived From Web

, Jun 3, 2022

Alicia, Oh! I became enamored with her temperament, her fortitude, her wit and most importantly her ability to survive. The subtitle is My Story and is most definitely her story! There is an abundance of detail and sometimes it borders a little too much, but it is HER story. The details matter, the people, the places, the food, the clothing... all of it. Alicia re-lived that time in her life with extraordinary detail and attention to those whose lives were mixed with hers. With this read, you will not be disappointed.
Worth the pain it will cause to read it

Derived From Web

, Nov 16, 2021

Alicia is a moving and incredibly inspiring story about survival and goodness in the face of utter evil. Reading her story will kill you emotionally and spiritually because of the unthinkable horrors that suffered and the seeming unending nature of it. Nevertheless, it feels like we have a duty to know what happened - both the human atrocity of the neighbor's betrayal and the depth of generosity and goodness of this girl and those who have helped her.
Definite page turner! Couldn't stop reading. Amazing true story.

Derived From Web

, Jun 5, 2020

Just when you think you knew everything there was to know, this book brings a whole new dimension to the times. I couldn t put this book down.
I wish this was required reading for all US Children.

Derived From Web

, Jun 6, 2019

From reading Alicia's story, my heart and soul are so full. I have been shocked by the recent attacks on Jewish synagogues. I can simply wrap my head around such cruelty. I am also shocked by the courage and strength of such a young girl. After reading this book, I will be a better person. At the very least, I am much more grateful for all things. I tell everyone that I know to read this book.